2019-06-3
Getting Married in Switzerland? Here's Top 20 Best Wedding Venues
2019-06-3
Getting Married in Switzerland? Here's Top 20 Best Wedding Venues
Getting Married in Switzerland? Here's Top 20 Best Wedding Venues
Switzerland is undoubtedly one of the most beautiful places for a wedding celebration. Not only because of its picturesque landscapes: castles, mountains, and lakes with spectacular panoramas, but also because it has a wide range of luxury wedding spots, fully equipped for a special event.
In the previous article, we reviewed top wedding venues in Zurich and Luzern. In this article, we will guide you through the best venues to get married in Switzerland as well as provide with an ultimate wedding venue checklist.
How to choose a wedding venue: things to consider
Finding a perfect place to get married isn't easy. With so many options to choose from you have to pick the one which totally meets your requirements. So, priorly to making a big decision let's identify what are the crucial wedding venue criteria. Keep them in mind when organizing your Switzerland wedding.
Interior and rooms
Design of your wedding location plays a tremendous role. Why? Basically, it has to represent the theme of your wedding. Whether you choose a rustic or a glamorous wedding hall — it should not clash with your festivity style.
Services
Once you're ready to sign the contract double check what services are included in the wedding package. Are you allowed to order catering from the side, invite a music band or set-up fireworks at night? Negotiate the details and see what extra services the location has. Some venues offer candles or rose petals in the newlyweds' bedroom. As a rule, premises which go the extra mile to please their guests also perform high-quality customer service.
Location and surroundings
Luckily for the newlyweds, their wedding in Switzerland can take place in a luxury restaurant but remain close to the natural beauty at the same time. Whether you're contemplating an indoor or an outdoor wedding, mind the location and its surroundings. Check if there are some pretty historical sites nearby or a botanical garden. In Switzerland, you may even rent a castle for a wedding celebration, which guarantees a unique atmosphere and perfect wedding pics.
Food and drinks
Are you a fan of specific cuisine? Then search for a location that serves it. There are hotels that own a restaurant on site, while for some out of the more unique venues such as Igloo Village Zermatt or a Castle Brando you have to consider a catering option. Also, check the quality of the food beforehand.
Other services
What can be better than a relaxing spa treatment or a sauna after a vibrant party? Some of the wedding spots have additional services or can help with booking them at other locations.
Venue capacity
How many guests do you plan to invite? Once you know the number search for a place that suits your requirements. Boutique hotels or apartments for rent work well for intimate weddings, while spacious castles are good for large-scale celebrations. The venue capacity determines whether everyone would feel comfortable and have enough place to eat, dance and relax.
Premises
Think about how you can use rooms and halls for different purposes. Are you going to conduct a ceremony and a banquet at one place? Does the venue have a room for dancing? Is there an indoor garden where you can place a wedding arch for the ceremony? Make sure the premises correspond to the flow of your big day.
Parking and transportation
The venue's infrastructure can't be overemphasized. Naturally, your guests shouldn't experience any problems with getting to the wedding spot. So, check out if there is a parking lot near the location and what are the options to get to the premises by public transport.
Availability of dates
If you prefer to celebrate your big day in one of the popular venues you'd better check its availability in advance and make a reservation as soon as possible. Indeed, the best destinations are in high demand.
Reviews on the Internet
One of the best ways to get unbiased opinions about the places to get married is to check the reviews of the real people online. Once you make up your mind about a specific location read what other people say about it. What was their experience? Did everything go well? You may or may not find out some details that otherwise are hard to notice.
With the venue criteria sorted out, it's time to review the best locations for your dream Switzerland wedding.
The list of the best wedding venues in Switzerland
Different venues not only vary in style but also have their unique approach to holding celebrations and making weddings in Switzerland unforgettable. Some have traditional features, while others can blow your mind with their unique services. Read further to learn more about ancient castles, ice-made iglus and beautiful boutique hotels where you can celebrate the most important day of your life!
1. The Dolder Grand
Location: Zürich, Kanton Zürich
Link: The Dolder Grand
The Dolder Grand is a spectacular wedding spot with fantastic views over the mountains. This premium location is suitable for large-scale parties and has plenty of rooms for different purposes: gallery lounges, garden salons, a ballroom, a terrace, and more. The hotel also has a two-Michelin-star restaurant with gourmet cuisine, curtsy of Heiko Nieder.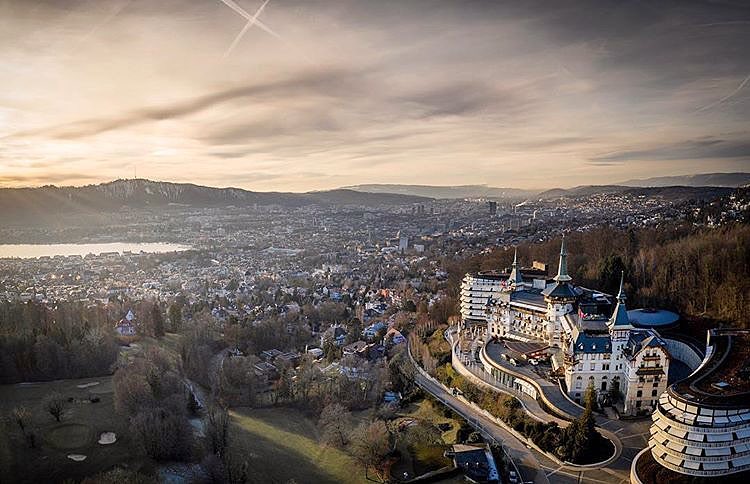 There is enough space to comfortably fit up to 900 guests and 175 rooms for an overnight stay, including ones with a view of Lake Zurich.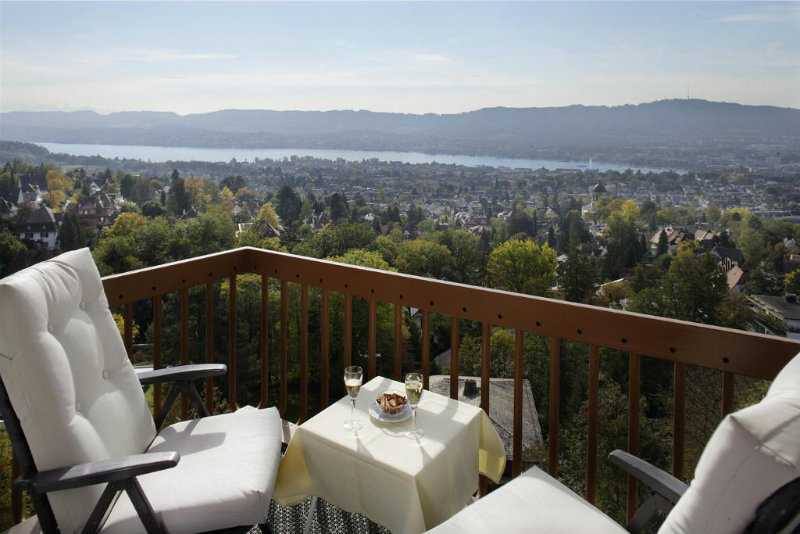 As for additional services, there is an option of pre-wedding styling for a bride and an opportunity to rest after the party enjoying swimming pool and a hot tub (the venue has an outdoor jacuzzi and spa facilities).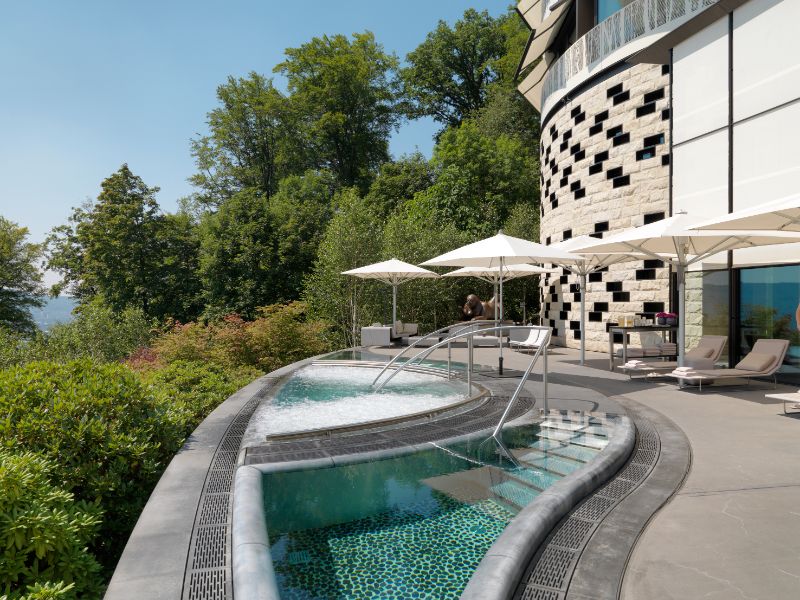 Instagram: @thedoldergrand
[Show map]
2. Le Bijou
Location: Zurich, Lucerne, Zug, Berne, Geneva, and Basel
Link: Le Bijou
Le Bijou offers apartments for rent in different Swiss cities. All, centrally located close to the historical landmarks they can be easily reached by your guests. In addition, Le Bijou is famous for its high-end customer service. For instance, each apartment is equipped with a virtual concierge James who is available for bookings, reservations, and any other sort of requests. Thus, any personal demands of the newlyweds can be fulfilled immediately.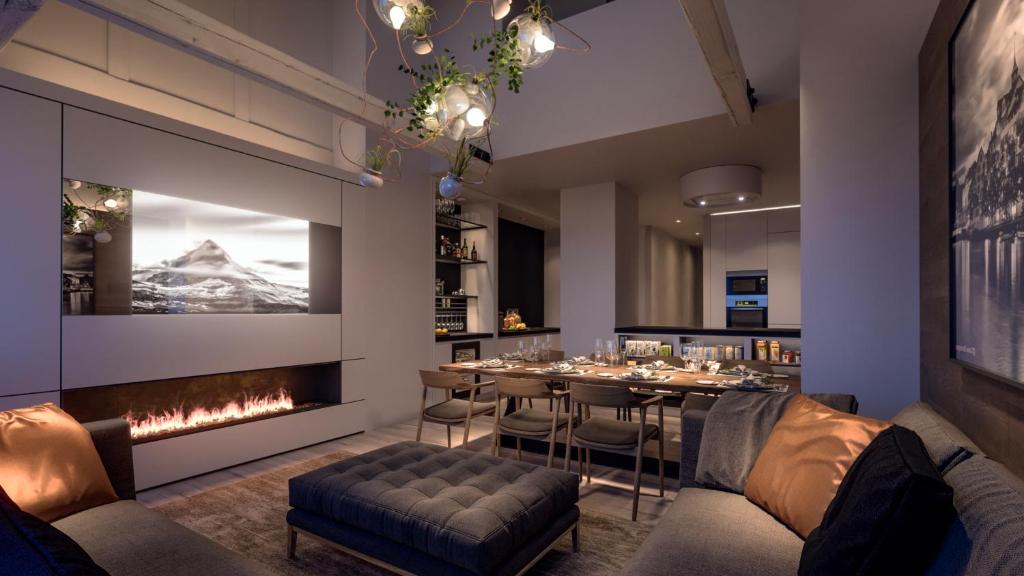 Each room is fully furnished in contemporary Swiss design. Besides, there is a built-in kitchen, a jacuzzi and a number of electrical appliances available in each apartment.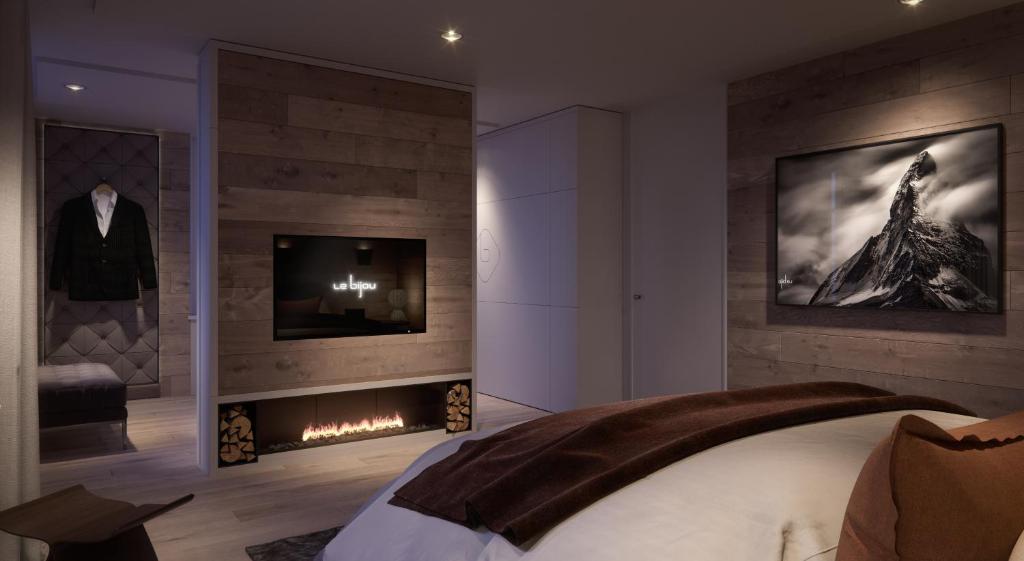 So, if you plan a small but luxury wedding Le Bijou is a perfect choice. Their apartments can fit up to 30 guests for an overnight stay. With Le Bijou, you get a five-star hotel service with a home-like feel and a private dining experience of an apartment dedicated only to you and your guests.
Instagram: @lebijou_switzerland
3. Tarasp castle
Location: Scuol, Canton of Grisons
Link: Tarasp castle
Tarasp castle is a unique wedding destination built around 1040 and recently acquired by the Swiss-American visual artist Not Vital. This historical landmark is now open for unconventional celebrations. It is suitable for those who would like to bring their guests and celebration out of the city, along with catering and other services.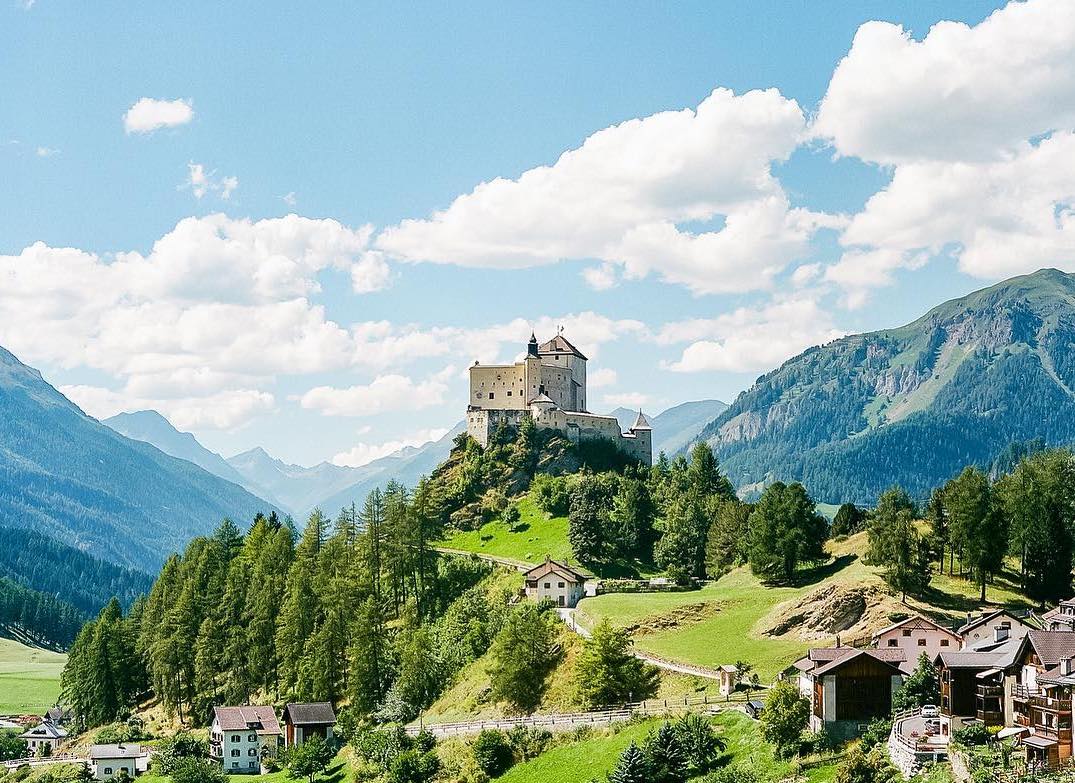 Visitors can enjoy beautiful views over the Scuol region and stay in one of the hotels close to the castle, as well as book a restaurant there for a banquet. Alternatively, you can have a wedding dinner with a dance for 5,000 CHF and extra for catering.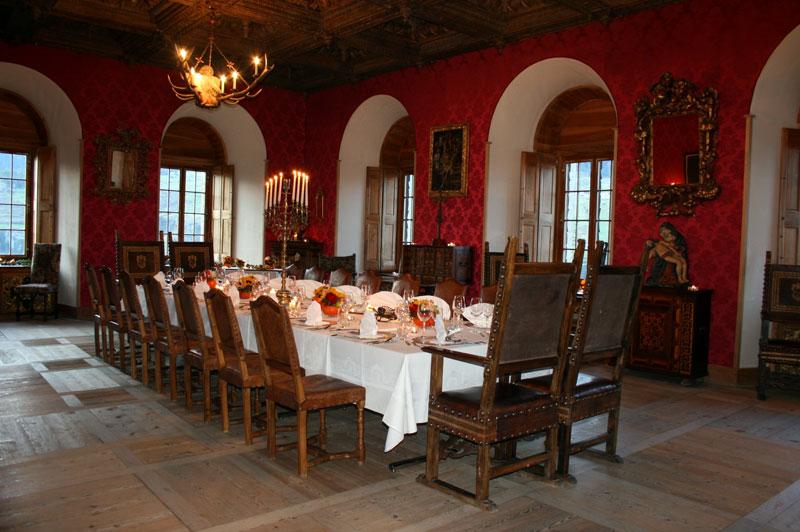 The spot can be reached by train, but it requires a 600m uphill walk. Alternatively, your guests can drive to a place, but they'll also need to get from the parking to a castle on foot.
It's a cool venue option for those who cherish historical heritage. Tarasp castle is one of the best-maintained castles in Switzerland.
Instagram: #taraspcastle, #schlosstarasp
[Show map]
4. Schilthorn
Location: Schilthorn Summit
Link: Schilthorn
Schilthorn is one of those pretty locations that leave lifetime memories. There are a lot of activities to entertain your guests: skiing, sledding, hiking, skyline snowpark, and more. Schilthorn offers double rooms and lounges near the skyline but booking has to be done in advance.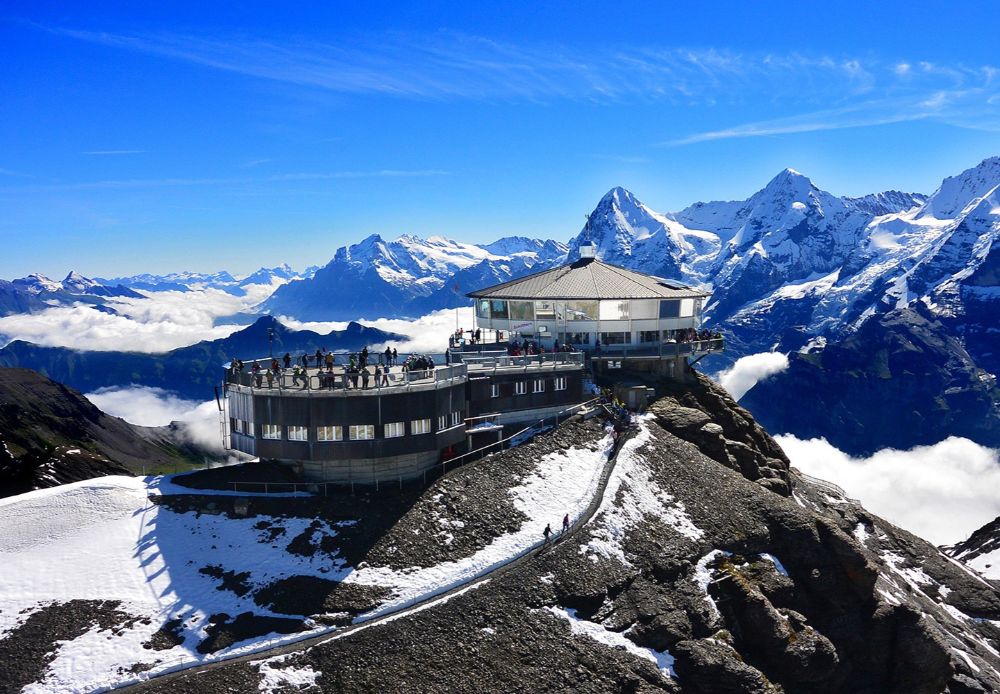 There are a skyline bar and a restaurant with a 360-degree view of your big day celebration. The menu is rich with traditional Swiss dishes with close-to-homemade taste.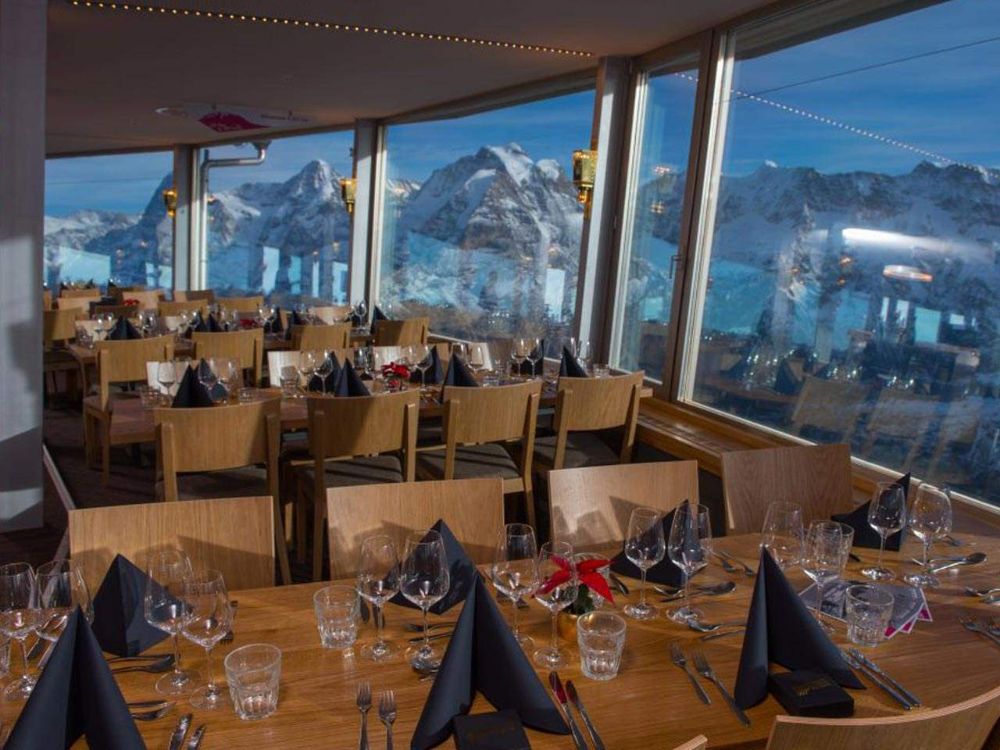 The venue offers group transfers (10 people minimum) to the spot on a cable car. A journey takes up to 32 minutes. Yet, there is also an option to get there by public transport but it is far more complicated.
Generally, if breathtaking Alpine scenery is what you are looking for your wedding, then Schilthorn is a place to go.
Instagram: #schilthorn
[Show map]
5. Aigle castle
Location: Aigle, Canton of Vaud
Link: Aigle castle
Aigle castle is a gorgeous piece of medieval architecture built at the end of the 12th century. This exceptional location is one of the best castles in Switzerland which is famous for its wine museum and scenic landscapes. The place can be reached by car or by train but mind that there are only 10 parking lots available near the castle.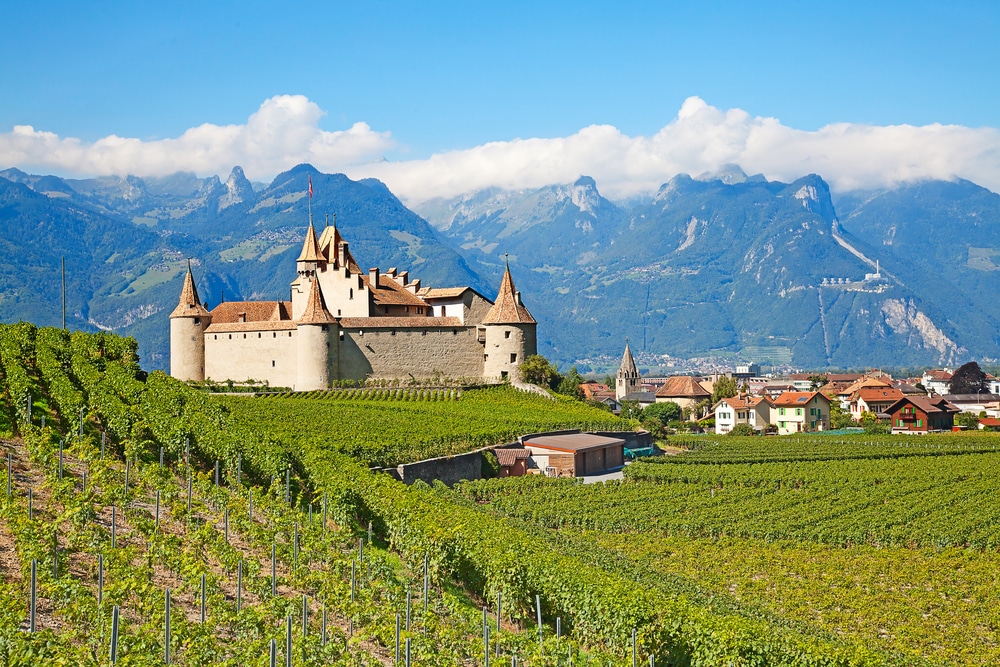 The premises also include different spaces which can be used for a ceremony, a banquet, dancing, and other wedding activities. For instance, a Hall of Excellence can fit up to 220 people, while the House of Commons — from 200 to 250 guests depending on table arrangements. The castle has its own caterers and winemakers.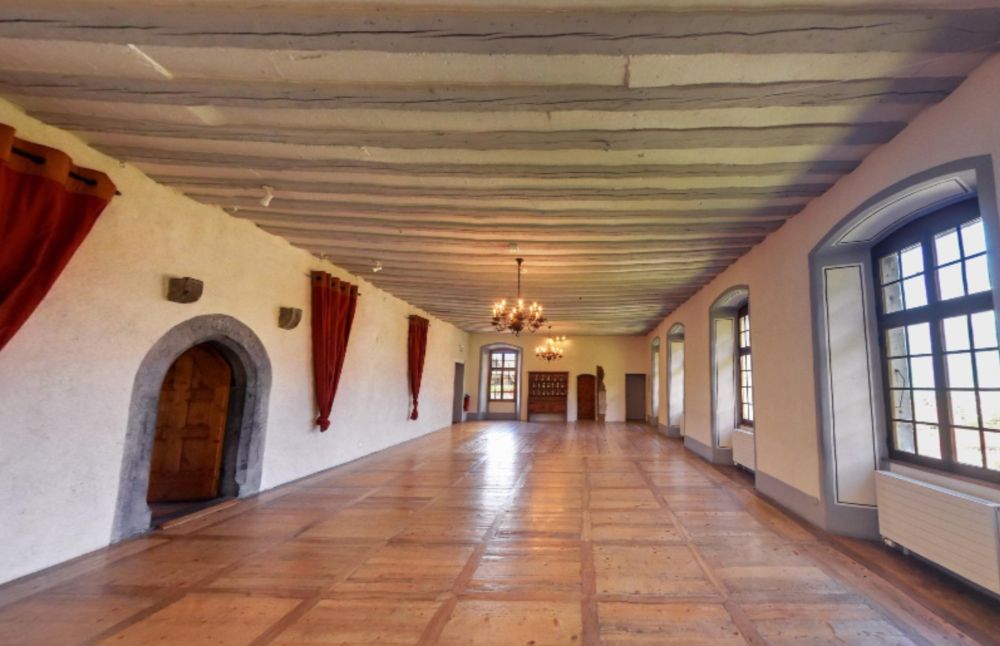 Mind that there is no option for an overnight stay in the castle, but hotels nearby would happily welcome your guests.
Instagram: @chateauaigle
[Show map]
6. Hotel Metropole Geneve
Location: Geneva, Canton of Geneva
Link: Hotel Metropole Geneve
Hotel Metropole Geneve is a great option for a wedding in Geneva. There are various halls for a big celebration: an 18th-century mansion, overlooking the Jura mountains, a rooftop with a breathtaking view of the fabulous Jet d'Eau, La Veranda with a capacity for 500 seated or 1'000 standing guests, and smaller rooms for 30-40 people.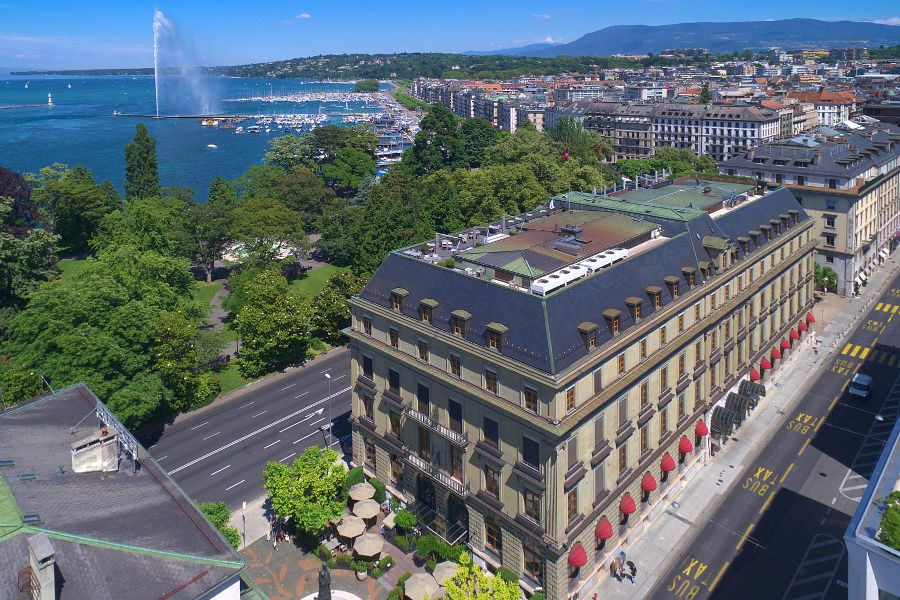 Besides, there is a number of restaurants and cafes for a banquet. The hotel also has a special wedding menu within the wedding package.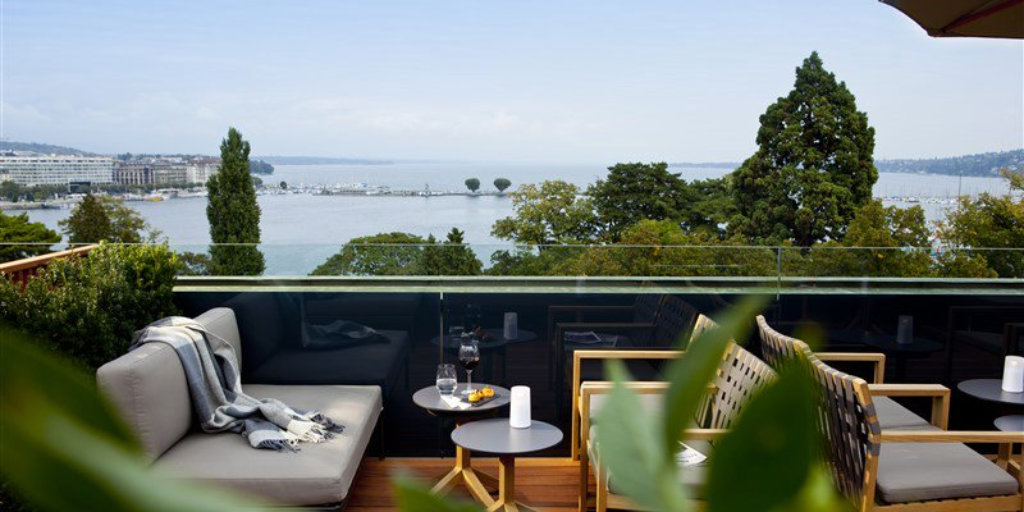 This place is an excellent location for a classy celebration with an option to bring up to 500 guests. It's one of the best wedding venues in Geneva with a view of the lake.
Instagram: @hotel.metropole.geneva
[Show map]
7. Baur au Lac
Location: Zürich, Canton of Zürich
Link: Baur au Lac
For those planning a big vintage wedding — Baur au Lac is a great spot. Within their wedding package, the newlyweds can expect full assistance to organize the celebration, a special menu and festive rooms decoration.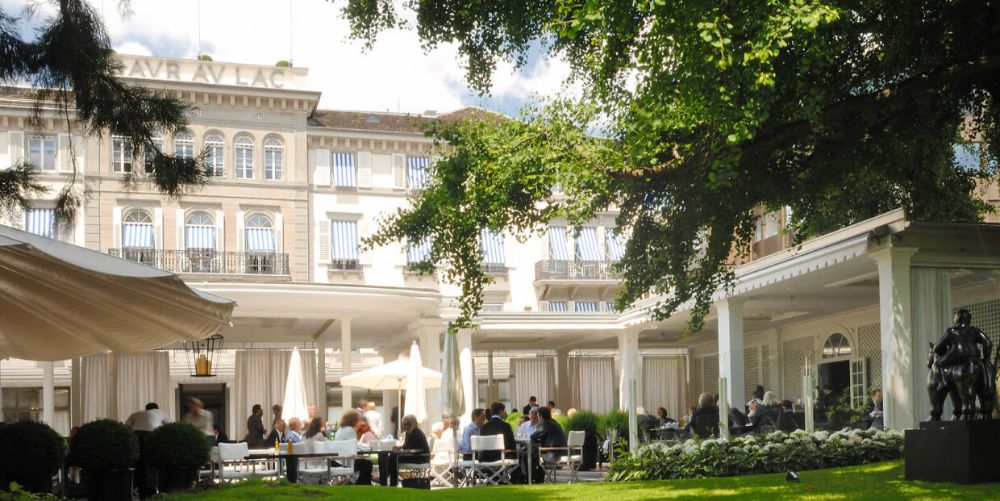 The hotel's restaurant can accommodate 300 guests while a hotel has 119 guest rooms with a high-end design.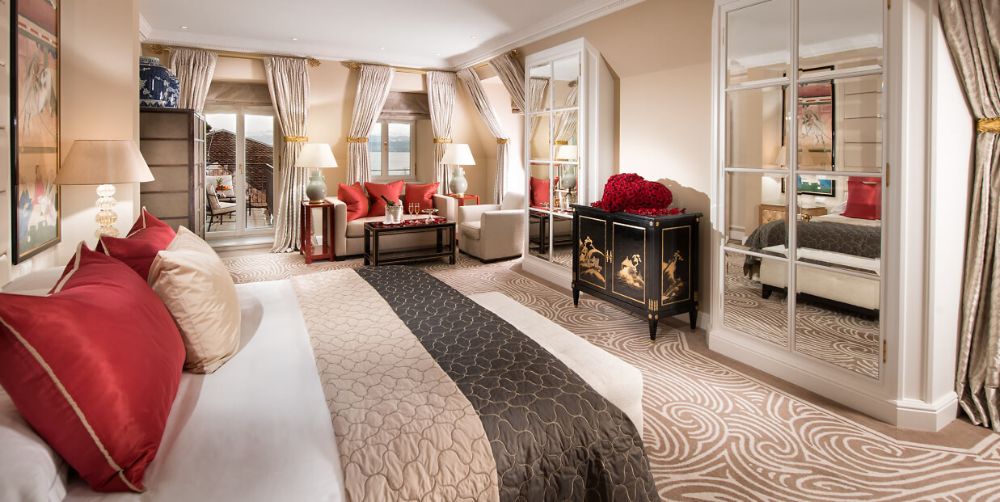 Baur au Lac is suitable for a celebration that demands comfort, style, equipped for events of any size.
Instagram: @bauraulac
[Show map]
8. Crowne Plaza Zurich
Location: Zürich, Canton of Zürich
Link: Crowne Plaza Zurich
This newly-renovated hotel with 365 rooms is suitable for big parties and has a lot of facilities to offer. Starting with an idyllic summer terrace for a photogenic ceremony to the fitness and wellness centers for some rest after the wedding rush. The rooms are classy with a simple design, yet tidy and with a nice view.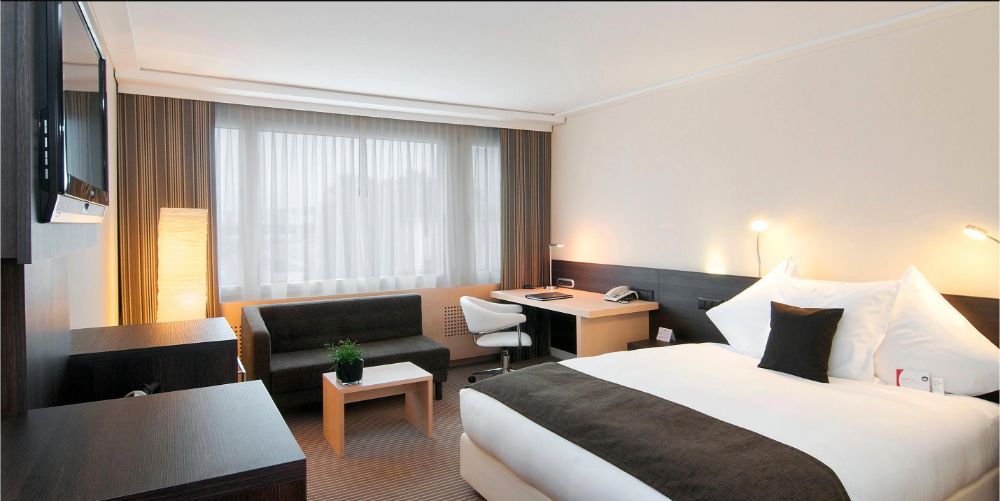 There is also a restaurant with rustic Italian cuisine and a bar with traditional Mediterranean drinks. It can organize food for the celebration at one of the event halls.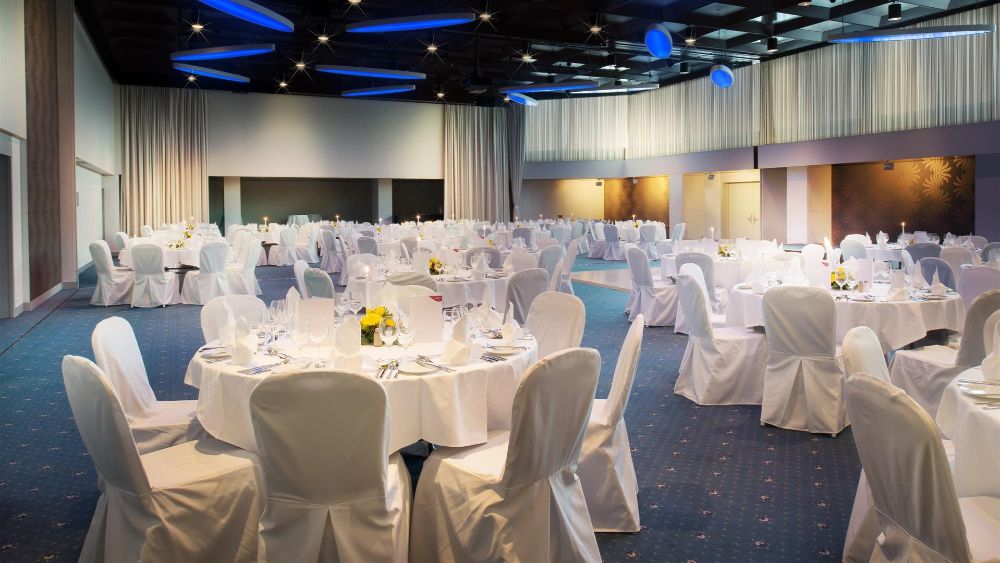 This pretty hotel is suitable for both big and intimate weddings because of its interior, capacity and convenient location.
Instagram: @crowneplazazurich
[Show map]
9. Grandhotel Giessbach
Location: Brienz, Bernese Oberland region
Link: Grandhotel Giessbach
Grandhotel Giessbach is a historical hotel residence, surrounded by mountains, forests, and alpine meadows. This hidden oasis is a great place to stay away from the hustle and bustle for a couple of days and of course, go down the aisle. The place owns a pier with a beautiful view and a historical funicular which connects the hotel and the pier.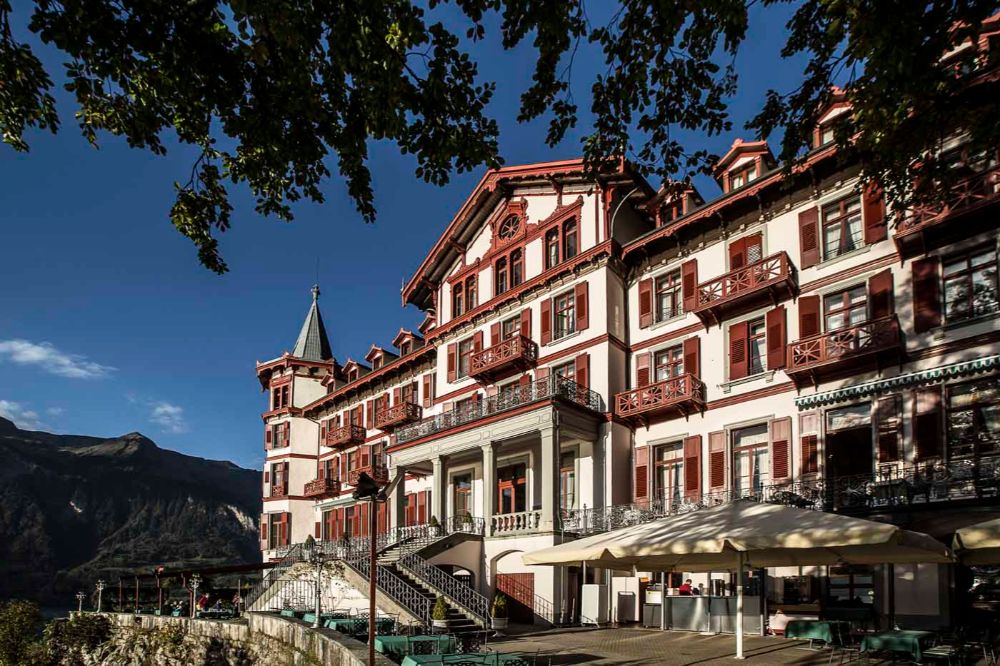 There is a selection of 70 rooms with different, yet sophisticated styling. Some are partly furnished with restored turn-of-the-century furniture.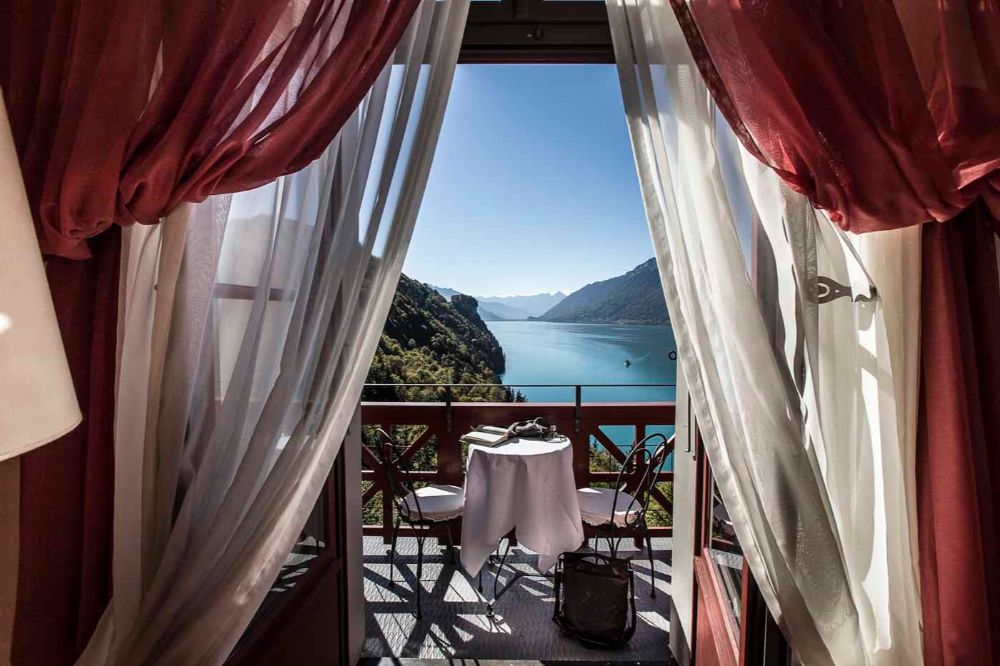 The hotel restaurants serve fine dining from traditional to cosmopolitan. Both the bar and the restaurants work non-stop, so you can party as long as you want. There are some special offers for wedding receptions, which may be negotiated with a hotel directly.
This place is a wonderful wedding location with an old-school, countryside charm.
Instagram: @giessbach
[Show map]
10. Chateau de Chillon
Location: Veytaux, Canton of Vaud
Link: Chateau de Chillon
Chillion castle in Switzerland is one of the most fascinating castles in Europe. Not only is it a historical landmark but also a great place to feast with the closest people. There are three main halls for a celebration, yet only the Aula Magna hall is available during the day. The rest of the rooms are welcoming excursions during the day time.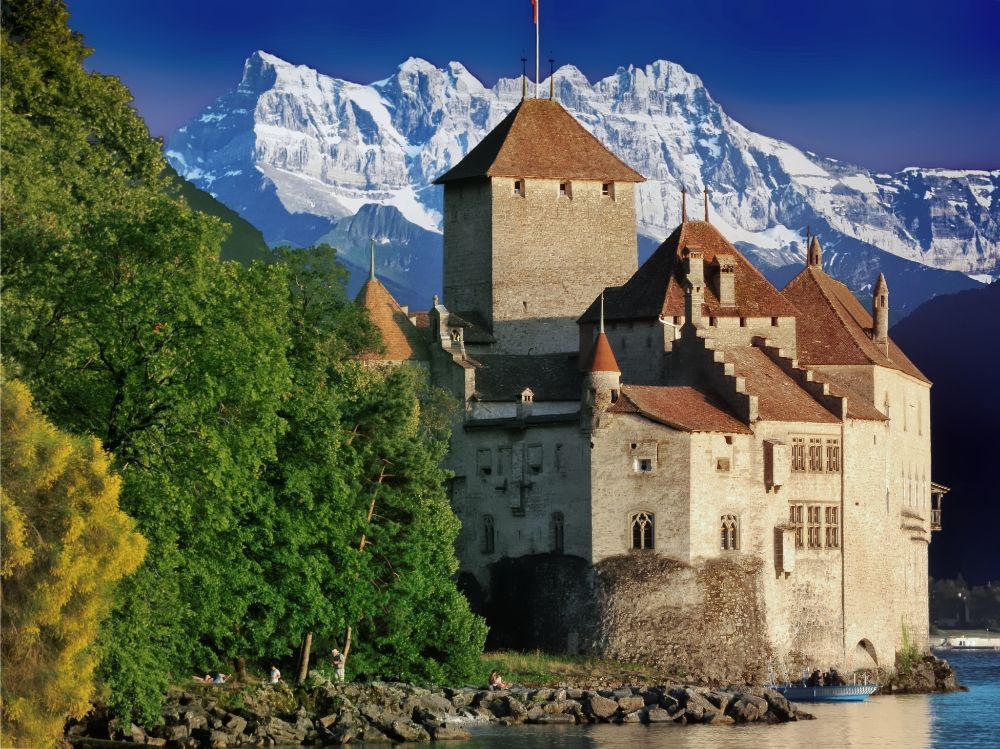 The place has a truly medieval atmosphere: there is a 12500 m2 vineyard which can provide luxury drinks. There is also a guide dressed in a medieval costume who can show your guests around the castle before the banquet. The dining room can be used for your banquet. The venue shares a list of approved caterers at their website.
This place works as a good spot for a theme wedding, but keep in mind that there are no overnight stay options and the minimum of guests per banquet is 100. There are several hotels nearby.
Instagram: @chateauchillon
[Show map]
11. Giardino Ascona
Location: Ascona, Canton of Ticino
Link: Giardino Ascona
A carefree retreat, Giardino Ascona, is located in a picturesque near the Alps. This place offers a relaxation program, based on Ayurvedic principles. There is also a spa center for a nice chilled after-party time.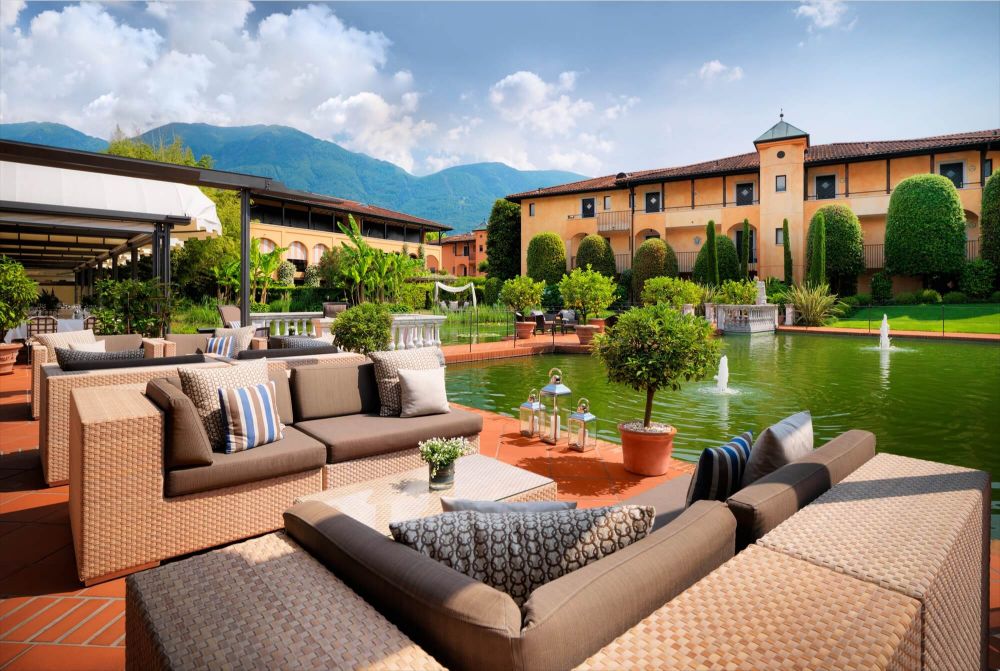 The newlyweds can choose one of three wedding packages: classically modern, casually Mediterranean or a romantically light wedding. They can bring from 30 to 200 guests depending on a package and enjoy special features each of the packages has to offer.The hotel takes care of all the details: name cards, floral decorations, dinner menu and a wedding night suit.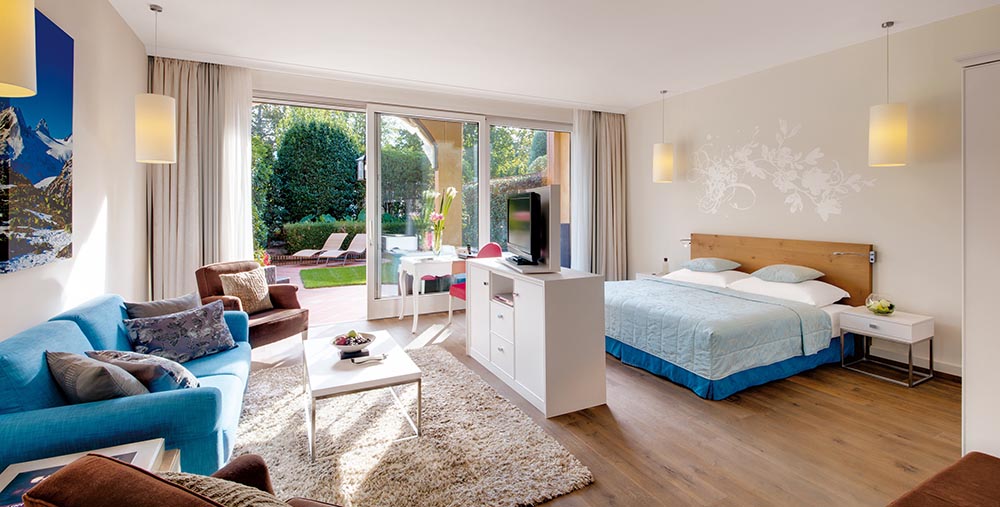 This location is a great option for a romantic intimate wedding, especially for those newlyweds who want to entrust someone with the preparation hustle.
Instagram: @giardinoascona
[Show map]
12. Villa Imperial
Location: Zürich, Canton of Zürich
Link: Villa Imperial
If you plan an intimate wedding, 10 guests tops, then Villa Imperial can be an option for you. There are 4 floors for rent, with 2 parking lots and a private indoor garden. Basically, once you rent the property you also get a bunch of useful additional services: party organizing, breakfast, catering, concierge services, limousine transfer, and more.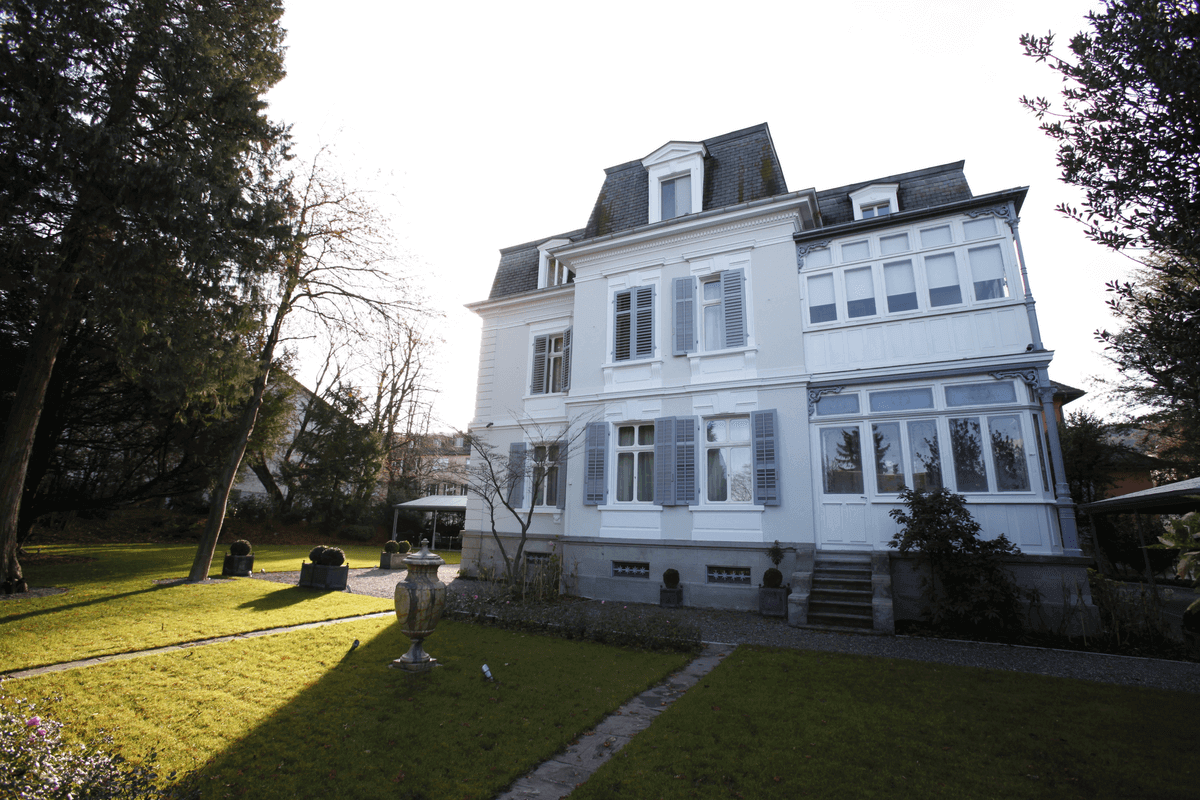 The place is tranquil with an orangery that can be used for beautiful photos, a covered grill terrace for some chit-chat moments and an intimate lounge zone that can be decorated for a wedding ceremony. There's also a cigar room, wine-tensor, and a home cinema there.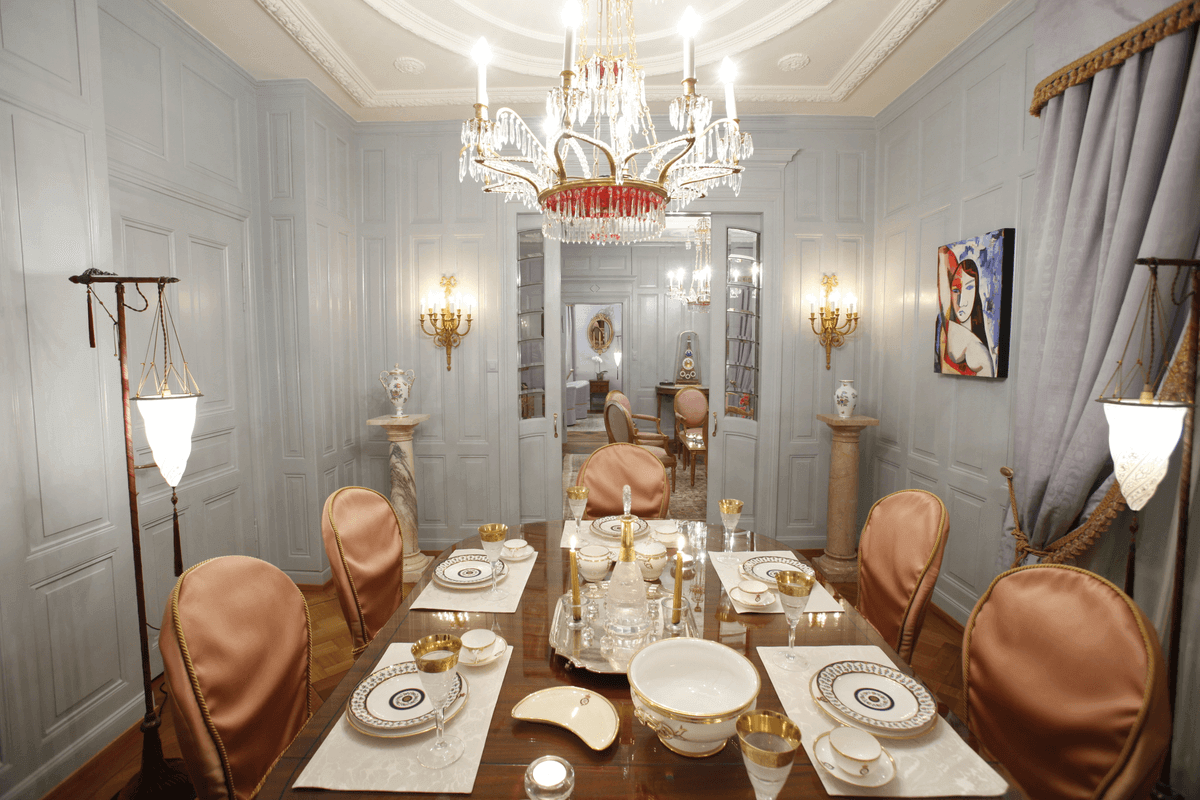 Villa Imperial is a great option for a close-knit family party. It is conveniently located and has a wide range of facilities.
Instagram: @luxuryvilla.zurich
[Show map]
13. Zurich Marriott Hotel
Location: Zürich, Canton of Zürich
Link: Zurich Marriott Hotel
This big yet cozy hotel offers spectacular views of the city and great customer service. Besides, as a prime wedding venue, it has a lot of special services: custom-created menus with locally-sourced ingredients, arrival gifts, welcome receptions for the guests, entertainment options for kids, and more.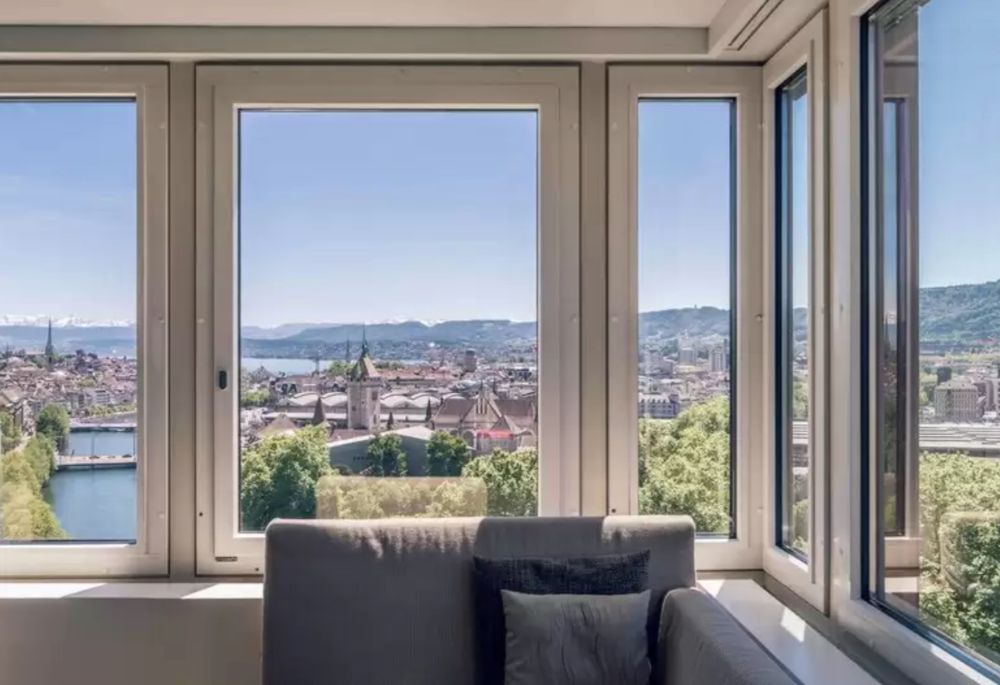 There is a 2 Michelin star restaurant inside the hotel which serves Swiss cuisine made with original recipes.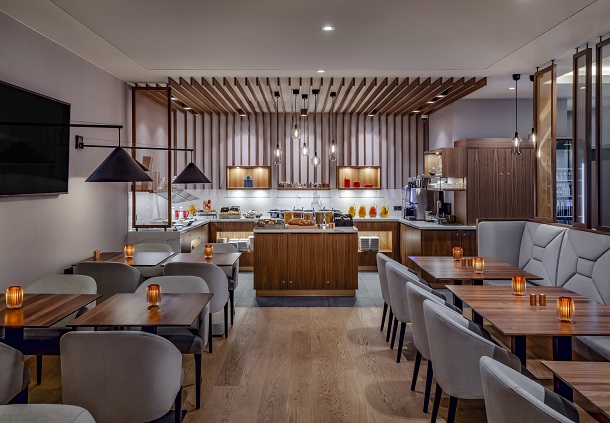 This hotel can accommodate up to 650 guests and therefore fit a big celebration.
Instagram: @zurichmarriott
[Show map]
14. Swissotel Zurich
Location: Zürich, Canton of Zürich
Link: Swissotel Zurich
Based close to the city center (5-minute train ride to the main station), Swissotel Zurich is a luxury wedding spot close to Zurich's business, culture, shopping, and entertainment. Moreover, it has a wide range of leisure facilities, such as spa, fitness center and a spectacular rooftop infinity pool. Therefore, a celebration can be combined with recreation.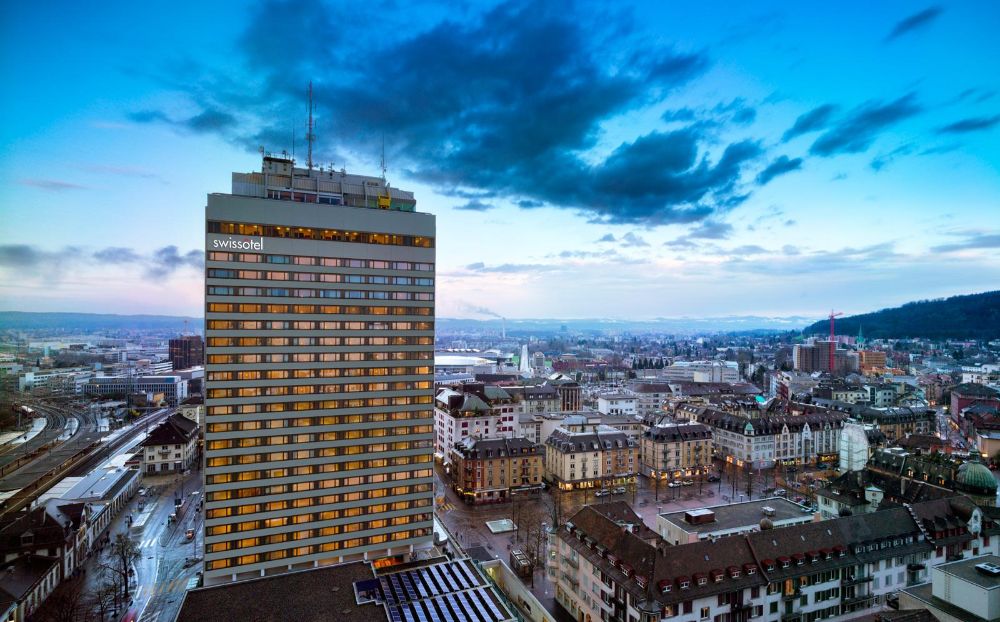 The venue also provides some special services for wedding celebrations: catering, an in-house concierge, audio-visual equipment and a variety of different decoration set-ups.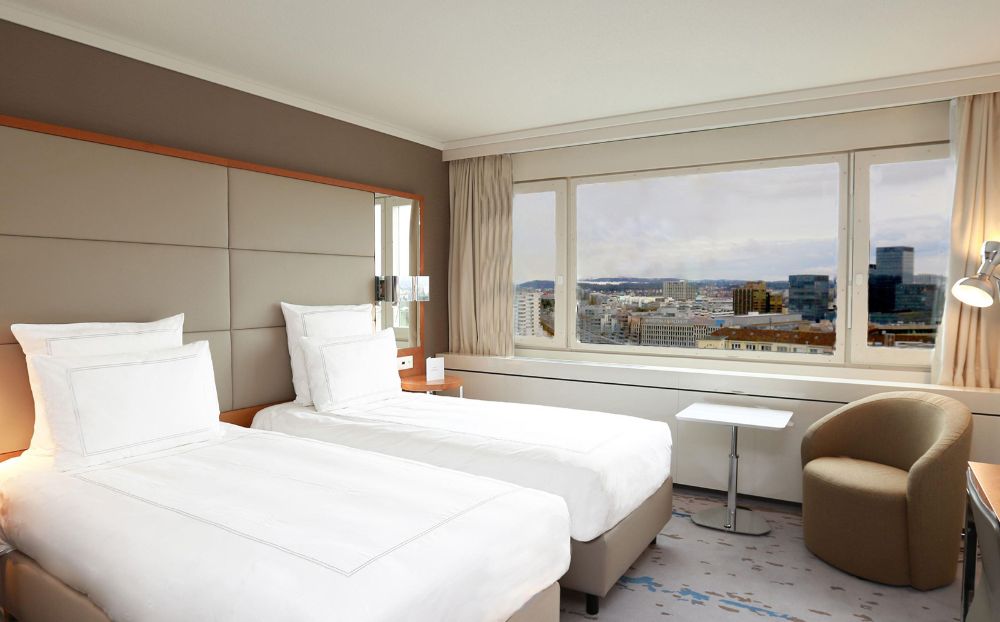 Choose this cool location if you plan a big wedding: the banquet hall can fit up to 650 guests, while a hotel has 347 guest rooms.
Instagram: @swissotelzurich
[Show map]
15. Oberhofen Castle
Location: Oberhofen am Thunersee, Canton of Bern
Link: Oberhofen Castle
Oberhofen castle is an architectural gem preserved from the 8th century. It is one of the most romantic spots for a wedding celebration: the inside decorations display diverse styles from Gothic through Renaissance and to Baroque. Moreover, there is a beautiful park where you can place a wedding arch for the ceremony.
The place has a list of premises for rent: garden room with a castle terrace, castle chapel, dining room, and even a lake turret. There are also special packages for weddings with catering included.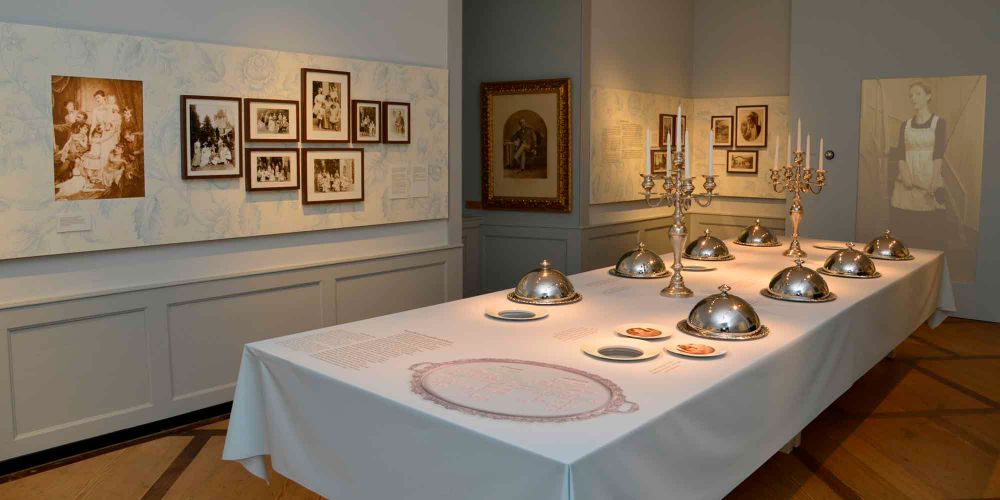 The castle can be easily reached by car or public transport: by bus, by train or even by boat. Mind that the castle doesn't have rooms for overnight stay.
It's a good option for a small or medium wedding ceremony (up to 80 people) with a stunning view over a lakeside combined with a historical ambiance.
Instagram: @schlossoberhofen
[Show map]
16. Iglu-Dorf Zermatt
Location: Zermatt, Canton of Valais
Link: Iglu-Dorf Zermatt
If you are looking for an unconventional wedding spot and don't mind sleeping at an altitude of 2727 meters, Iglu-Dorf Zermatt is a great option for you. There are rooms and suites made completely out of ice, so an unforgettable experience for your guests is guaranteed.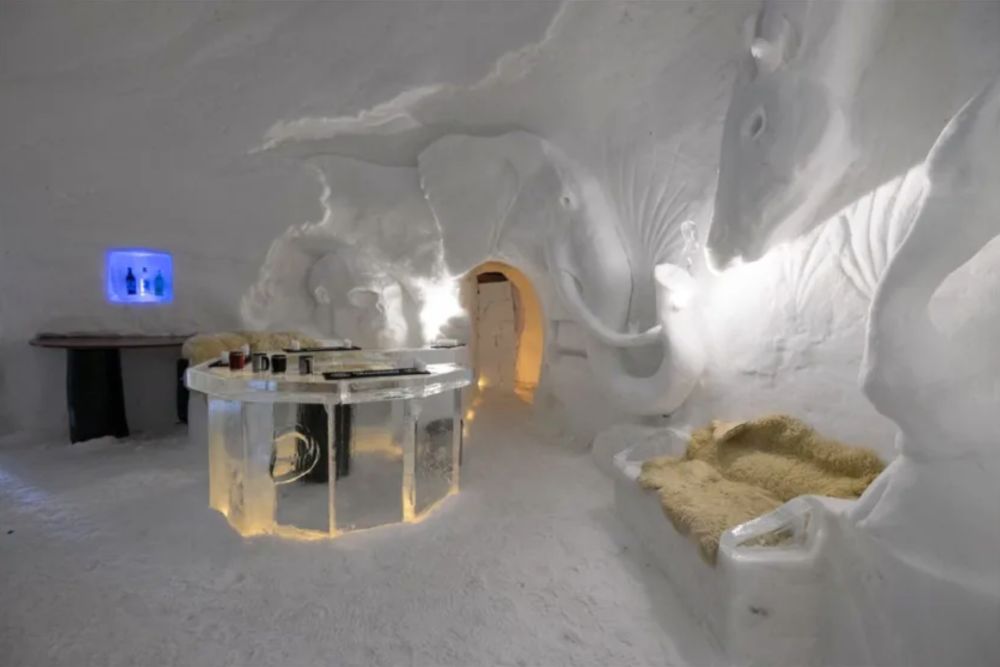 The hotel can accommodate up to 32 people and has a romantic suite with a private jacuzzi — a great option for the wedding night. Alternatively, you can build your own love-nest under the guidance of an experienced iglu-builder. Note that this place is open only for the winter season and you can book starting from July.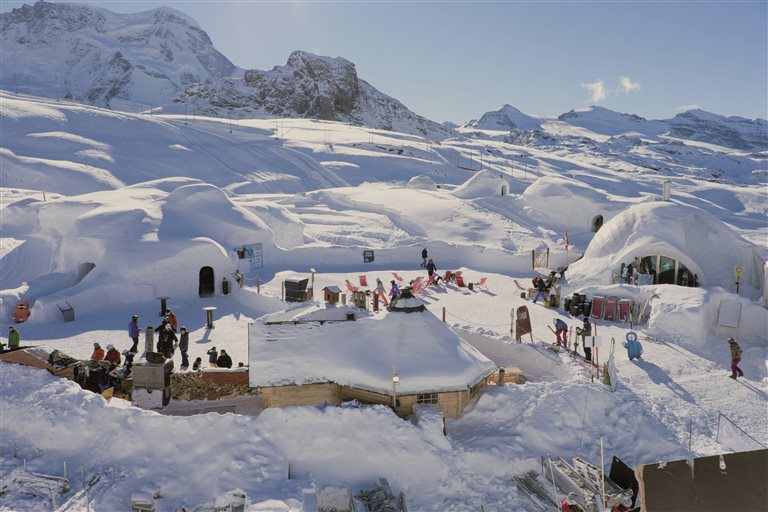 There are a nice restaurant and an outside bar where you can enjoy a mulled wine or a tasty cheese fondue.
The location can be reached by public transport or by car: the arrival information is displayed on the website.
This is certainly a unique place to get married. It is suitable for a small intimate wedding.
Instagram: @igludorf
[Show map]
17. Burgenstock Hotel & Alpine Spa
Location: Ennetbürgen, Canton of Nidwalden
Link: Burgenstock Hotel & Alpine Spa
Burgenstock Hotel & Alpine Spa functions since 1873. It resides above Lake Lucerne next to the Bürgenstock funicular connected to the city. The hotel has several restaurants with terraces and panoramic views of the lake and mountains of Central Switzerland.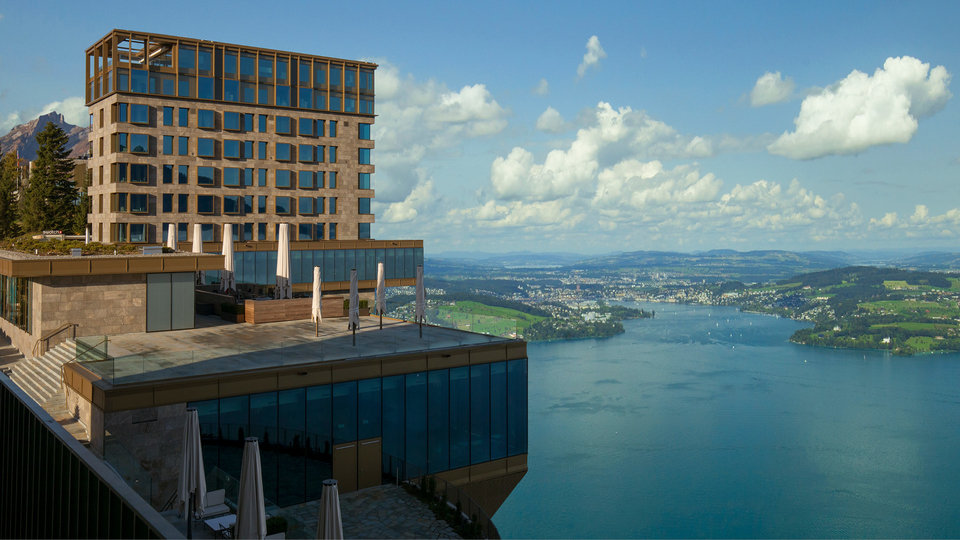 Within the wedding package, the hotel offers you to choose one of their 8 restaurants with different cuisine, from French Haute Cuisine to Asia Kitchen, conduct a ceremony in their chapel, and enhance your celebration with music band, DJ or a video show.
Bring your guests by car, by boat or by funicular and enjoy your wedding festivity in a luxury spot amidst the Alpine beauty.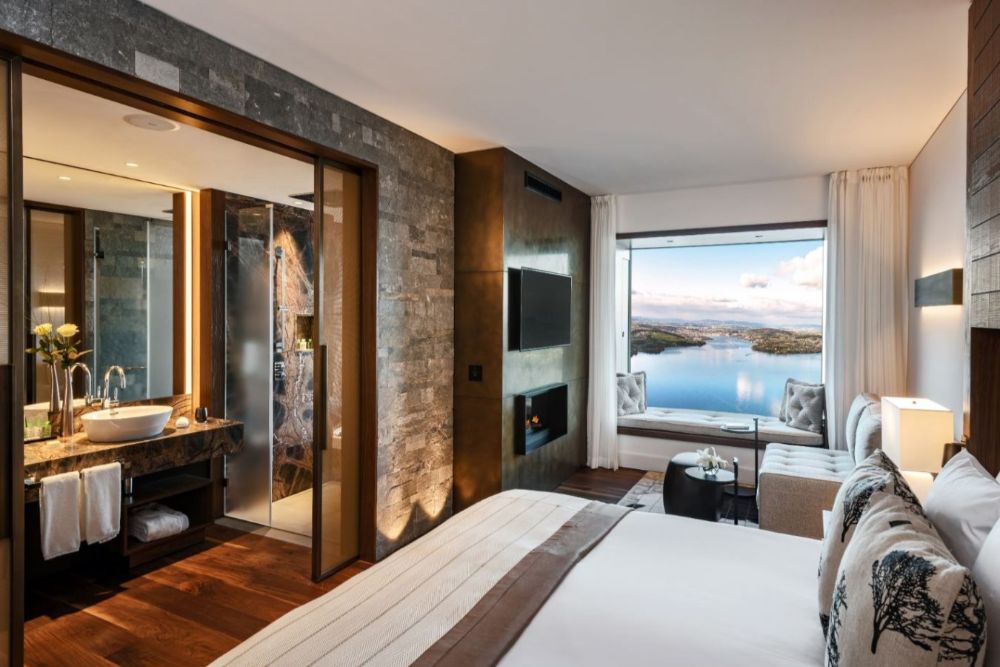 The place is suitable for big events: there are 4 hotels to comfortably accommodate your guests.
Instagram: @buergenstockresort
[Show map]
18. The Cambrian
Location: Adelboden, Bernese Oberland region
Link: The Cambrian
The Cambrian is a design hotel located amidst the breathtaking Swiss Alps. There are heated pools, a Finnish sauna, an authentic cheese factory. You can hold the event in this pretty location and treat your guests with the "New Alpine" cuisine, that this place is famous for.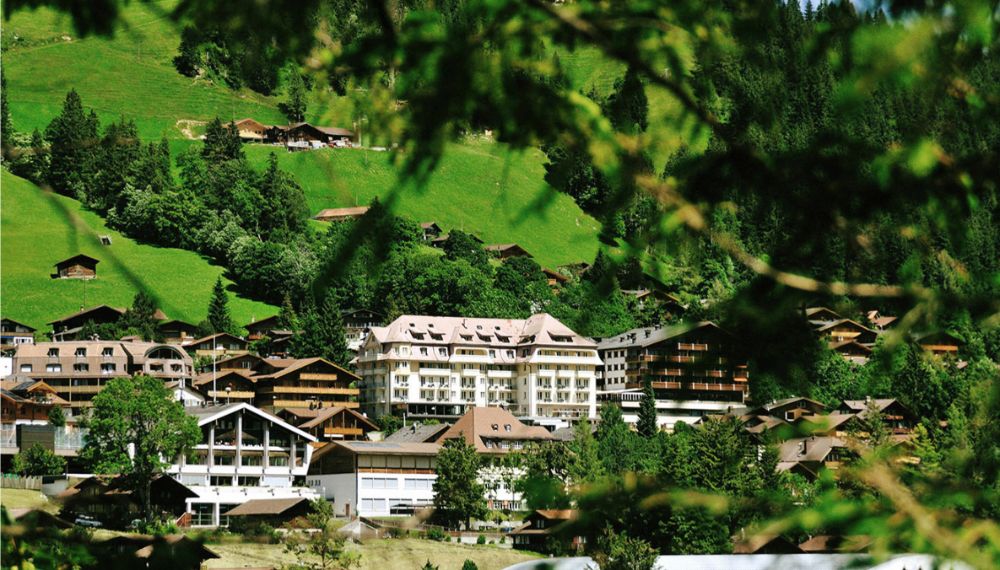 The hotel can be easily reached by car and it has a paid parking.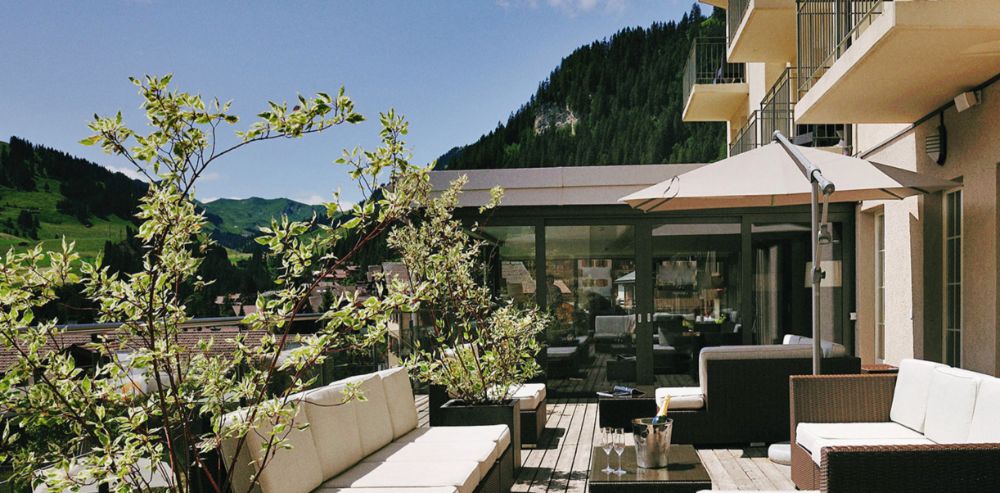 This venue would be fitting if you want the Alpine scenery on the wedding photos, but it's also a great place to relax after a vibrant celebration.
Instagram: @thecambrianadelboden
[Show map]
19. Le Grand Bellevue
Location: Gstaad, Bernese Oberland region
Link: Le Grand Bellevue
This 100-year-old hotel is a great getaway spot for a wedding in Switzerland. Located in the resort town Gstaad, this prime venue comprises rural ambiance with luxury facilities. Alongside with one Michelin star restaurant, there is a sushi bar and a wine cellar. Besides, your guests can play tennis or cricket, sail the yacht or watch a romantic movie about your love-story in a hotel cinema.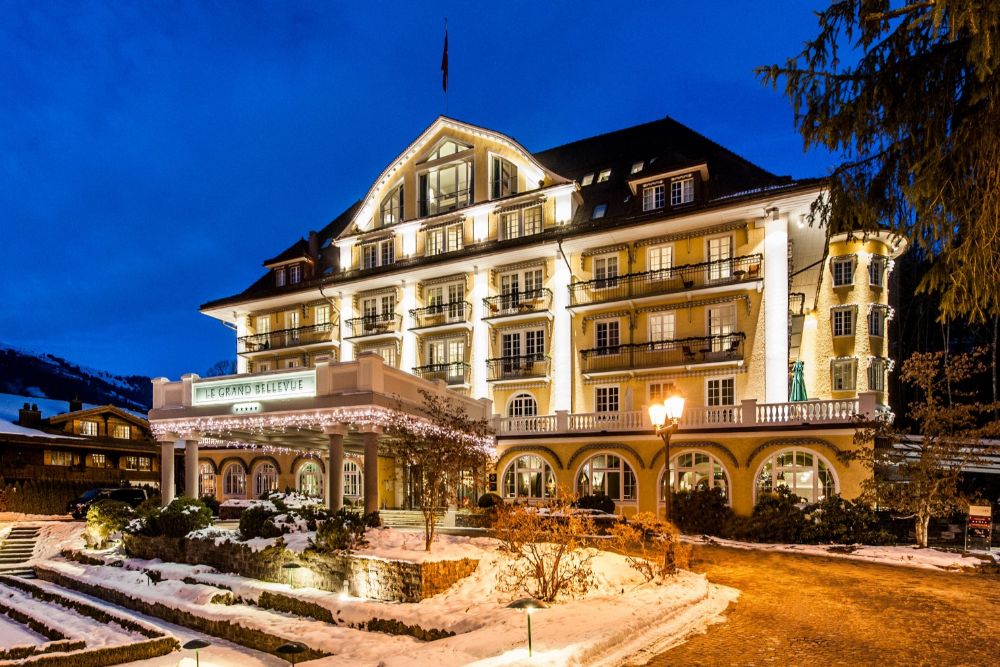 You can have your wedding ceremony on the summer terrace or a sophisticated restaurant. A catering option is also available.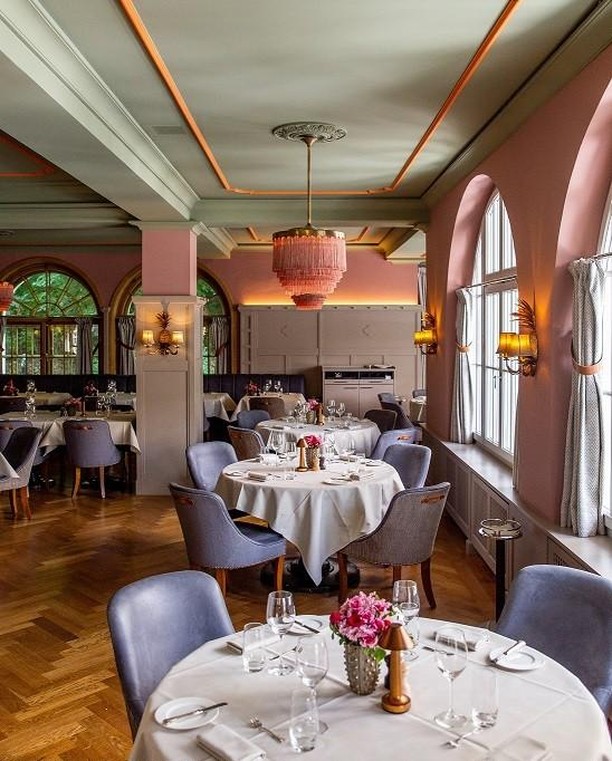 This place is a perfect spot for a luxury wedding. It offers entertainment options that would please even the most demanding guests.
Instagram: @bellevuegstaad
[Show map]
20. CERVO Mountain Boutique Resort
Location: Zermatt, Canton of Valais
Link: CERVO Mountain Boutique Resort
This beautiful boutique resort is a nice place to go down the aisle surrounded by breathtaking scenery. Within a wedding package, the newlyweds get full assistance with event preparation, a banquet, and a big party on the terrace or in the restaurant. Plus, you get a relaxed brunch the day after the celebration. The resort also offers a spa and wellness center for an after-party rest.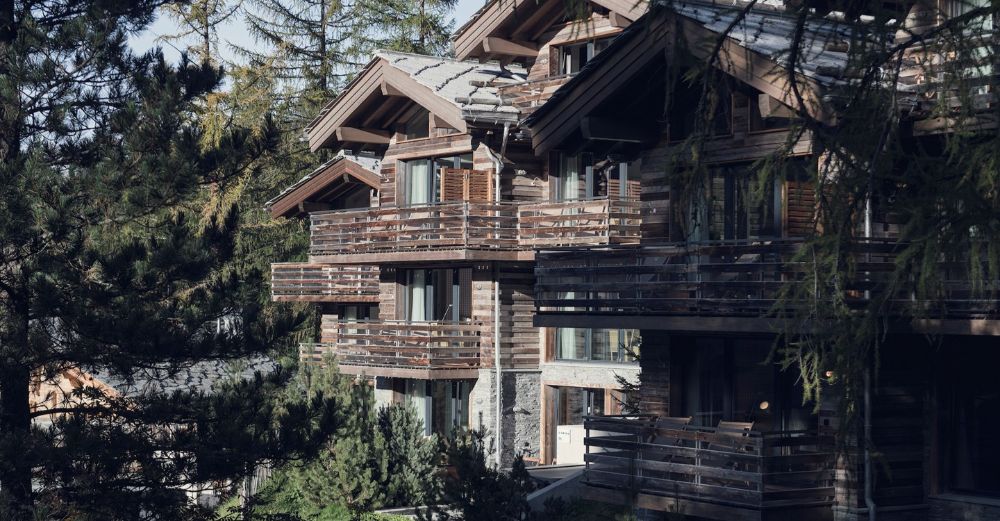 The halls fit 180 people dancing and up to 100 — dining. There are 76 beds in 6 chalets to accommodate the guests.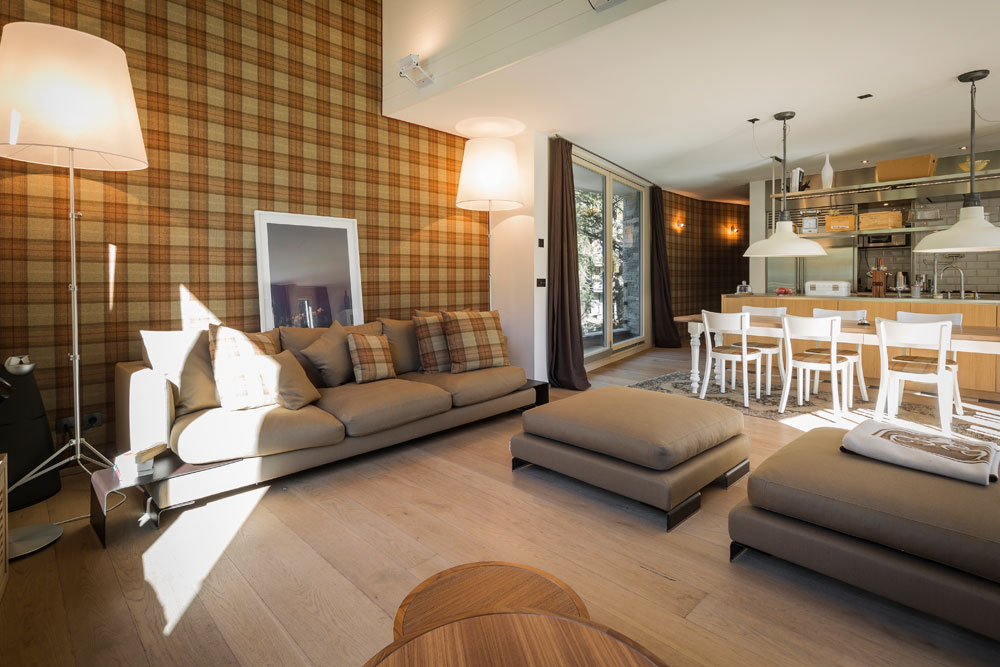 This location is best in winter when the mountains are covered with snow. Yet, even in summer, you are guaranteed to have astonishing wedding pics and wonderful memories.
Instagram: @cervozermatt
[Show map]
Wrap Up
Now that you are equipped with useful tips on how to choose a wedding venue and have a comprehensive review of the best places to get married in Switzerland, there's just one more thing. Check out our comparison table with the main features of the venues, their contacts, and other useful information. With that being said we wish you a wonderful celebration! Choose the wedding spot that represents your style and you will have the memories of a lifetime!