2019-06-2
Top 9 Luzern Wedding Locations for Unforgettable Moments
2019-06-2
Top 9 Luzern Wedding Locations for Unforgettable Moments
Top 9 Luzern Wedding Locations for Unforgettable Moments
Choosing your wedding spot is one of the most important decisions you'll make in the wedding planning process. Luckily, getting married in Switzerland, you'd be able to choose from a variety of picturesque locations. But with so many options, how do you find "the one"?
To make it easier we've already sorted out the top Luzern venue locations based on the honest reviews about styles, services, parking abilities and more. Before we start, here is the ultimate wedding venue checklist. Take a look at the most important criteria that should not be taken lightly.
Key Considerations When Choosing Your Dream Venue
Before choosing a wedding venue, it is critical to decide what you want and need the location to be. We've prepared a list of useful criteria so you can shortlist only those spots, that fit your taste best. Our guide covers the most important things to consider, and all of the venue descriptions below are based on these criteria.
Interior and rooms
Does the venue interior fit your wedding theme and work with your wedding aesthetics? Whether it's a rustic country-house or a luxury apartment-hotel — make sure it complements your vibe and can comfortably fit all your guests.
Services
It is crucial to know what services are included in the venue and most importantly, what are the non-negotiables you and your partner may have regarding them. Catering, suppliers, live music, fireworks, etc. — check out what the venue has and what's allowed to add.
Location and surroundings
Are you looking for an apartment hotel, a restaurant or an outdoor space with a pool and botanical garden? It's always better if there are some pretty sights nearby - as likely, your photo shooting will also happen there. Mind also the infrastructure. Luckily, Switzerland wedding venues are often located in the most beautiful environment: mountains, castles, and surrounded by city-panoramic views.
Food and drinks
Do you want a venue with food included or prefer a catering option? Make a decision based on your cuisine and beverage preferences. Local food or international? Either way, you choose, make sure food and drinks are high-quality and tasty, so nobody gets frustrated at the banquet.
Other services
It's important to know what are the extra amenities included with the venue wedding package. For example, having a nice spa or an evening concert available at a venue may be a pleasant addition.
Venue capacity
Are you planning a big wedding or a small intimate one? Make sure the place has enough capacity to accommodate all your guests. It works both directions. The venue should be spacious enough but without too much empty space.
Premises
Make sure that the wedding venue has enough rooms for all the activities: dance, ceremony, banquet, and the rest. Also, check if there is a wedding hall or an indoor garden to host a ceremony if you plan to have one in the venue. Doing everything in one place can be quite a challenge!
Parking and transportation
Make notes regarding parking and transportation. Check out if there is public transit access and a big parking lot nearby. If parking is a problem, think of the other alternatives to get everyone to the party, e.g., a shuffle bus or a van for rent or car service from the venue.
Availability of dates
You can either pick a date and look for an available venue location or find a wedding spot of your dreams and then choose a date depending on the venue's availability. If a specific date or time of a year really matters to you then go for it, but keep in mind that flexibility may give you more options.
Reviews on the Internet
Do not underestimate reviews on the Internet. They can give you unbiased opinions and raw experience of the real people, who have already got married in your desired place.
Now that you are familiar with the tips on finding your dream venue, let's move on to the top 9 wedding locations in Luzern.
Wedding Venues of Your First Choice in Luzern
Our list would take you through the styles and aesthetics of different wedding venues, as well as give a glimpse on some helpful reviews from the people, who have already celebrated their special day there.
Hotel Schweizerhof Luzern
Schweizerhof Luzern is a luxury hotel, situated right near the Old Town and directly on the shore of Lake Lucerne. This building with a great history has been run by the Hauser family since 1861, and some parts of a building are under monument protection.
Each room is themed around a famous person who has stayed in it, bringing a nostalgic charm to the place. Hotel's various halls, restaurants, rooms, and suites provide seating for up to 380 people. The biggest is Zeugheer Hall, which has direct access to a beautiful Winter Garden. In total, there are 101 suites and rooms.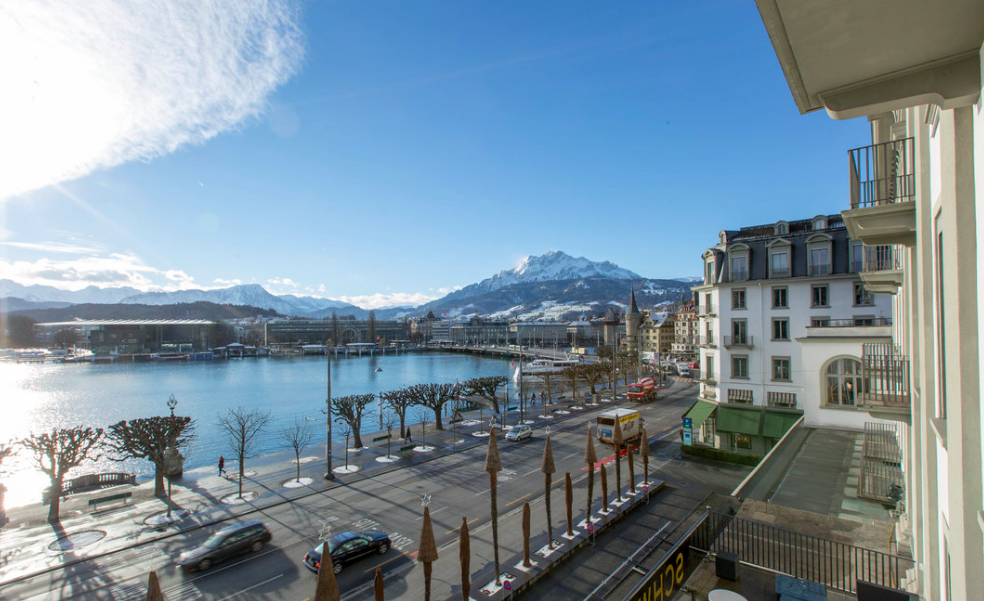 Also, there are two top-class restaurants with authentic specialties on site along with a trendy bar with live music. Besides, there is a wellness area that offers packages for couples. For those, seeking entertainment the hotel also regularly hosts exquisite concerts and festivals. The hotel has its own parking lot and is convenient to get by any means of transport.
Hotel Schweizerhof Luzern review:

This place is a good option for those, who treasure historical heritage and value excellent service.
Contacts for booking: Tel. +41 (0)41 41 410 04 10, info@schweizerhof-luzern.ch
Art Deco Hotel Montana Luzern
A unique location surrounded by breathtaking views is a perfect outdoor wedding venue high above the rooftops of Luzern. A ceremony can be held on the covered Scala terrace as well as in Art Deco Room with a capacity of 40-120 people depending on a seat type. There are also 42 art deco rooms and 19 penthouse rooms suites which are all individually furnished for different tastes. Some, even have a private outdoor hot tub.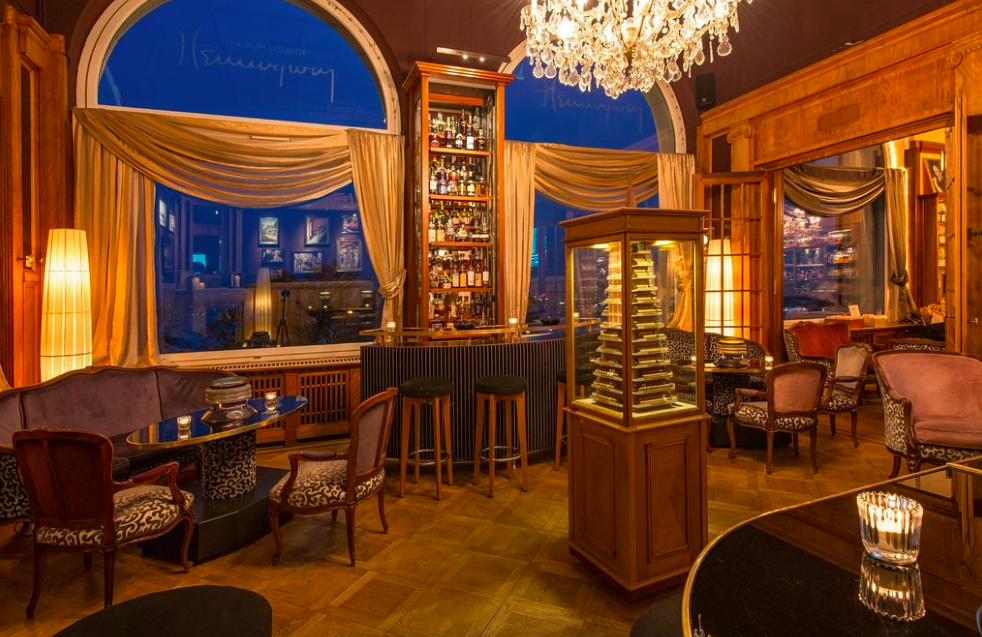 What are the other remarkable things about Art Deco Montana? First of all, it has been recognized as a The «Hotel of the Year 2018/2019» in Switzerland, with a special admiration to their professional staff. Also, there is a private funicular that connects the hotel with the Old Town.
Art Deco Hotel Montana Luzern review:

So, if you plan an intimate wedding in the delightful art-deco ambiance, Art Deco Hotel Montana is a great fit.
Contacts for booking: Tel. +41 (0)41 419 00 00, info@hotel-montana.ch
Bolero
A popular tapas place in Luzern, Bolero is also famous for its banquets. It can host up to 100 people in each of 4 banquet halls and serves as the best indoor wedding venue for those, who love Spanish cuisine. Besides, it is located near the train station, which makes it convenient to get to the spot.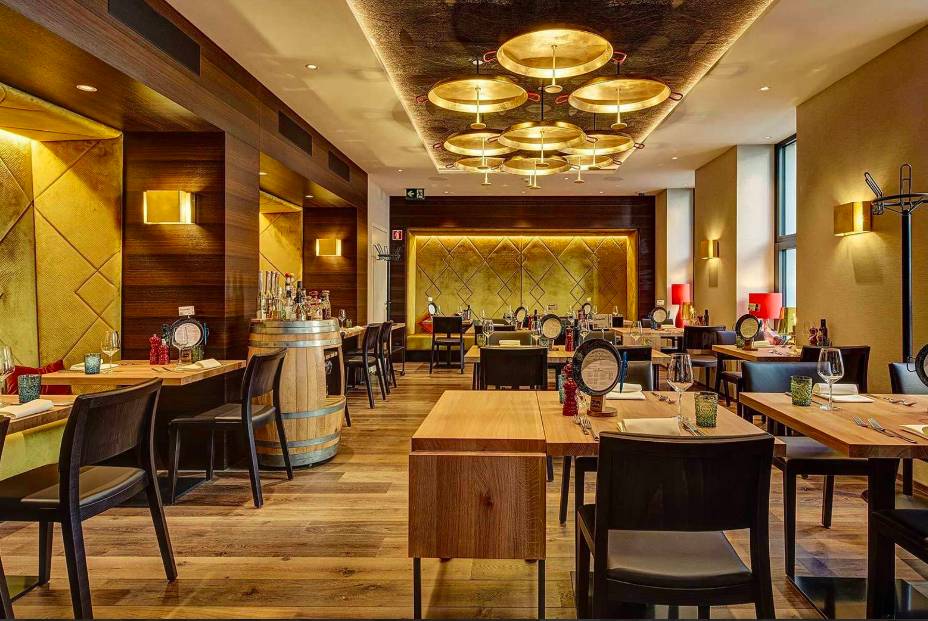 Bolero restaurant is located in the CASCADA Hotel, which is known for its 66 rooms designed around the theme of Swiss waterfalls. There are five categories of rooms, ranging from single rooms to family rooms for four persons. Additionally, there is a sports center and sauna nearby.
Bolero Hotel review:

Opt for Bolero if you want to hold a ceremony in a relaxed ambiance and treat the guests with some extraordinary Spanish specialties.
Contacts for booking: Tel: +41 41 226 80 80, info@bolero-luzern.ch
Bam Bou
This place is a great destination for a wedding in Switzerland. The restaurant belongs to the Hotel Luzern, which is situated in the heart of the city, surrounded by a magnificent mountain landscape. It contains 30 suites and rooms all designed in a theme of cinematic history.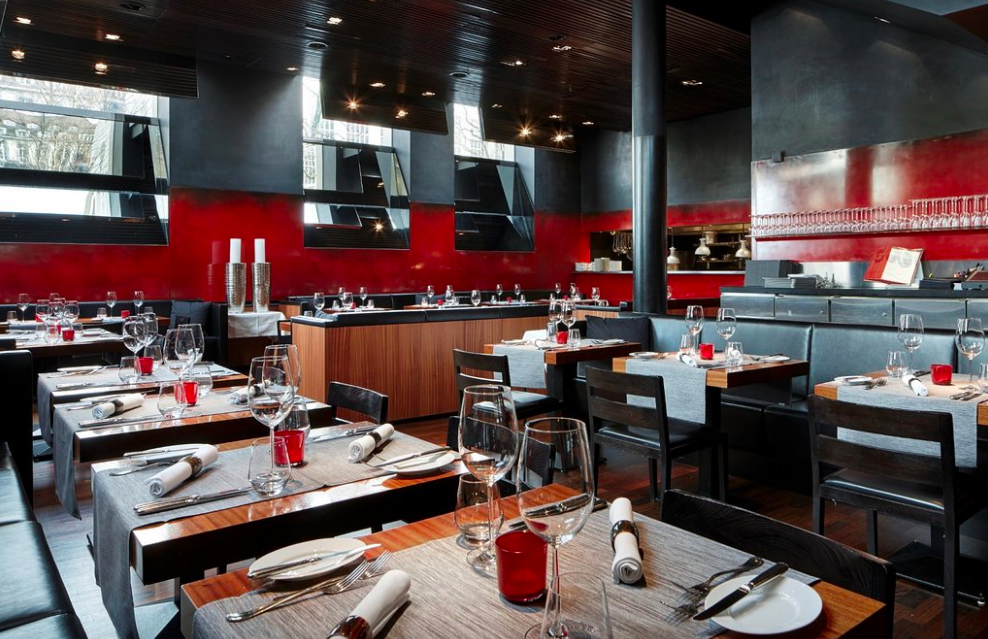 While your guests can stay in the hotel upstairs the restaurant, a ceremony can take place in a sister-hotel Astoria, which is located nearby. It has a lovely rooftop terrace, a 1200 m² of space and an in-house car parking garage.
Bam Bou restaurant review:

Bam Bou is a cool place for a big celebration for around 100 people yet in a charming atmosphere. Go for it if a culinary on the highest level is a must for you.
Contacts for booking: Tel: +41 41 226 86 10, info@bamboubythomas.ch
Richard Wagner Museum
Richard Wagner Museum is a pretty country house on Lake Luzern. A museum, dedicated to the life and art of famous composer Richard Wagner kindly offers to conduct an intimate event in a museum Salon on a ground floor. The administration can also organize a private concert for your celebration, played on the original Wagner's piano. Only 50 people max can be comfortably seated in this hall.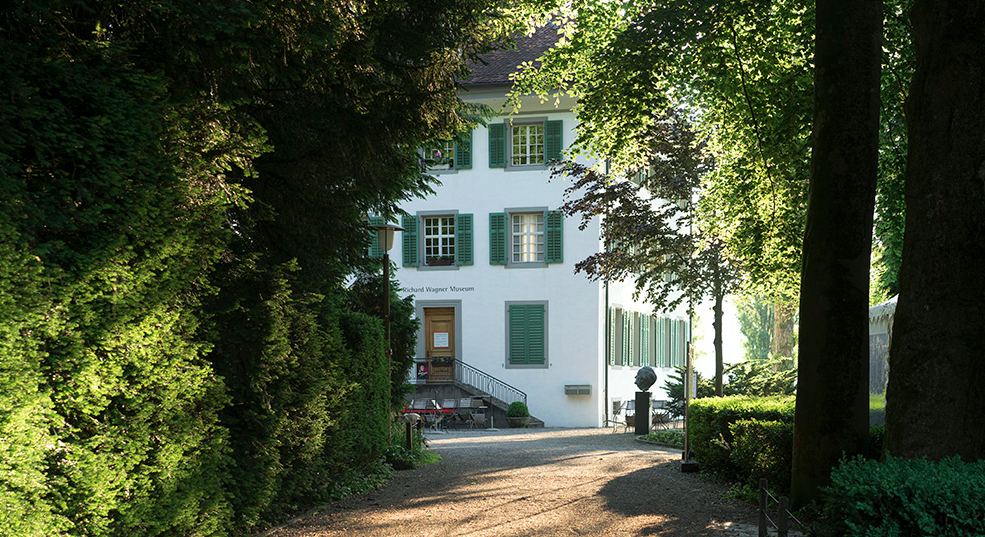 The place can be easily reached from the center of Luzern. Alternatively, you can organize a private transfer for your guests. Yet, keep in mind that this spot is closed for a winter break up to 31st of March.
Richard Wagner Museum review:

Contacts for booking: Tel. 0041 (0) 41 360 23 70, info@richard-wagner-museum.ch
Bourbaki Panorama
This iconic classic panoramic rotunda is located in the middle of Luzern and is well connected with a dense public transport network. It is not only a historical masterpiece but also a premium spot for your wedding festivities. There is a nice option to go for a guided tour and see the world's best-preserved giant round paintings before the celebration.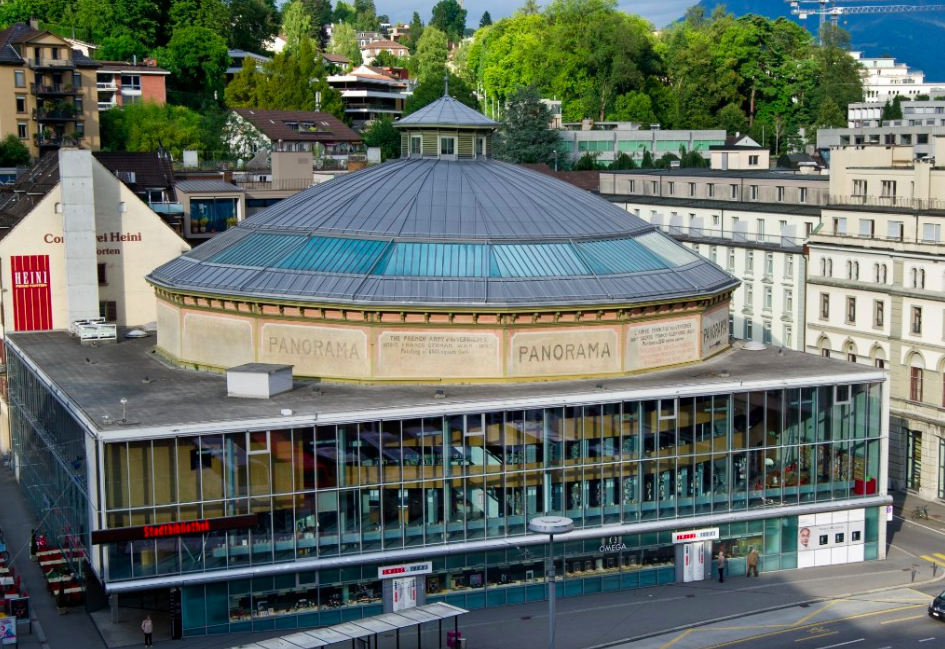 In the center of the round picture space, there is a unique panorama stage to place a wedding arch for the ceremony. Up to 120 people can be comfortably seated for the banquet, while there is enough space for dancing and mingling for 180 persons.
Bourbaki Panorama review:

The natural light and panoramic views are things that make this place unique.
Contacts for booking: Tel: +41 41 412 30 30, events@bourbakipanorama.ch
KKL Luzern Hall
Being one of the most remarkable buildings in Luzern, Culture and Convention Centre hosts various events, and your wedding can be one of them. This place is famous for its top-notch organization and hospitality at the highest level. It is conveniently located in the city center.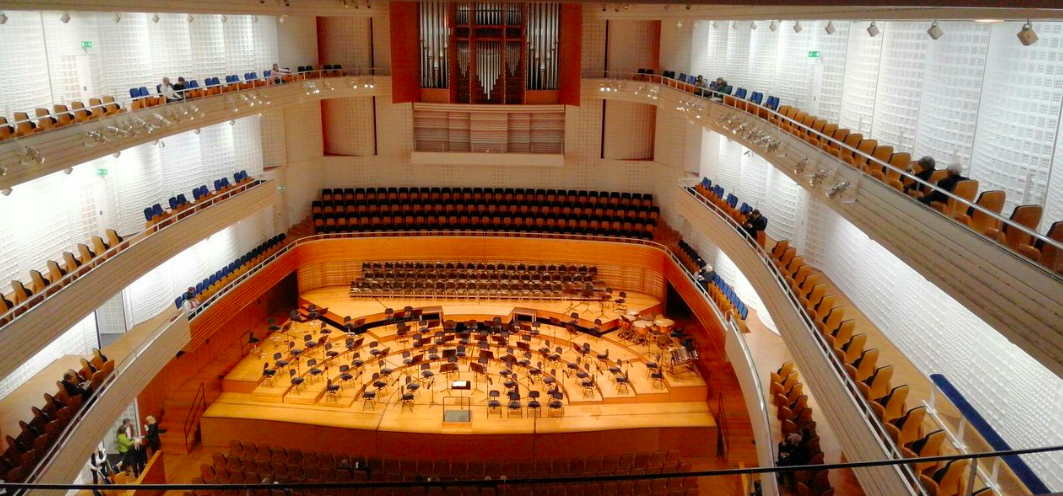 You can choose a venue among Luzern hall with 1044 seats, terrace with 400 standing places, crystal lounge with 54 seats and other fantastic options. There is also an option to order catering and equip your event with multimedia tools or special lighting.
KKL Luzern Hall review:

It is definitely a prime location for a big celebration.
Contacts for booking: Tel: +41 41 226 74 37, sales@kkl-luzern.ch
Le Bijou Luzern
Once visiting Le Bijou Steve Wozniak, Apple co-founder said that this place is "the most elegant, personalized, exclusive hotel in the world." The Luzern location is one among other apartments for rent around Switzerland placed right next to the prestigious Schwanenplatz, the lively old-town or the picturesque Lion Monument. Your ceremony may take place at any desired spot in the city while Le Bijou serves as your base, with 20-30 people on board.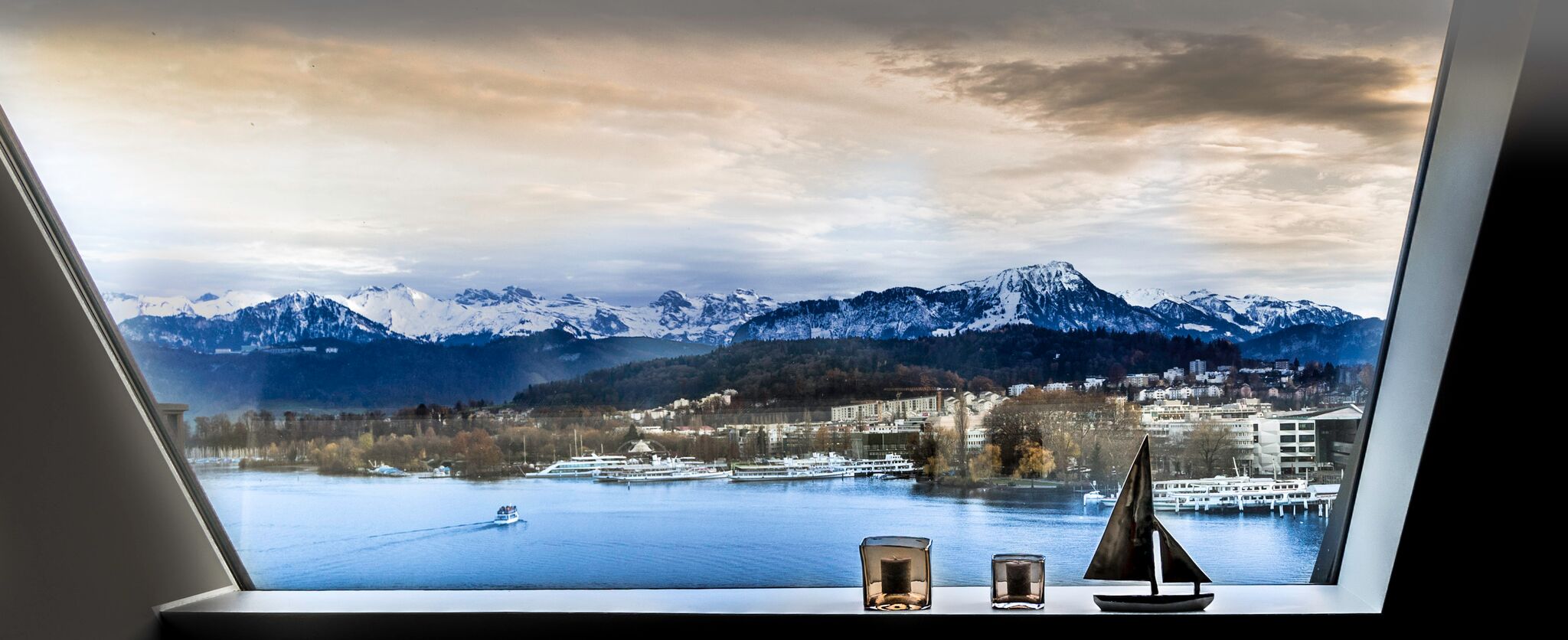 Le Bijou can assist you in choosing the best DJ or a private chef, as they have an extensive network of partners around the city. Other than that, Le Bijou also offers wedding packages tailored to your needs. Whether you plan a small wedding with the closest people or a vibrant weekend festival, Le Bijou will make it entirely your way. Remarkably, there is a virtual concierge James, that learns your interactions and builds-up a whole new level of a personalized experience in the apartment.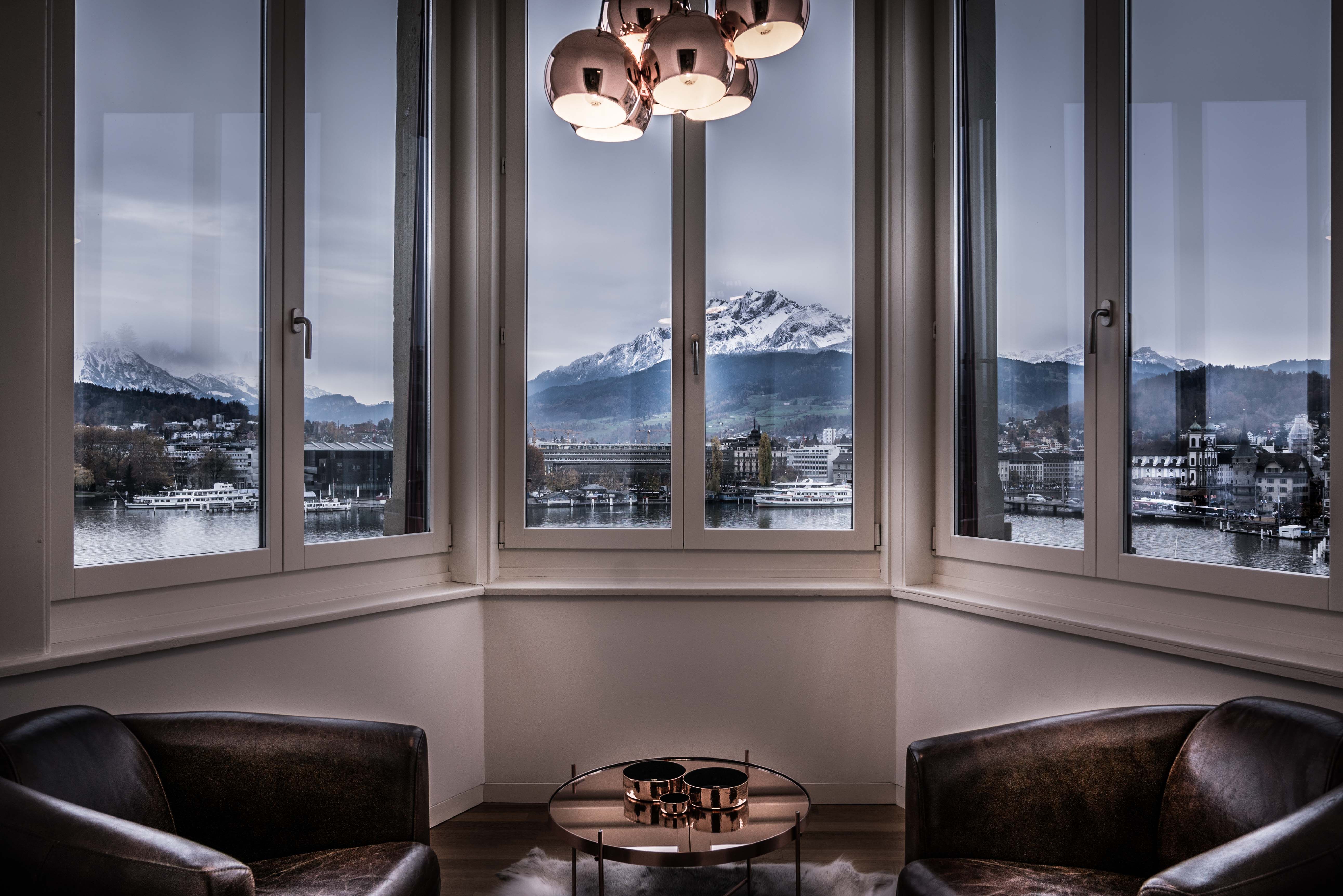 Le Bijou Luzern review: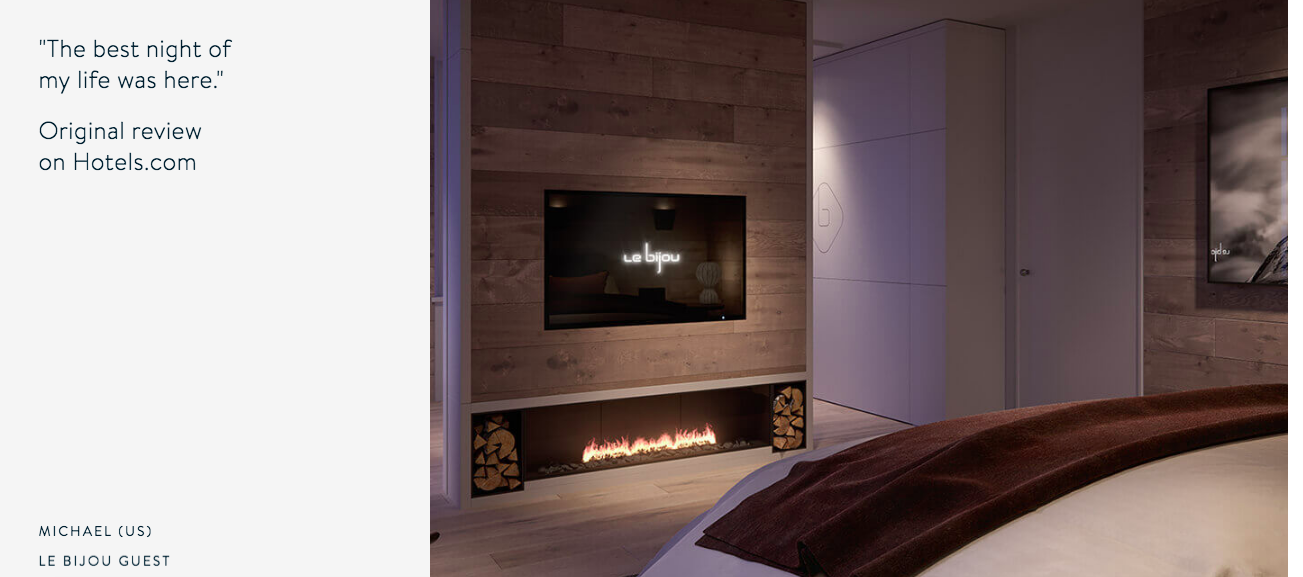 While there are various ways you can celebrate your special day with Le Bijou, it is definitely an unconventional leader for an embodied wedding experience. This option is suitable for those, looking for an intimate wedding with an option to stay in an elegant wedding suit overnight.
Contacts for booking: Tel +41 44 533 16 00, booking@lebijou.io
Schifffahrtsgesellschaft des Vierwaldstattersees
Weddings in Switzerland are not only about mountains, but also the lakes. You can make your gala day unforgettable with an unusual on-boat celebration. The company offers various types of boats to choose from and a list of possible culinary options. It's possible to use a charter boat to reach any lakeside chapel or to hold the actual ceremony onboard.

Best of all, a private charter cruise can easily be combined with a shore program or a visit to a historical site.
Schifffahrtsgesellschaft des Vierwaldstattersees review:

If you want something off the beaten track pick a cruise around Luzern Lake with its spectacular fjords and charming villages on the side.
Contacts for booking: Tel:+41 41 367 66 12, schiffsmiete@lakelucerne.ch
Wrap up
Finding your venue will be one of the big milestones in your wedding planning. Now, you are fully equipped to do that with ease. Take a look at our wedding venues comparison chart and see which venues match your taste and vision best.
Rely on how you want your wedding to feel — formal, casual, or somewhere in between and then make a grounded choice based on the tips above.
Happy celebration!