2019-10-7
Have yourself a very Swiss Christmas: your comprehensive guide for spending the holidays like a native
2019-10-7
Have yourself a very Swiss Christmas: your comprehensive guide for spending the holidays like a native
Winter is coming. And if you're considering spending the Christmas and New Year season in Switzerland, you're probably also wondering how to make your stay a truly memorable one. So we've compiled a special in-depth Swiss Winter holiday guide, with the very best tips and most up-to-date information compiled by locals for special guests. That's you!
So whether you're tempted to visit Switzerland or if you've already booked your flights, check out all these amazing possibilities and options for the Winter Wonderland holiday of your dreams.
Bookmark this page and let us help guide you on where to stay and eat out and how and where to experience contemporary Swiss culture.
Why Switzerland is The Must-visit Destination For Christmas
There's no more romantic place to spend the Winter season than in Switzerland's snowy Alps. Picture postcard views of rugged wilderness and sweeping panoramas unfurl landscapes punctuated by medieval spires of ancient churches and the glistening skyscrapers of contemporary city life.
Switzerland is a magical land. A country fusing the most cutting-edge technology and design with the age-old crafts and traditions of an alpine culture that must be experienced first-hand to truly appreciate.
Of course, there's Europe's best skiing and snowboarding as well as hiking and winter wildlife safaris, but there's tons of extraordinary shopping to be had too. And then there's the world's most delicious chocolates in a never-ending variety of flavors. Oh and let's not forget the deliciously pungent and wickedly indulgent mountain cheeses — and this is all just for starters!
With so much choice you won't be left wanting, but everyone is unique so our guide offers a whole smorgasbord of opportunities to suit every kind of traveler. So whatever your taste or budget, now you can tailor your trip, exactly and especially for you.
Find directions and a summary of the best ways you can reach Switzerland this season and plan ahead by understanding the weather you should expect to greet you during your stay.
Discover this season's hottest venues and get tips from the locals on how to celebrate Christmas like a resident. From the major cities to off-the-beaten track villages high up in the Swiss mountains, there are loads of locations you could choose to visit and experience your best-ever New Year holiday.
Book your Swiss Alps Christmas Escape
The Swiss mountains are the perfect backdrop for a fantasy white Christmas but it's not only lovers of winter sports that are spoilt for choice. For skiing and snowboarding enthusiasts, there are of course tons of resorts in places like Zermatt, St. Moritz, Davos, and Klosters-Serneus. But holidaymakers from around the world also come here to relax in luxurious spa retreats, wellness centers or in cozy mountain lodges nestled amidst the lusciously forested mountainsides.
St. Moritz is known for its spas, a lively Christmas market and a lively entertainment scene with regular live folk music and plenty of creative workshops for artsy types. Before you leave you simply must take a ride on the historic Bernina Express.
Visit picturesque Zermatt and stroll the lively downtown promenade, with its countless boutique shops, apartment-hotels, and restaurants. Explore the atmospheric back-streets and admire beautiful medieval architecture in secluded backstreets. You shouldn't leave before climbing the lower reaches of the soaring peak of Matterhorn. Reserve time for soaking up the splendor of this region's pristine nature and adventure around the foothills of the Alps; where a vast wilderness begins, that sustains wolves, bears, eagles, and many other endangered species.
Winter sports and some surprises in Davos and Klosters-Serneus
Go to Davos and Klosters-Serneus for the best skiing in Switzerland. Here there's something for winter sports enthusiasts of every level. Here you'll find visitors who want to improve their skills, as well as for experts who seek to challenge themselves on the steep off-piste slopes.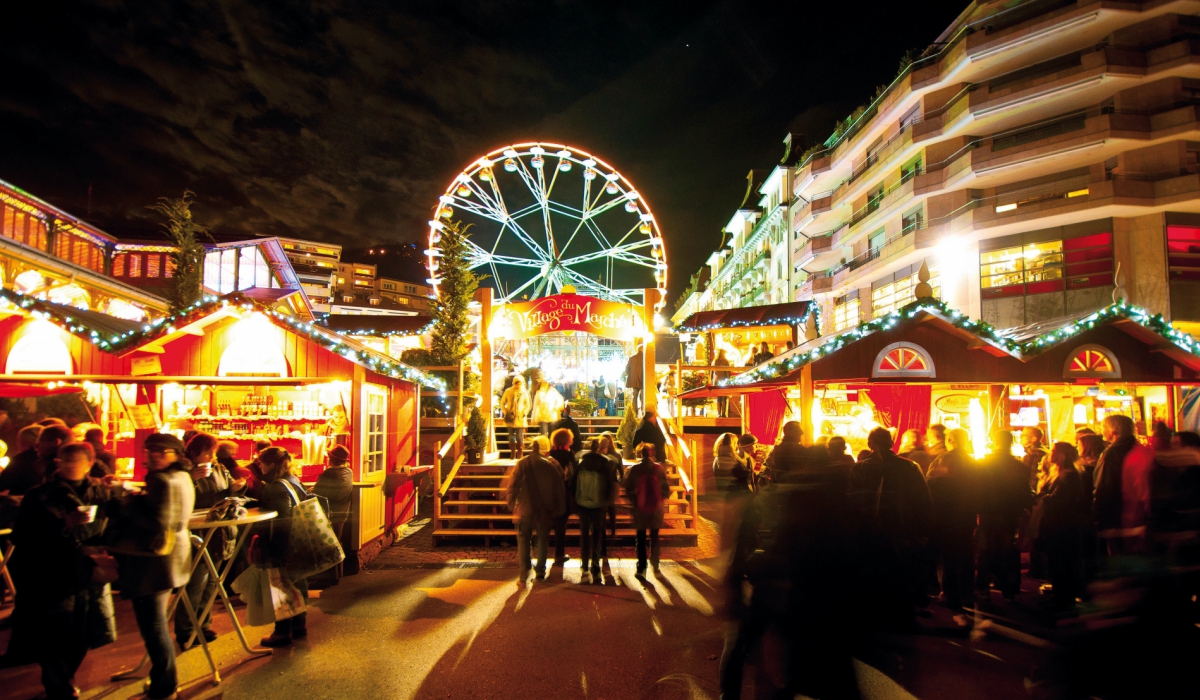 Montreux Christmas Market
Montreux Christmas Market is among the largest and most beautiful fairs held annually in Switzerland. Perched on Lake Geneva this lively resort town is a fabulous place for people of all ages.
Kids will have a magical experience at Santa's house and reindeer park and there's even an elf village. Adults will relish the bustling medieval market and enchanting Chillon Castle. There are loads more things to do in Montreux so here are a few more of our top sightseeing tips:
Stroll the Lake promenade
Visit Chaplin's World Museum.
Ice skate in the forest of Caux (above Montreux, 15 mins by car).
Taste fondue and enjoy the panoramic views from Coucou Montreux
Check out the live music in Funky Claude's Bar.
Visit c'Chocolat for indulgent hot chocolate or soothing alpine tea
Explore medieval "Vieille Ville" or Old Town of Montreux
Hotels and Chalets Amid the Alpine Nature
Here are a few hotels overlooking the Alps.
Swiss Alps Village Sarl
Location: Route du Magrappé 42, Veysonnaz, 120 m from the cable car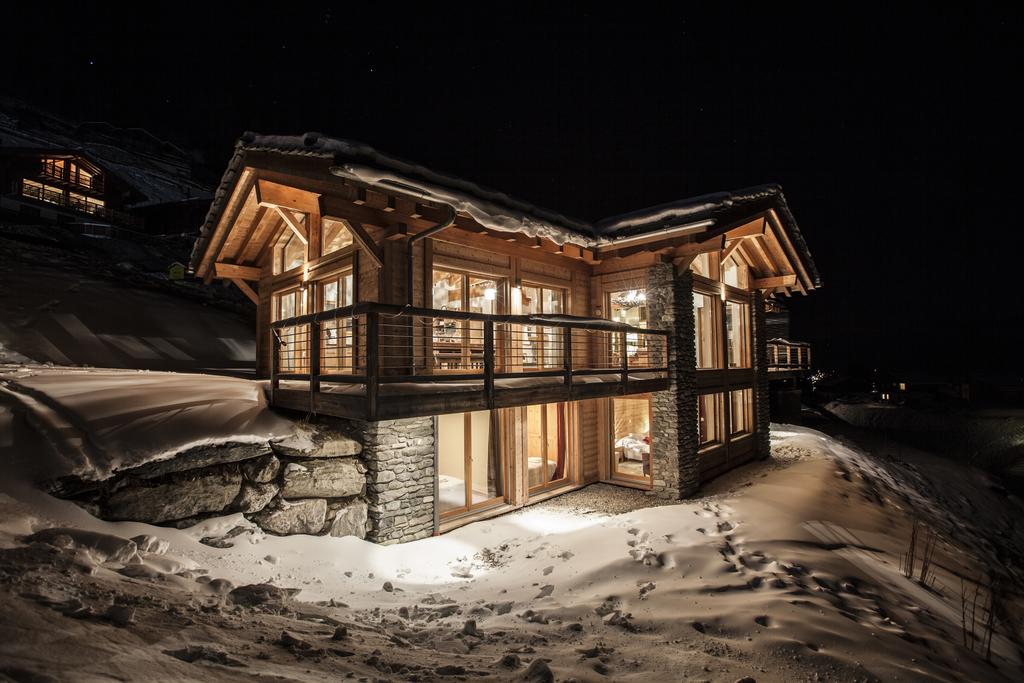 Swiss Alps Village Sarl is a chalet in Veysonnaz with self-catering accommodation, private parking, and ski-to-door access. With high-end facilities and epic mountain scenery, this chalet is a sought-after choice of tourists from around the world.
Hotel Villa Honegg
Location: Honegg, Ennetbürgen, 20 minutes away by car from Lucerne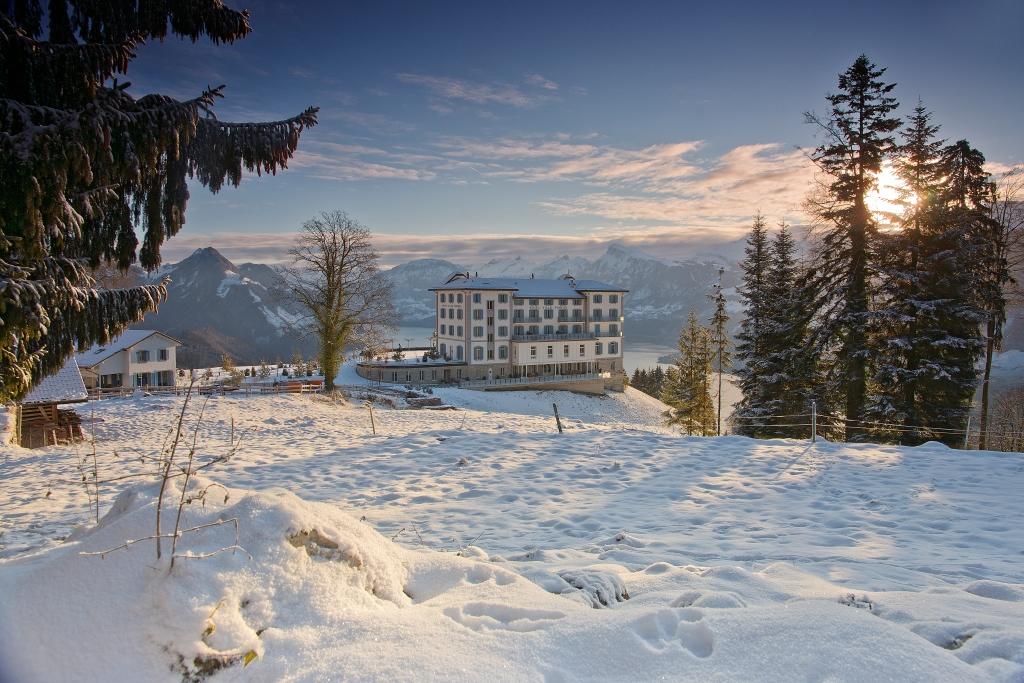 A highly rated hotel located near Mt. Bürgenstock, Hotel Villa Honegg provides guests with spacious, luxurious rooms each with its own balcony. The complex has a heated outdoor pool overlooking Lake Lucerne, a wellness center, and even a private cinema.
CERVO Mountain Boutique Resort
Location: Riedweg 156, 10 minutes stroll from Zermatt station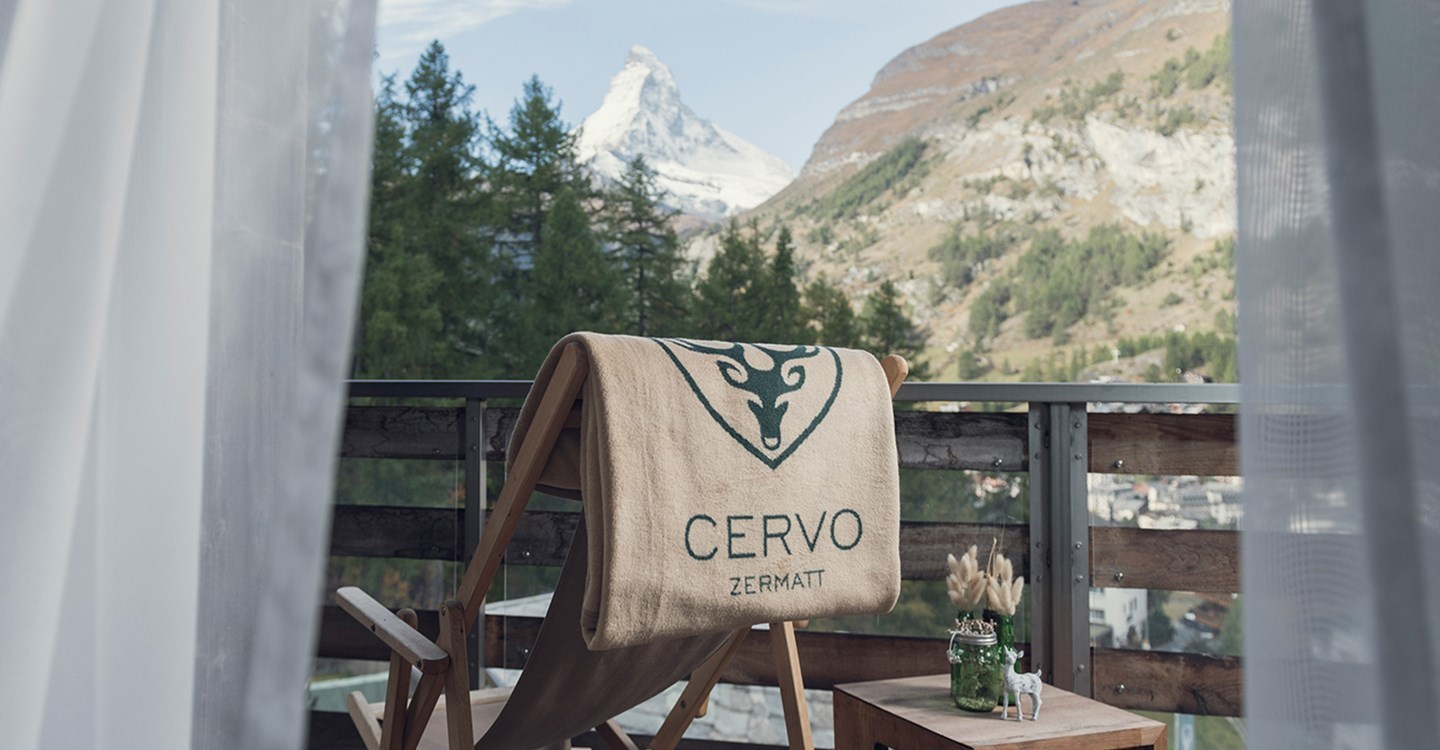 Cervo is a boutique hotel surrounded by lush forest in the mountains above Zermatt. Combining the simplicity, local tradition and attentiveness to detail, Cervo is a hotel known for its warm hospitality and stupendous views of Matterhorn.
Iglu-Dorf Zermatt
Location: Rotenboden, Zermatt, 2727 meters at the Gornergrat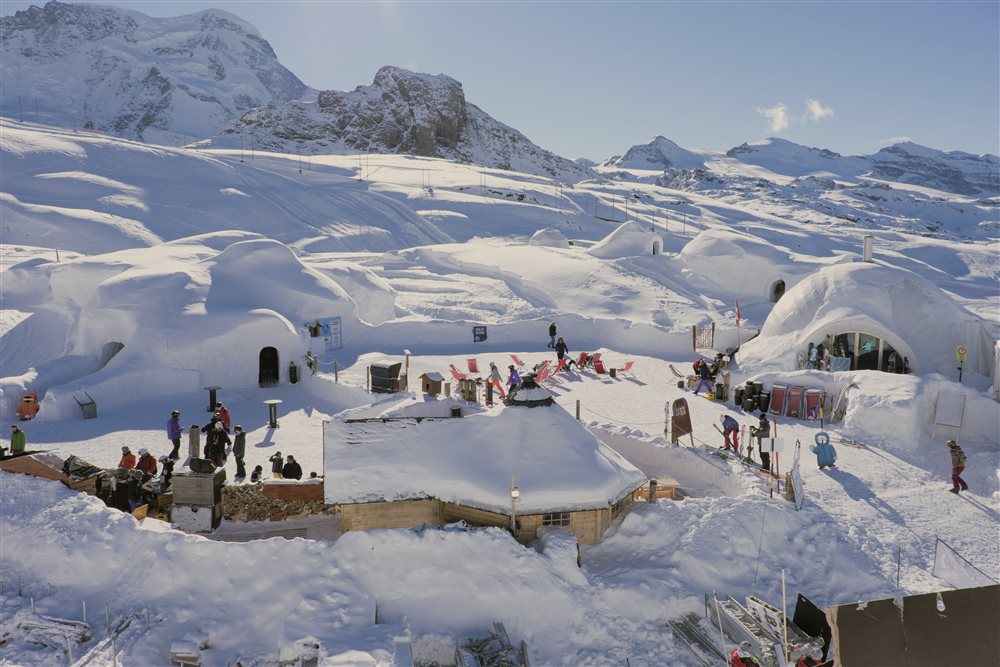 For those of you eager to have a distinctively local experience, Iglu-Dorf Zermatt is a venue worthy of a spot on your list. In this Igloo Village, you'll find yourself as close to the snow-capped Matterhorn as you can safely get. There's an open-air bar, alfresco Jacuzzis, and even a room made entirely of ice.
Giardino Ascona
Location: Via del Segnale 10, next to Maggiore Lake and within walking distance of Locarno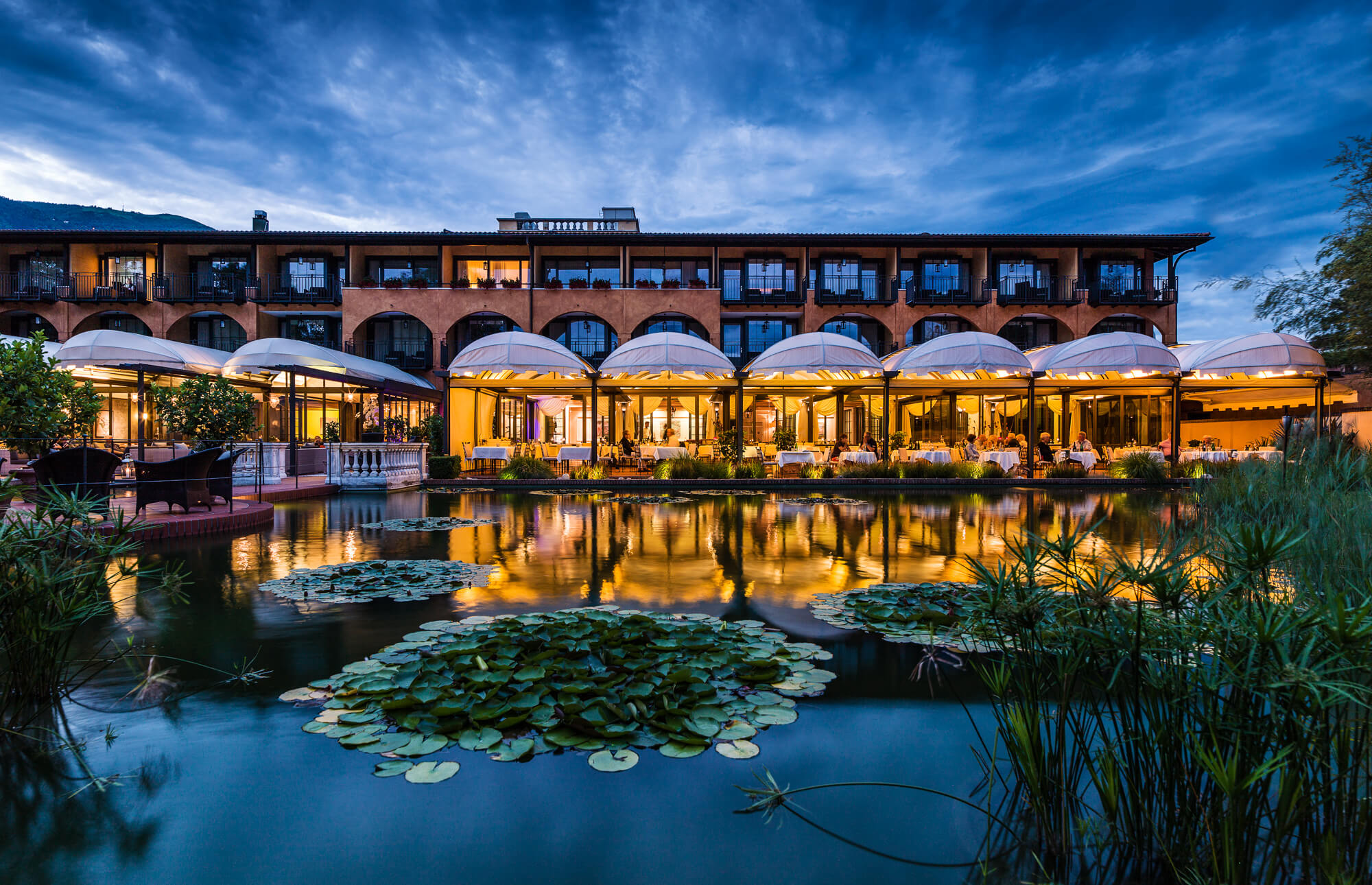 Giardino Ascona is one of those luxury hotels that somehow lets you leave all your troubles behind. Surrounded by Mediterranean-style gardens and parkland, the hotel puts great emphasis on tranquility. Try their Ayurveda health program and frequent sports events. And for a truly gourmet Christmas dinner book a table at the hotel's 2-star Michelin Ecco Restaurant.
Chalet Surprise
Location: Saas-Fee, 120 km away from Basel, Zurich, Bern, and Geneva airports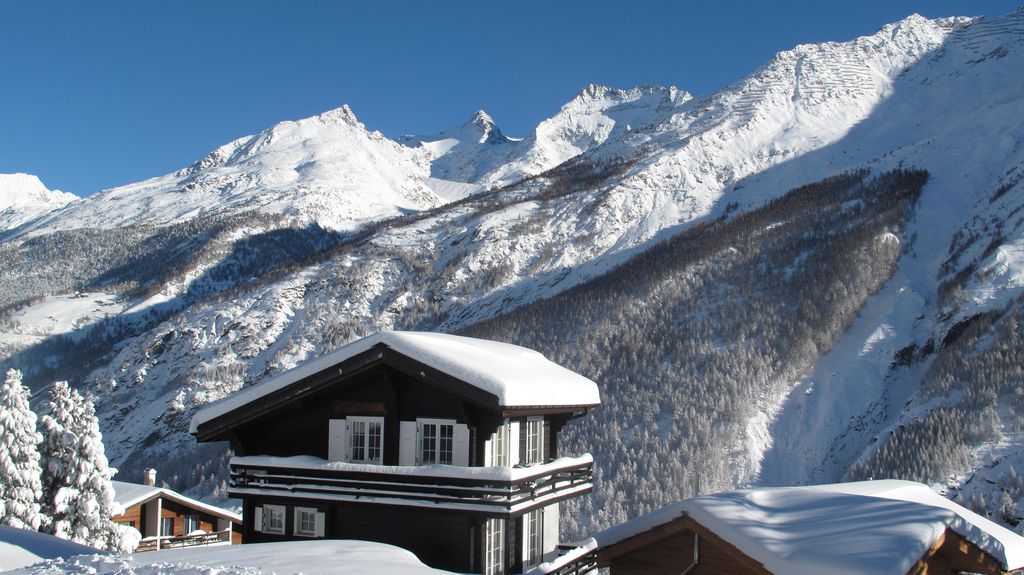 Chalet Surprise is a small chalet in a quiet area of Saas-Fee which accommodates up to 6 guests. It has 3 bedrooms, 2 bathrooms, a large living room, dining room, and kitchen upstairs. In winter, shuttle buses are laid on to take you to the nearby ski lifts. It's hardly a surprise such a lovely place is in high demand with travelers, so you'll need to book well in advance.
Chalet La Caleche
Location: Rue des Cerfs 12, La Tzoumaz, about 90 km away from Geneva and Bern airports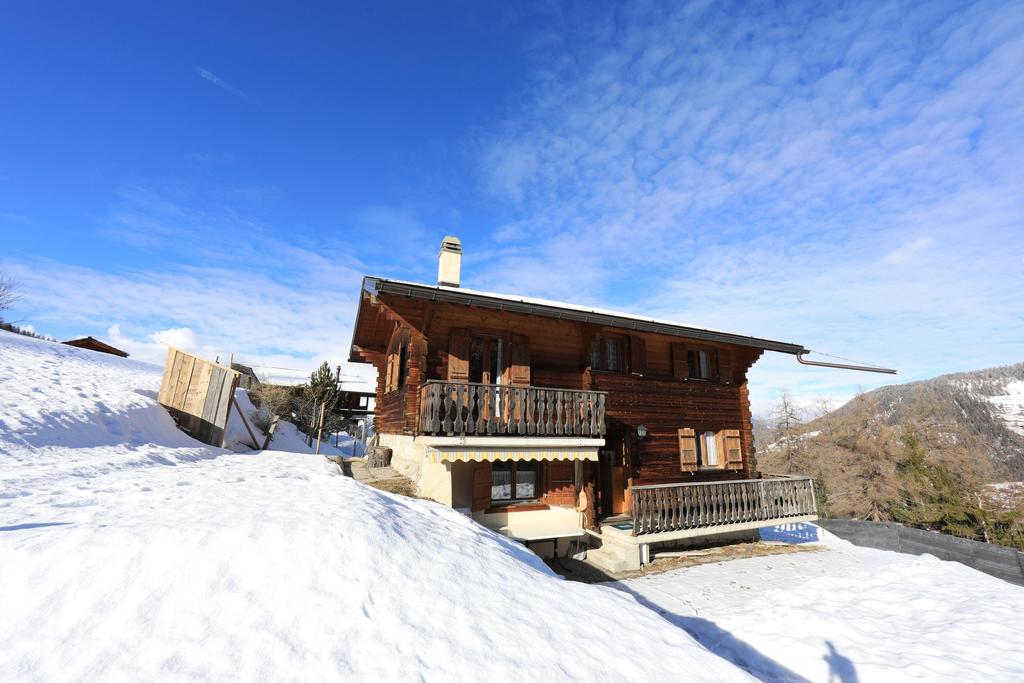 Chalet la Caleche is nestled in the village of La Tzoumaz, a part of the well-known "Four Valleys". The chalet can accommodate up to 12 tourists if you don't mind sharing the 5 spacious bedrooms and 2 bathrooms.
Mazot Les Marmottes
Location: Rue de Deuray 17, La Tzoumaz, about 90 km away from Geneva and Bern airports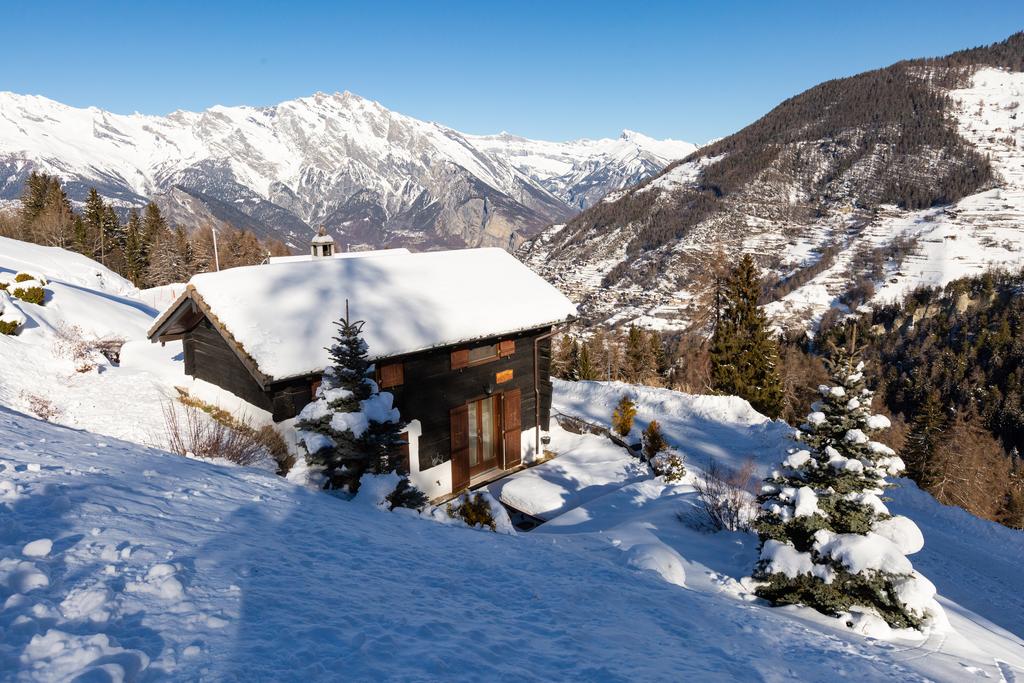 Famous for its authentic chalet façade and cosy but modern interior, Mazot Les Marmottes hosts groups of up to 6 for a private mountainside escape in one of the most wild and picturesque Swiss landscapes. Here you'll find two bedrooms and bathrooms, a light and airy living room overlooking the high hills, a private garden with BBQ, and a private parking space: just about everything you need for a comfortable stay.
Switzerland's Top Cities For Celebrating Xmas
While many travelers head straight to the mountain ski resorts, city breaks in Zurich, Bern, Geneva, Lucerne, Basel, and Zug also offer bags of fun for the winter holiday season.
They all have Christmas markets that run from the end of November right the way through until January. Aside from the buzz and carnival atmosphere these big cities provide, there's also no shortage of high-end shopping and plenty of opportunities for buying souvenirs for friends and family.
Wrap up warm and step out Zurich's cobbled backstreets. Sip alpine mulled wine with Swiss herbs and mingle with locals at some of the many bars and cafes. Try the delectable gingerbread that tastes different in every city and gobble Switzerland's famous grilled sausages, that, sizzling and steaming on hot coals, are hard to miss in the frosty open-air markets.
Zurich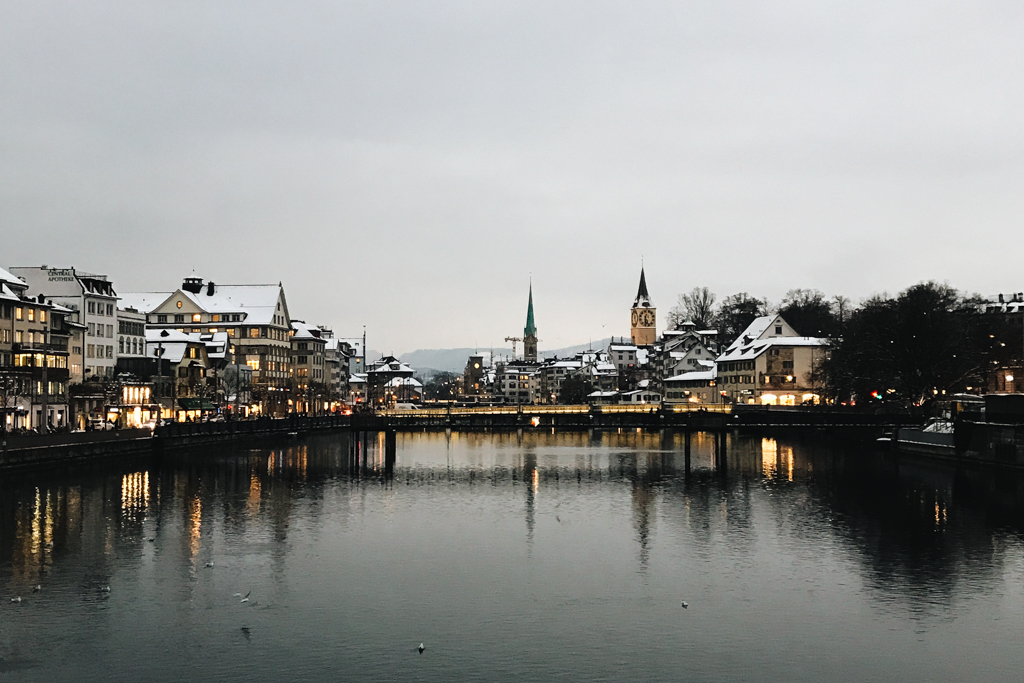 Zurich is a delight for first-time visitors and regular visitors from all over the globe return every year to enjoy the unique Zurich Christmas buzz. There's the biggest indoor Christmas market in Europe and the delightful singing tree in Werdmühleplatz; where choirs from across the country congregate every year to sing carols. But there's so much more. So if you find yourself in Zurich this winter, here are a few other things you shouldn't miss:
Warm-up in the greenhouses at Succulent Collection while there's rain or heavy snow outside.
Treat yourself to a day in Thermalbad & Spa Zurich. Relax in the heated rooftop pool while absorbing the panoramic view of the city skyline and feel yourself invigorated by the soothing medicinal waters.
Make sure you taste fondue and Raclette with family and friends at home or at the restaurant
Go on a winter walk on Uetliberg hill overlooking Zurich where you can make a picture postcard memories of the mountainous Swiss scenery
Walk with the penguins in Zurich's Zoo during their lunch break at 1:30 p.m. daily.
Take a boat cruise along Lake Zurich.
Go for a free city walk with locals eager to reveal the city's many secret places and experiences
If you've decided to visit Zurich for the winter holidays, the following hotels are worthy of your consideration.
Le Bijou for connoisseurs of innovative luxury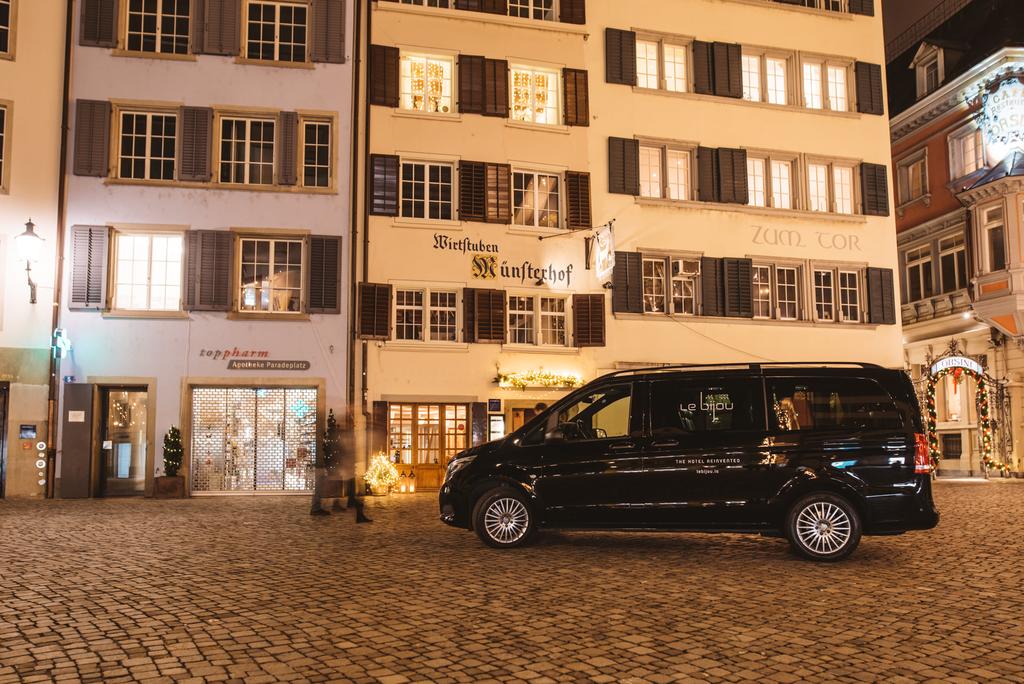 Le Bijou's apartment-hotels are the epitome of Swiss luxury, for the most discerning of travelers. Designed with an aesthetic that adheres to classic Alpine minimalism, Le Bijou cuts no corners and makes no compromises on quality. All apartments are fully-fitted with the latest Swiss design and technology as well as gadgets that let you control all the various domestic appliances you need to make your stay as comfy as being at home.
Luxuriate in one of these artistically designed residences and take advantage of the digital butler service for a bespoke experience that gives you ultimate privacy as well as the on-demand services usually only found in 5-star hotels.
Le Bijou aims to exceed the expectations of even the fussiest holidaymakers. Recent guest Apple co-founder Steve Wozniak raved that Le Bijou is "the most elegant, personalized, exclusive hotel in the world".
With around 20 units across the city, mostly located right by the river Limmat in the old city, Le Bijou ensures beautiful views and neighborhoods brimming with possibilities for fine dining and high-end shopping experiences.
Baur au Lac for antique lovers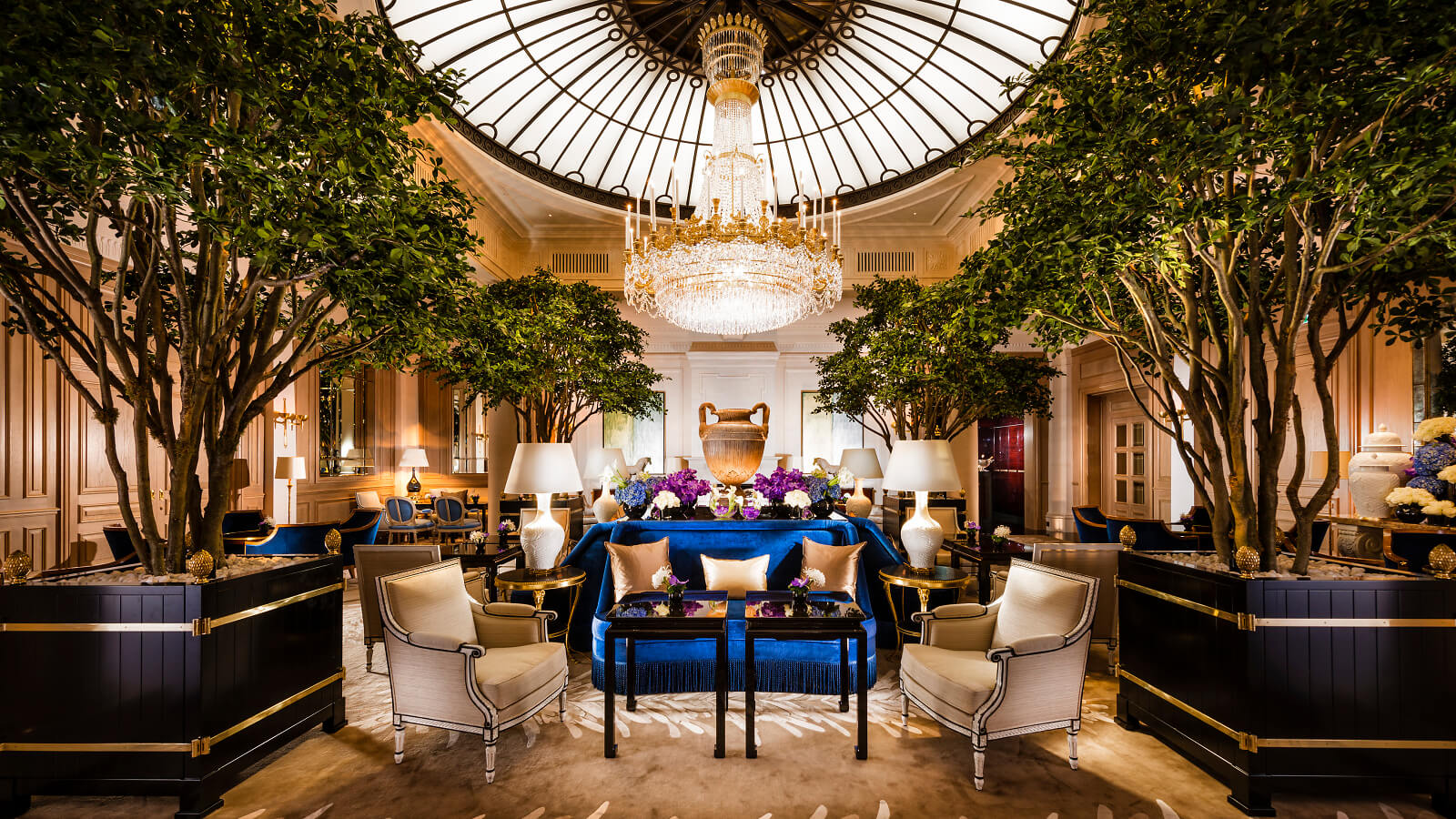 Baur au Lac is a traditional 5-star hotel in Zurich located close to Paradeplatz - otherwise known as the Swiss Wall Street. Despite being downtown the streets here are not over-busy and they are of course, crystal clean compared to New York. Revel in the opulence of this antique furnished hotel and meander around its famous park for magnificent views of the Swiss Alps soaring above Zurich lake.
The Guest's House for a budget trip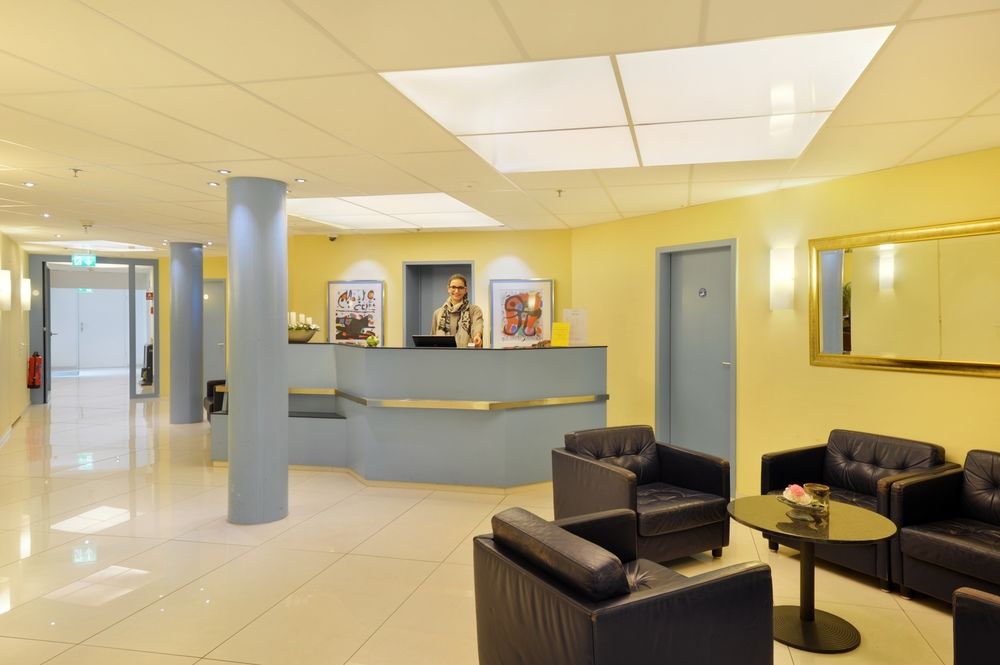 The Guest's House is a great option for more modest budgets. This cozy hotel is located in a quiet residential area easy to reach by the S10 train. Aside from free wi-fi and parking, the hotel offers breakfast and everything needed for making hot drinks.
Geneva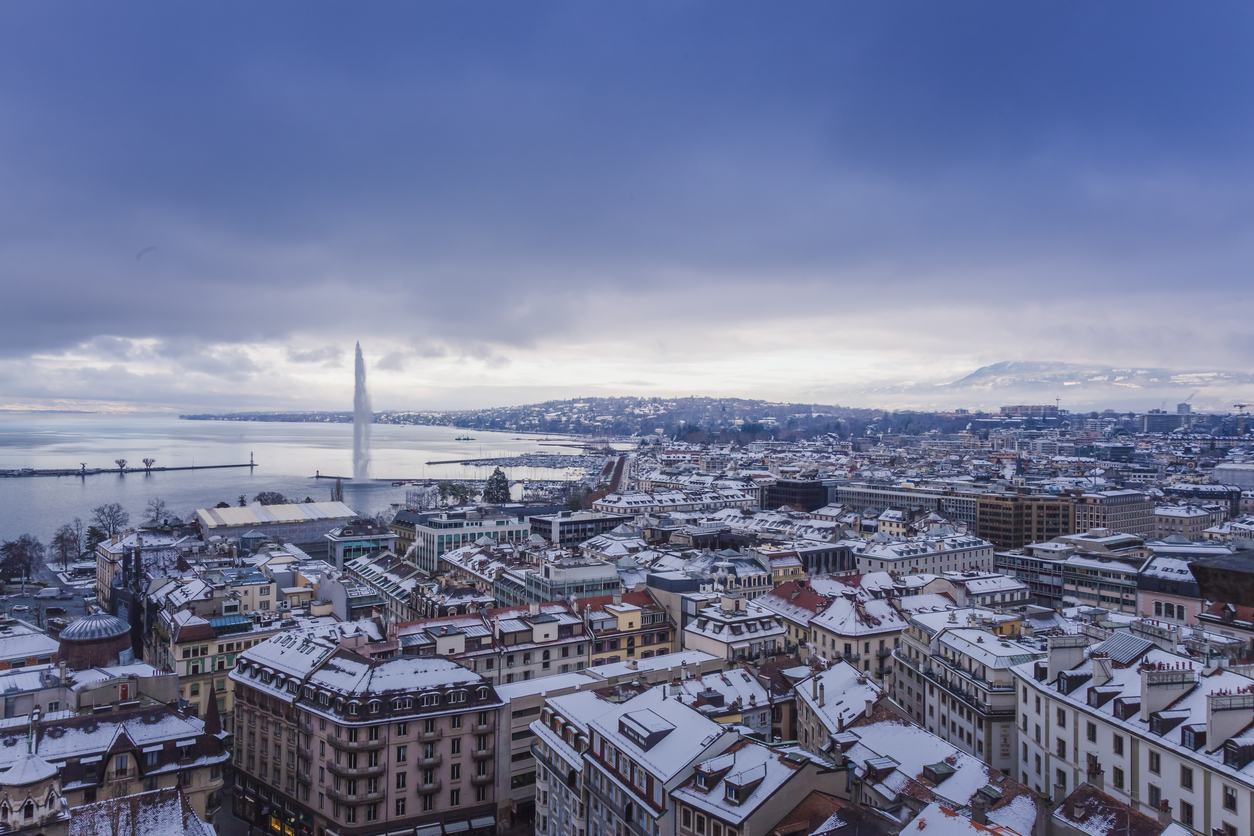 Geneva is another delightful Swiss city. Surrounded by the Alpine and Jura mountains that stretch along the bay of Lake Geneva this is a city which has an elegant, refined character. Stroll the lakeside promenade or take a boat cruise. Explore the side streets of the Old Town and discover a Christmas market as Parc des Bastions opens its doors for the winter festivities. Here's a few more tips for your list of things to do in Geneva:
Go cross-country skiing starting either from Big Foot Beach State Park or Grand Geneva Resort & Spa.
Visit Winterfest in January and see the delightful huge snow sculptures
Pamper yourself and give your body a treat at local spas for a massage with beauty treatments
Spend a few hours in one of Geneva bars like Brasserie du Molard.
Take memorable pictures of the huge water fountain on Lake Geneva and the Jet d'Eau.
Take cheese fondue cooking classes and stay for a tasting.
Try tobogganing in the Vaudois Alps.
For the most luxurious experience here are a few of the top hotels you can stay at in Geneva.
Le Bijou for innovative lovers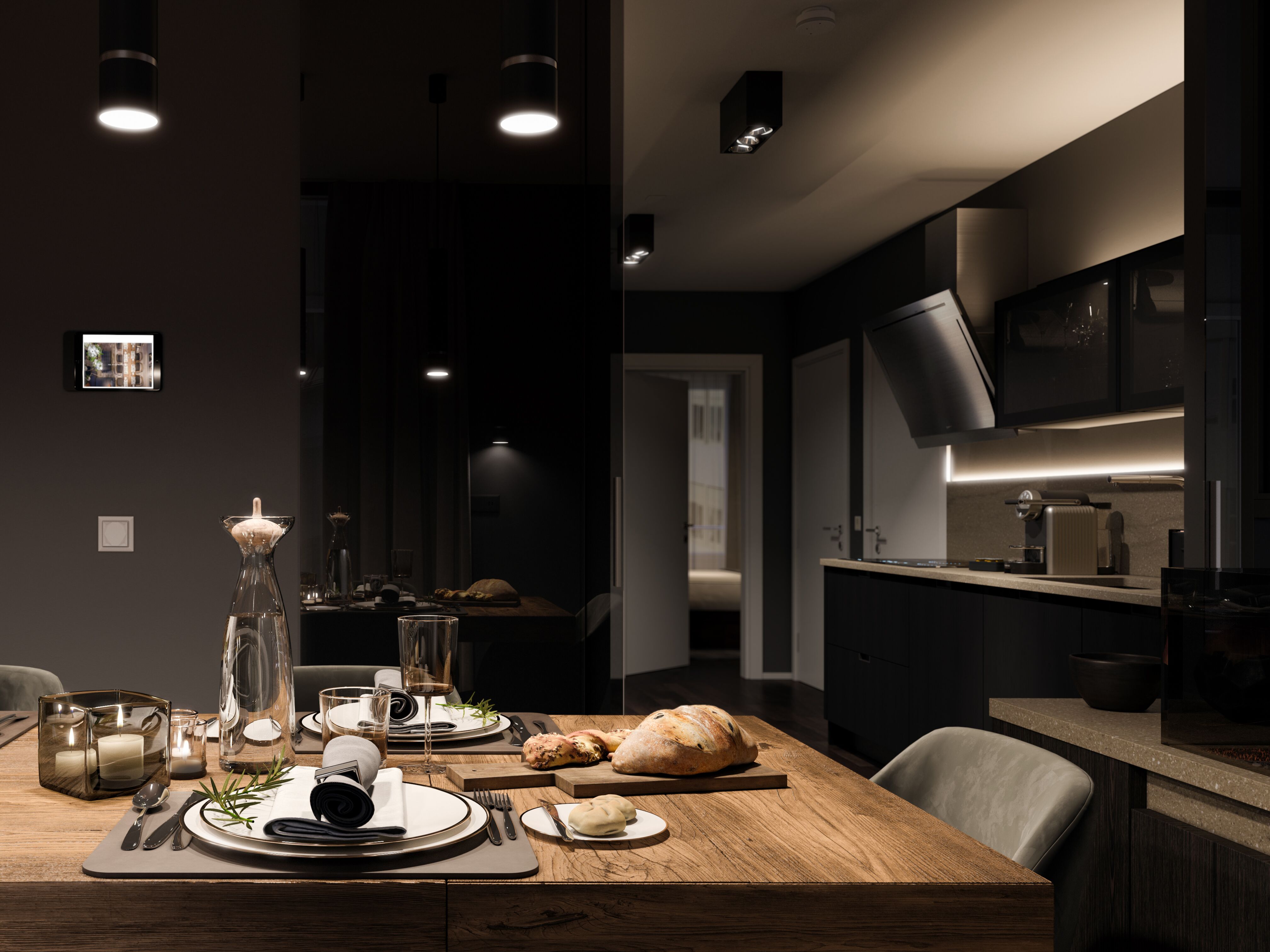 Le Bijou has apartments in all the major cities of Switzerland, and Geneva is no exception. Since every unit is centrally located all of the many fabulous attractions are within walking distance. Although that shouldn't stop you from using the incredibly comfortable and efficient public transport system to visit some of the more distant sightseeing locations.
Le Bijou takes great pride in offering an unrivaled level of care to their guests. Privacy is emphasized and Le Bijou goes to great lengths to ensure their guests have precisely the kind of experience they wish for; with private dining, spa procedures, and even personalized shopping itineraries.
Hotel Metropole Geneve for antique lovers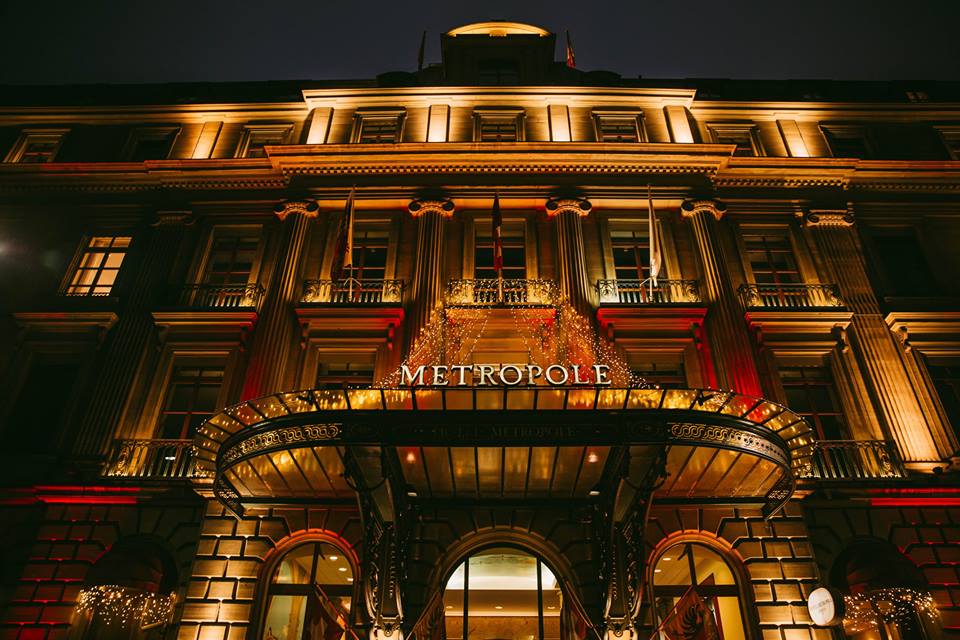 Another 5-star luxury hotel with a great location is Hotel Metropole Geneve. Since opening its doors in 1854, countless guests have enjoyed the neo-classical architecture and sumptuous furnishings. This historic hotel is also just a stone's throw away from the Old Town, the adorable Flower Clock, and the ever-so-pretty Jet d'Eau Fountain.
Hotel Metropole Geneve offers rooms and suites for a range of budgets and the restaurants and bars are great for romantic dinners as well as for meetings and events.
Hotel Carmen for a budget bargain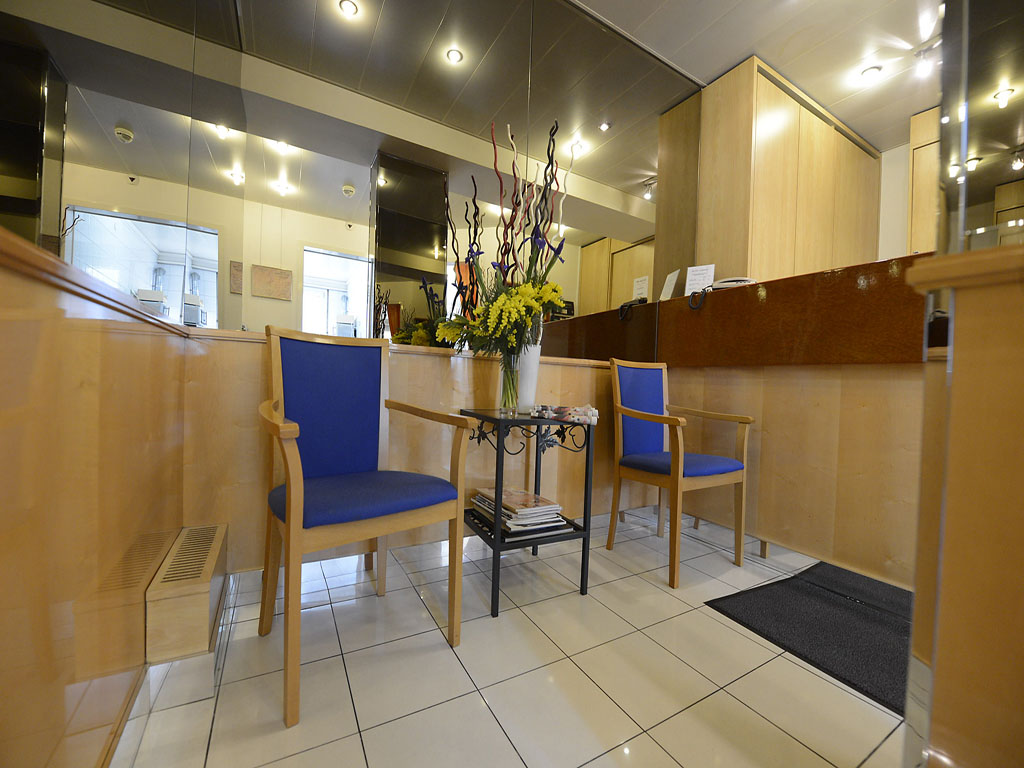 Located just 10 minutes from the city centre Hotel Carmen provides a range of accommodation for budget travelers in particular. The rooms are spotless and well-maintained and there's a variety of city transport to choose from, making a trip to nearby Bern, a cinch.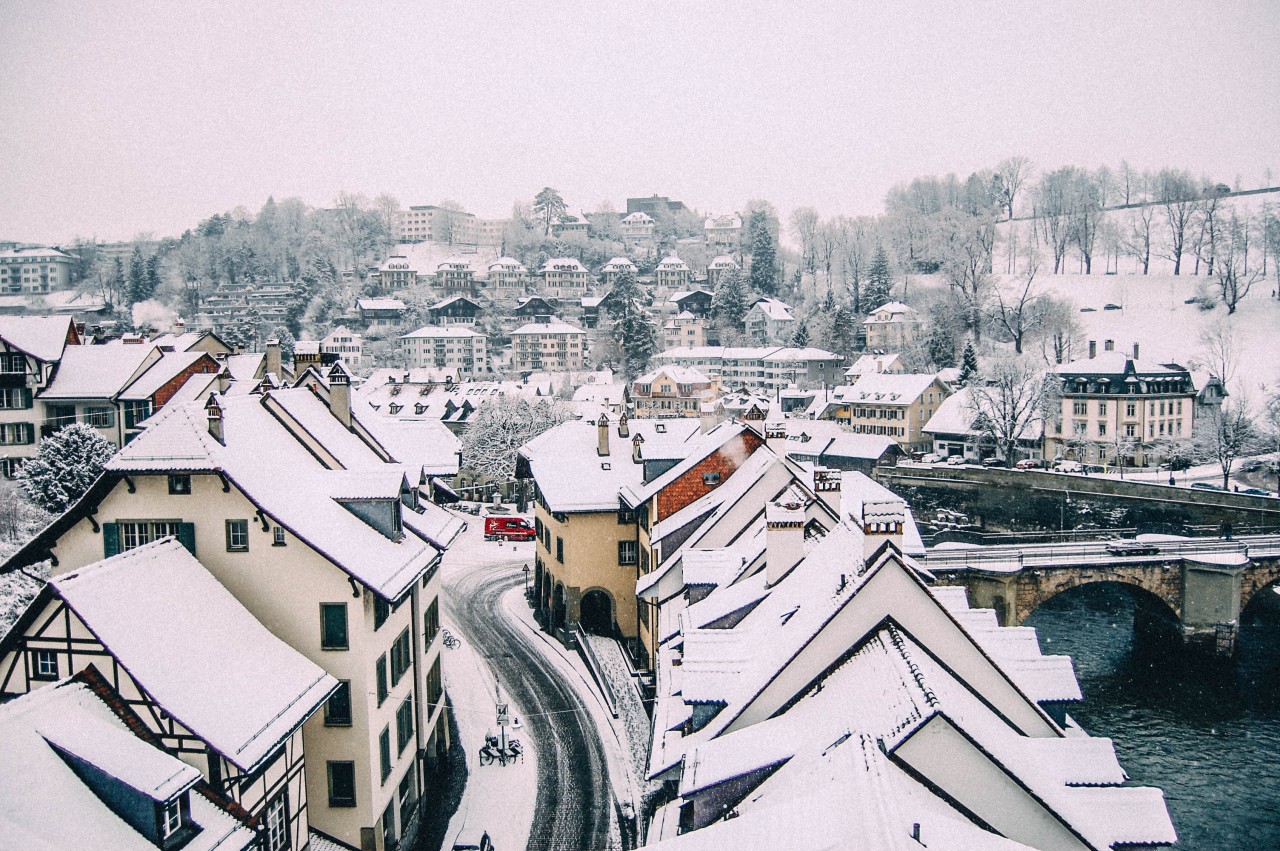 If you're searching for authenticity during your travels, this medieval Swiss city is a must-see. Sample the mulled wine and try roasted almonds with gingerbread. And get down to the Old Town's market on Waisenhausplatz.
With the list below to add to the winter activities possible you'll never get bored of the charming city of Bern.
Enjoy fondue in open-air Platzhirsch restaurant.
Go ice skating on Parliament Square.
Stay the night in the igloo hotel.
Immerse yourself in Schwarzsee ice palace.
Indulge yourself with spas, saunas, and steam baths.
Visit Emmental Show Dairy where you'll be able to make your own cheese.
Go to Glacier 3000, the highest excursion point in the Vaud Alps with a view of Mont Blanc, the Matterhorn, and the Jungfrau.
And if you are searching for a hotel to stay at, we've already picked a few of them for you.
Le Bijou for innovative lovers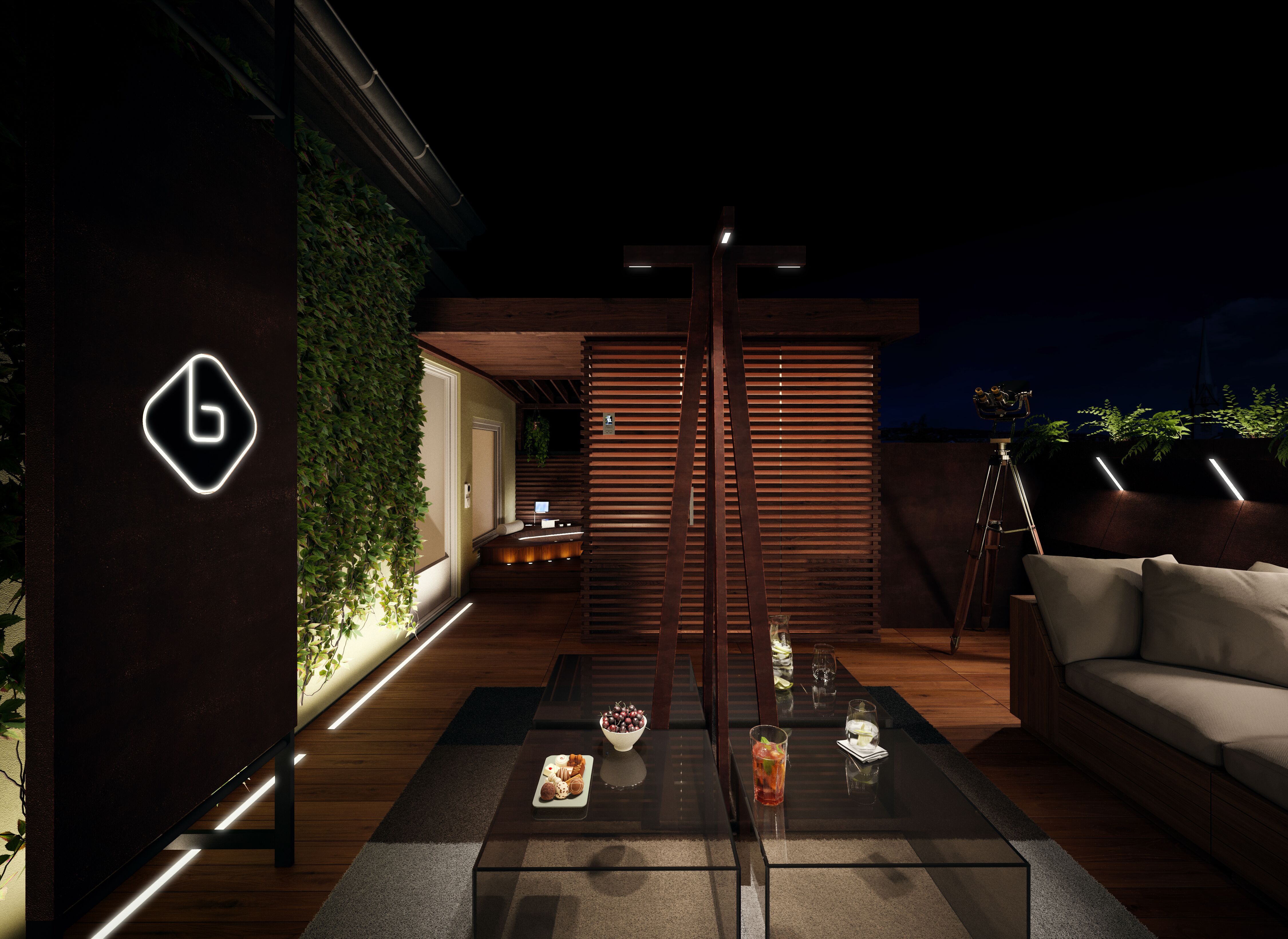 Le Bijou is a well-known and completely unique destination for short stays and even as a special venue for smaller-scale events. The hotel is currently available only in Switzerland but has already become known all over the world. Steve Wozniak, John Sculley, a Saudi princess, and other famous people who stayed there appreciate the advantages of Le Bijou.
Decorated in exquisite Swiss style, this luxury apartment-hotel features a fully-automated room service via a digital butler. Visitors can be certain that no one will invade their privacy without sacrificing the speedy room services usually only available in a luxury hotel.
Oberhofen Castle for antique lovers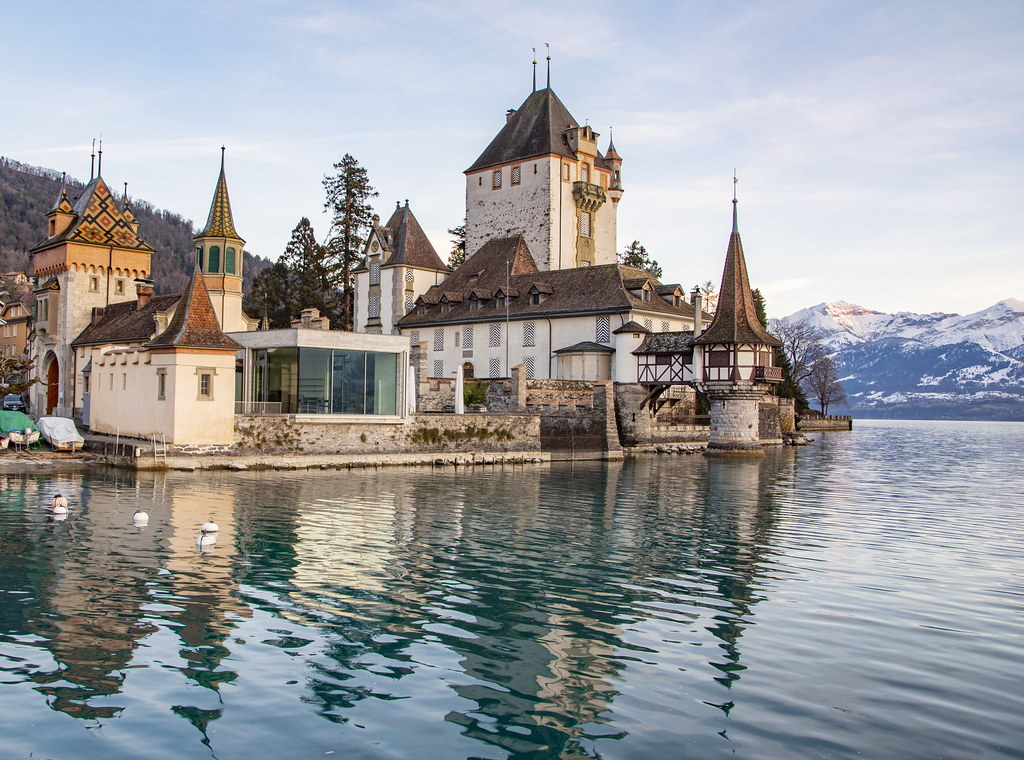 Have you ever spent a night in a castle immersing yourself in the fantasy ambience of the High Middle Ages? Not yet? Then, you should definitely head to Oberhofen Castle.
With a picturesque lake and garden and splendid views of the Alpine mountains, this unique, romantic location attracts travelers looking for extraordinary experiences. It's also a perfect venue for weddings, family celebration, corporate, and other events.
Ibis budget Bern Expo for a reliable budget trip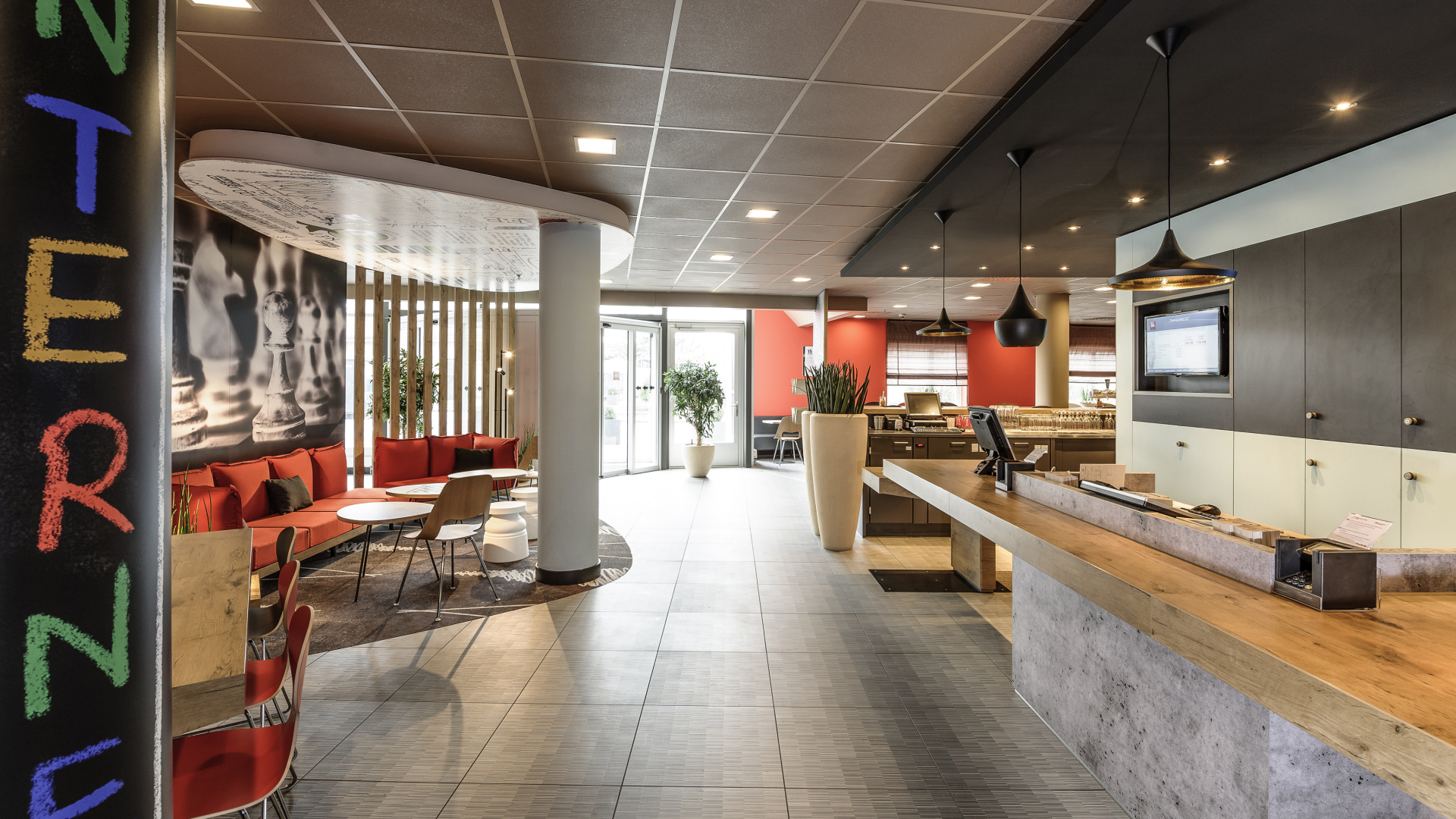 Even though the Ibis budget Bern Expo is an economy hotel, it provides tourists with clean and modern rooms equipped with air-conditioning and free wi-fi. Close to the hotel, there's paid parking and plenty of restaurants. The city center is about 2 km away from the Ibis budget Bern Expo: you can get to it on foot or by public transport.
Zug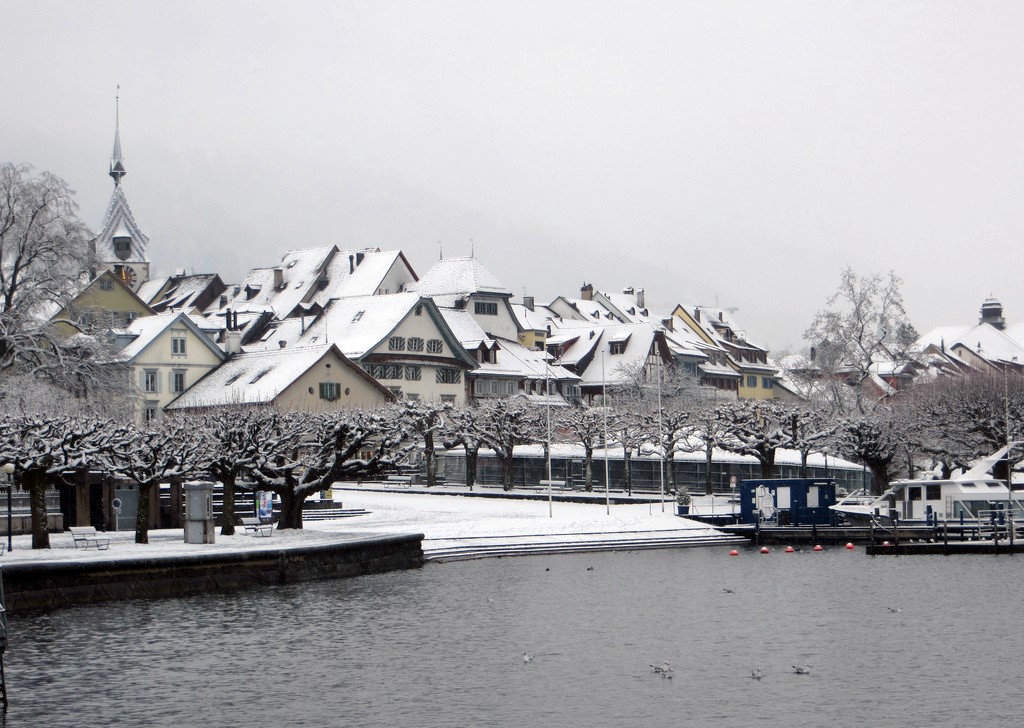 If you're traveling deeper into Switzerland, Zug is a destination you should definitely consider. The quaint Christmas market festival of Zuger Weihnachtsmarkt is a great place to start. Browse some of the many pop-up winter stalls and buy some unique souvenirs and gifts. Before you go, sip delicate alpine mulled and try the organic roasted sausages.
And here's a few more of our favorite things to see and do while in Zug:
Visit Confiserie Albert Meier for a delicious piece of cake.
Relax along the shores of the pristine glacial lake of Aegeri
Immerse yourself in medieval history at Zug Castle
Take in some Iocal culture at Kunsthaus Zug, a delightful museum with an impressive collection of Viennese Modernist art.
Book a boat cruise on Lake Zug
If the snow is heavy why not shelter in one of the many cinemas, museums, and theatres
Swim and relax at the pool or spa.
Make some snaps of the clock tower, the symbol of the town.
When planning your overnight stay in Zug, consider the following options.
Le Bijou (Park Tower Zug GS24) for innovative lovers
Guests of Park Tower Zug by Le Bijou will adore the scenic views of the Swiss Alps where guests will benefit from a customizable approach to hospitality; with fully-equipped apartments and an emphasis on privacy to make a stay here especially comfortable.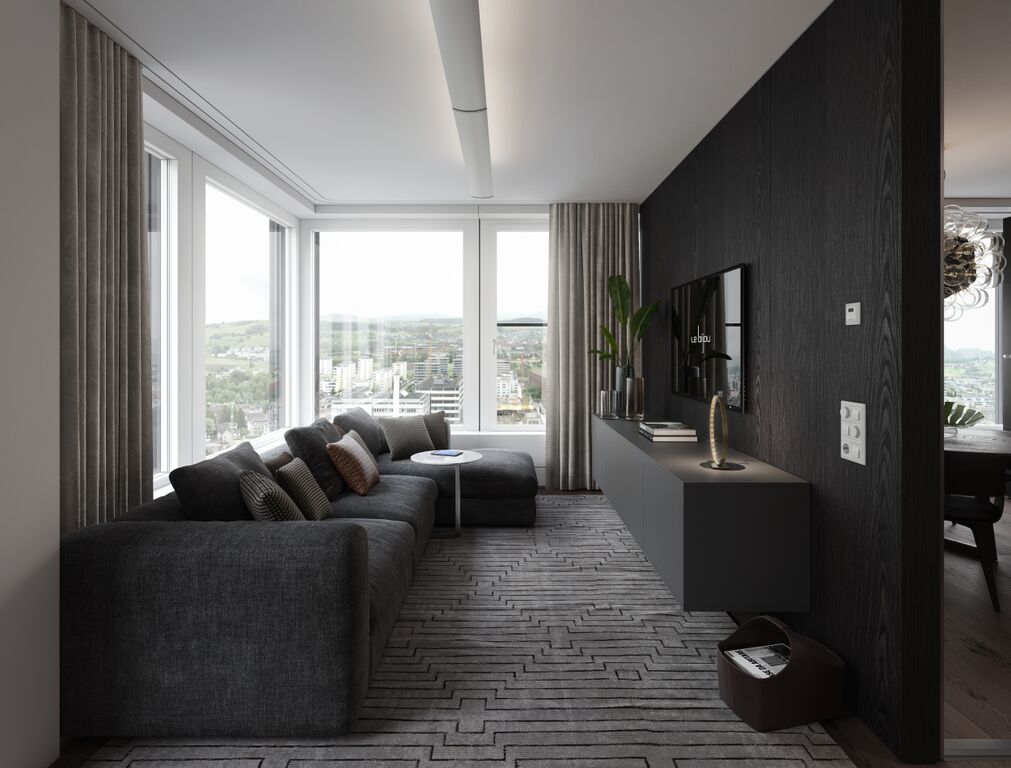 Hotel Lowen and Zug

Hotel Lowen is a four-star hotel situated on Lake Zug, in the historic center of the city. It offers comfortable, contemporary accommodation, with some of the rooms overlooking Zyt Tower and the snow-crowned Alps.
Welcome to Sweet Home! An apartment for budget travelers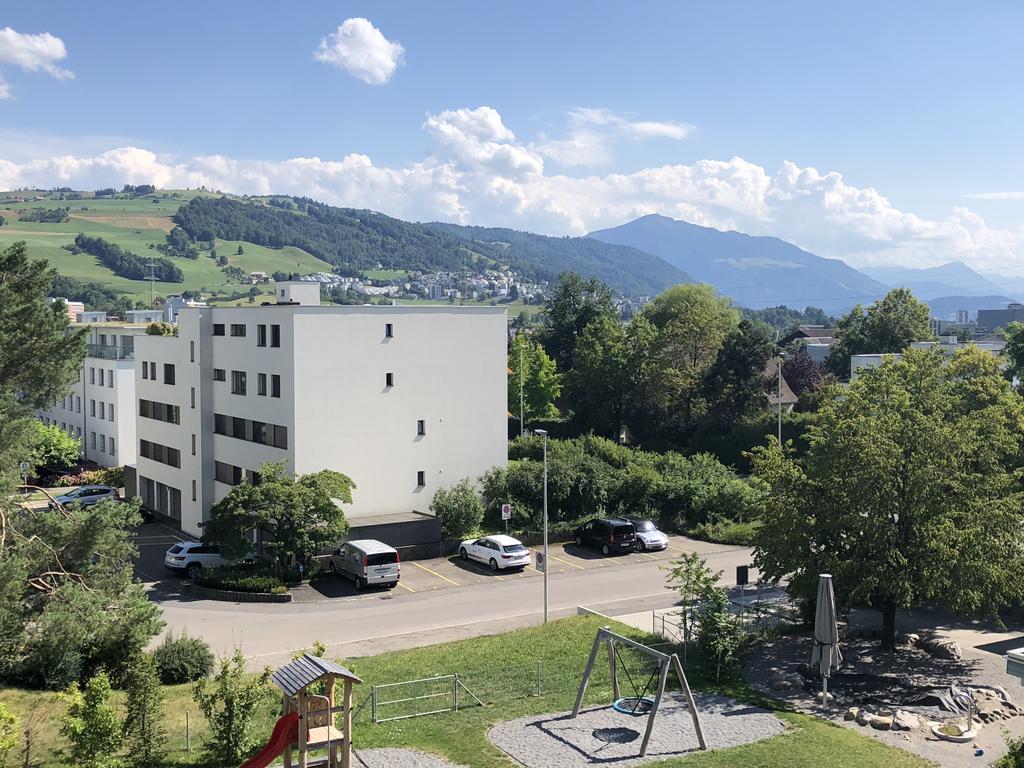 For those of you searching for a budget option in Zug, the Welcome to sweet home! hotel will work just fine. It offers clean, roomy accommodation with double beds and big bathrooms. And in some of the rooms you get a magnificent view of the mountains from your room window.
Basel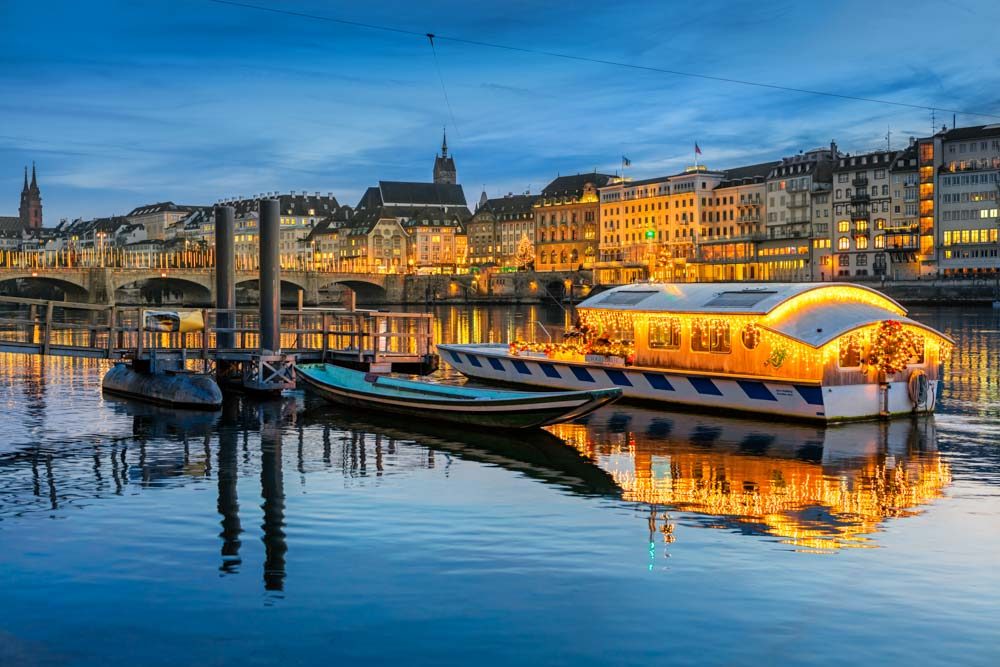 Plan to visit some of the largest Christmas markets in Switzerland? Then, you have to put Basel city on your list. Its famous for its distinctive Christmas traditions, markets, and superb illuminations. To make your trip to Basel unforgettable, first go to the traditional Basel Christmas Market. Then, enjoy glühwein at Christmas Pyramid, visit spectacular exhibitions in museums as well as numerous concerts and events. These are just a few things to do in Basel during the winter holidays. Aside from them, consider the following:
Take a free walking tour with locals.
Visit Basel Dollhouse or Jean Tinguely museum.
Plan to see Basel Winter Carnival if you stay in the city until February.
Take a walk on the waterside, marvel at beautiful buildings, and stop at a cafe to take a rest.
Enjoy cheese fondue with your friends and family at Fondue Stübli or drink Ueli beer at Brauerei Fischerstube.
Go skating at several ice rinks.
Pamper yourself the whole day in a spa.
The best options for your overnight stay in Basel include the following hotels.
Grand Hotel Les Trois Rois for antique lovers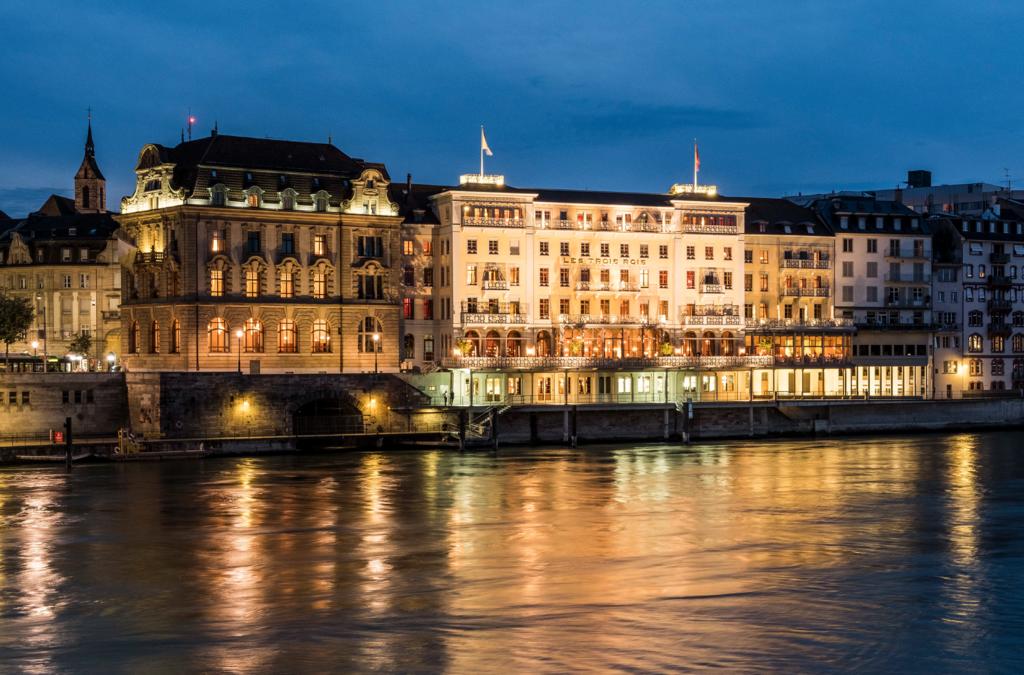 Grand Hotel Les Trois Rois is one of the oldest hotels in Europe. Situated at the very heart of the city, it offers well-equipped rooms overlooking the Rhine river. If you want to stay in a place with a rich history, Les Trois Rois hotel is a safe bet.
Apaliving Basel for a budget trip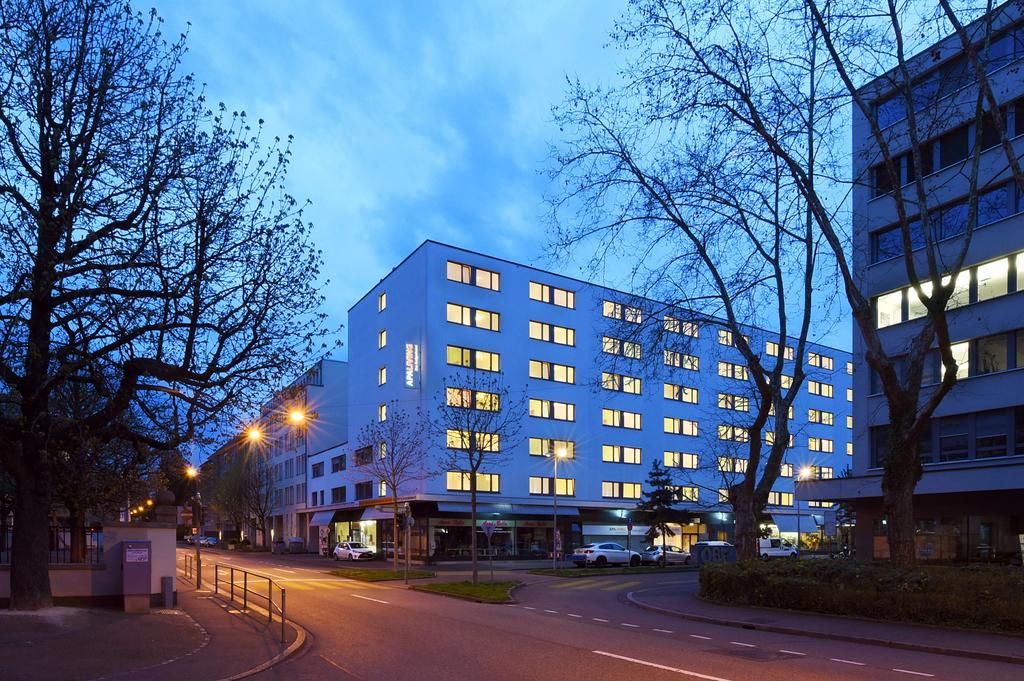 If you travel to Switzerland by car, or you want to rent one, and the hotel location doesn't matter, choose Apaliving Basel for a budget trip. Here you'll find Standard or Deluxe accommodations with a private bathroom, free wi-fi, and self-check-in automat for late-arriving tourists.
Lucerne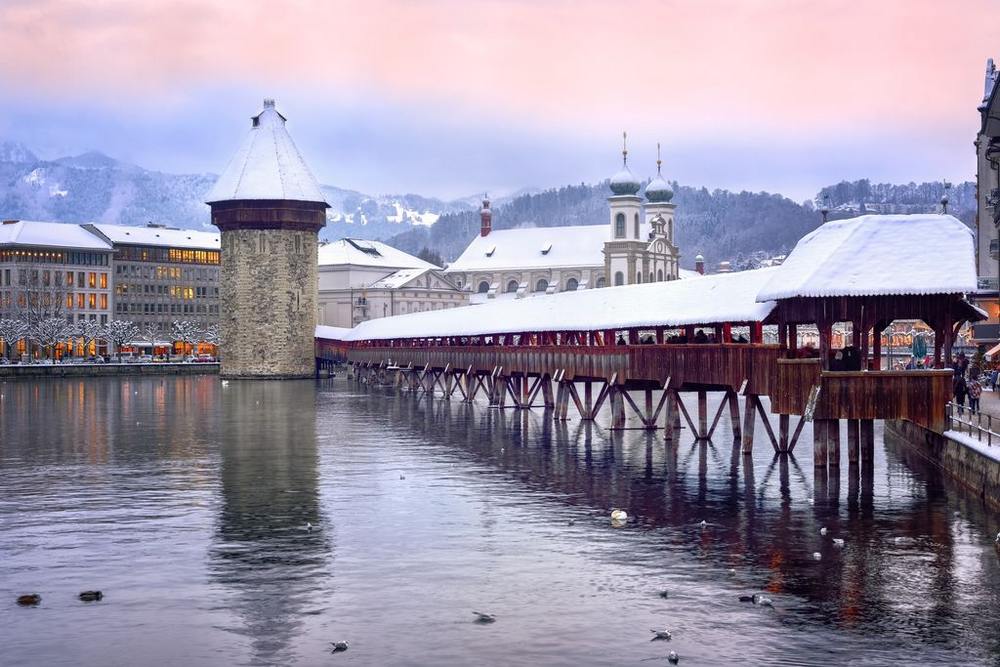 Lucerne is a city of wonders, especially at Christmas. In December the winter markets open up their doors and as soon as the Christmas lights are switched the Live on Ice rink starts working. The rink welcomes both adults and kids to enjoy ice skating. In case you prefer city walks, add the Chapel Bridge and its Water Tower to your outings around the town. And here's a bunch of other interesting things to do while staying in Lucerne:
Go for a round trip combining the journey to the top of Mount Pilatus with a boat ride
Walk around the Old Town with its painted facades and enjoy the view of the river Reuss
Visit the Swiss Museum of Transport
Look at the Lion Monument and the natural phenomena of Glacier Garden.
Get to know about Wagner and his time spent in Lucerne at the Richard Wagner Museum
Hike to Mount Rigi, overlooking the Swiss Alps, for sledding or snowshoe
Step aboard the cheese fondue raclette cruise.
For a comfortable stay in Lucerne, consider the following hotels.
Le Bijou for innovative lovers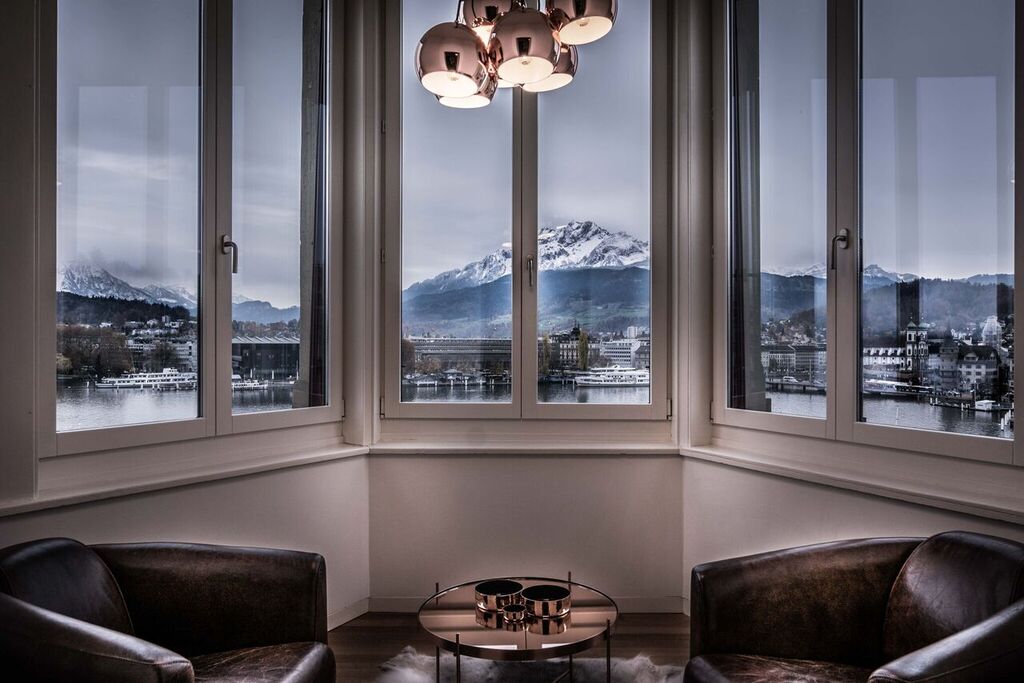 Le Bijou suits travelers who prefer high-class services, picturesque views, and proximity to all kinds of local cultural attractions. Le Bijou offers fully-equipped apartments with Swiss attention to detail and contemporary design.
Art Deco Hotel Montana for antique lovers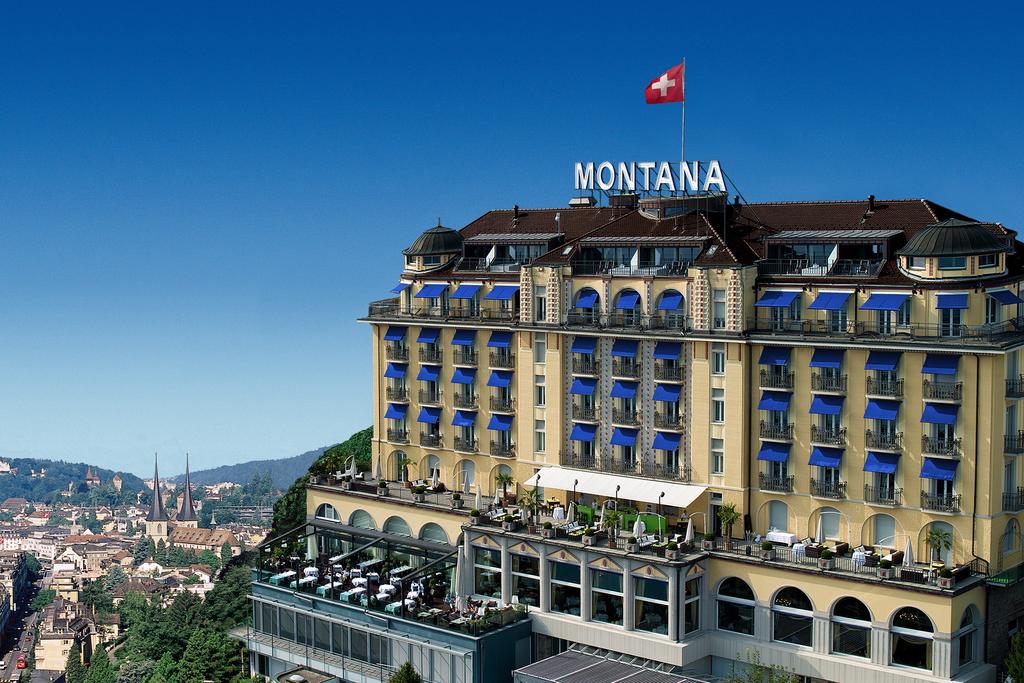 This panoramic four-star hotel won't leave you indifferent. At Art Deco Hotel, you can count on Swiss hospitality, as well as a wellness center, comfortable rooms overlooking the whole city of Lucerne, Jam sessions during festivals and special events throughout the year.
Ibis budget Luzern City for a budget trip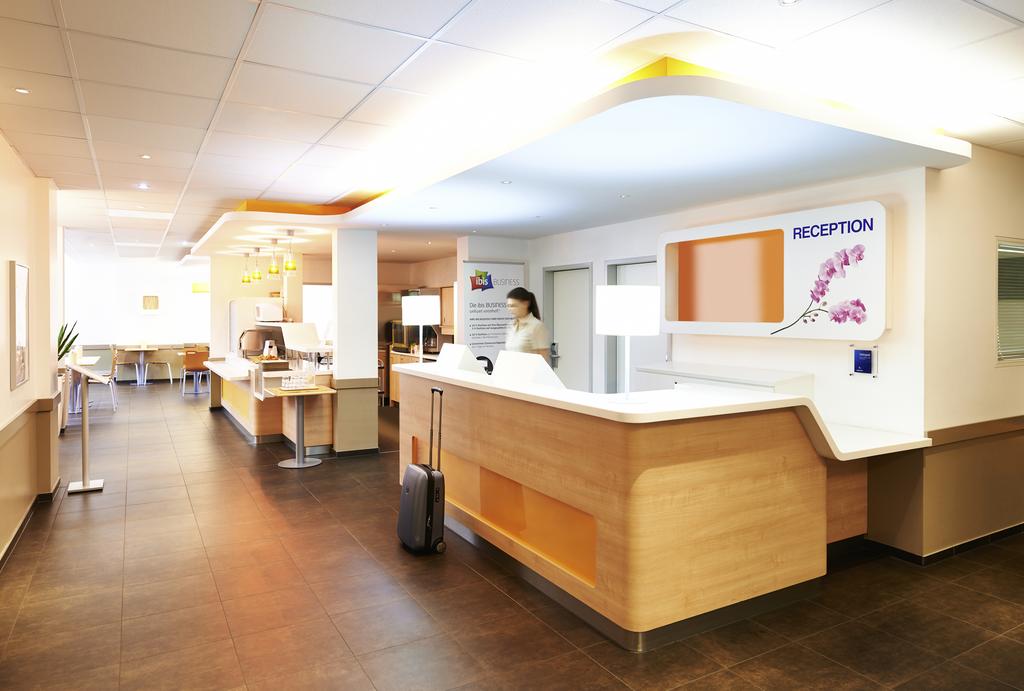 For those of you who prefer to travel on a smaller budget, consider Ibis budget Luzern City. It's just a 10-15 minute walk from the train station, popular Chapel Bridge, and the Old Town.
Snowy Christmas Vacations in Swiss Villages
Unlike in much of Europe, a White Christmas is guaranteed, with fresh snow carpeting Switzerland all winter. Here's ten towns and villages located in the foothills of the majestic Alpine mountains for the most authentic festive atmosphere and a very Swiss Christmas celebration.
Gruyères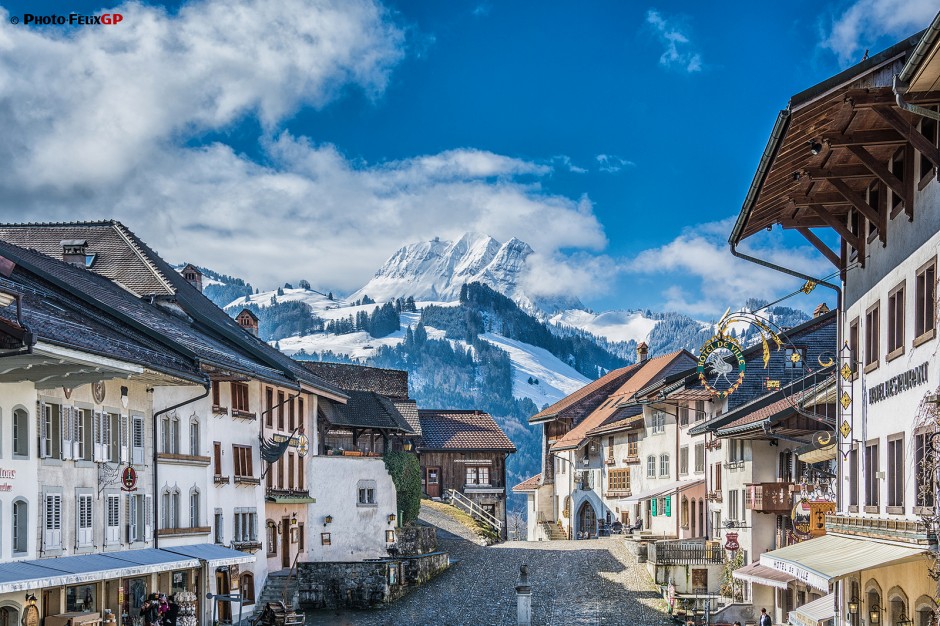 This gothic medieval Swiss town is famous for its cheese and a 13th-century castle. Tourists can enjoy spending time at the Christmas market with a fantastic atmosphere and make chocolates at the factory Maison Cailler. Other things to do in Gruyères:
Relish Swiss specialties like fondue or Raclette.
Marvel at the exhibition of the Swiss artist Hans Ruedi Giger at the HR Giger Museum.
Visit the Tibet Museum for a fascinating collection of the Buddhist artworks
Book a tour to the Gruyères cheese factory.
Ride the Gruyères Chocolate train.
Wander down the quiet streets of Gruyères.
Take a trip to the neighboring village Moleson.
Lugano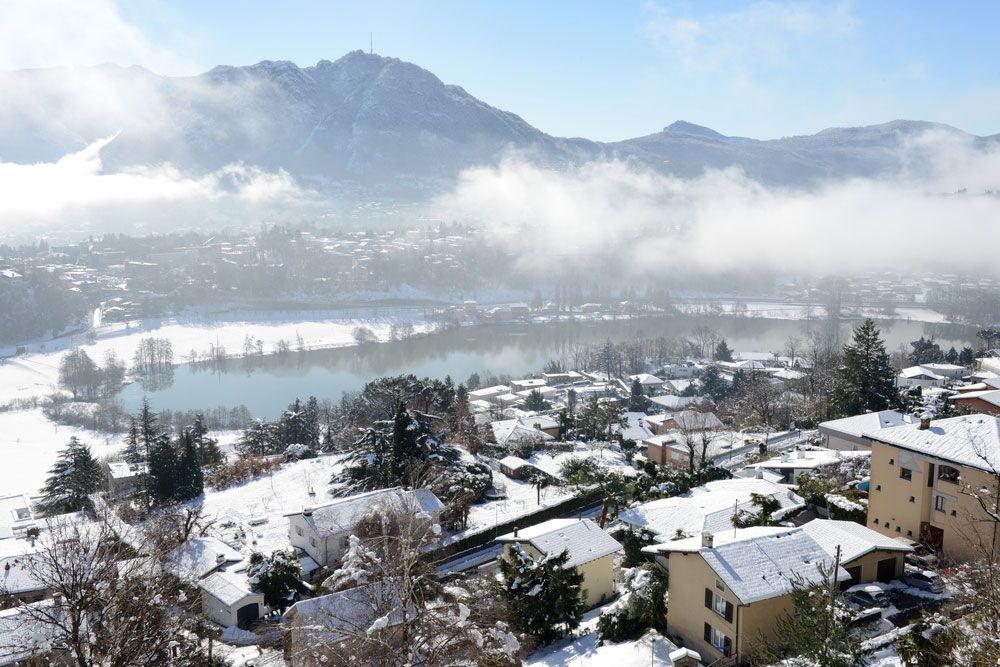 The Christmas period in Lugano starts at the end of November and officially begins with the ceremonial lighting of the Yule tree in Reforma Square. Till January 6th, the whole town is reverberating with musical performances that give a romantic lilt to the air. And here are some equally interesting holiday delights to make your stay a memorable one.
Book a boat cruise on Lake Lugano or enjoy the view from the shore.
Reach Monte Brè by the funicular
Immerse yourself in the history of the 15th century at the cathedral of San Lorenzo.
Visit the Hermann Hesse Museum in Montagnola, located in nearby Lugano
Have fun at the Alprose Chocolate Museum.
Marvel at views of Lugano from the top of Monte San Salvatore
Go shopping on Via Nassa street
Locarno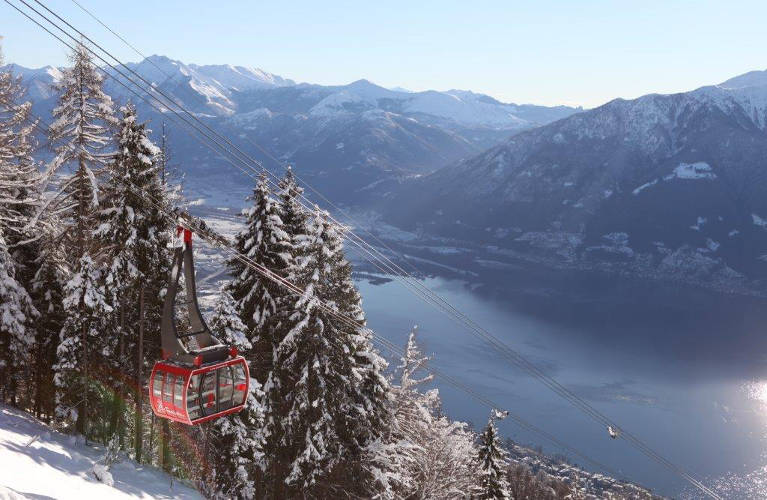 Aside from its historic old town, Locarno is also famous for its ice rink called Locarno on Ice, a large Christmas market right in the old town. Also, see the Sacred Mount Madonna del Sasso overlooking the lake and the breathtaking mountain scenery. Other things to do and see in Locarno:
Explore Locarno Old Town.
Enjoy a delicious dinner at Osteria Chiara, Locanda Locarnese, or Osteria del Centenario.
Visit the Casa Rusca gallery.
Hang out in Pardo Bar that offers a huge collection of beer
Visit L'Archetto for an appetizing takeaway pizza.
Pamper yourself with spa procedures at Termali Salini & Spa Locarno.
Witness the Carnival at Lake Maggiore in February.
Einsiedeln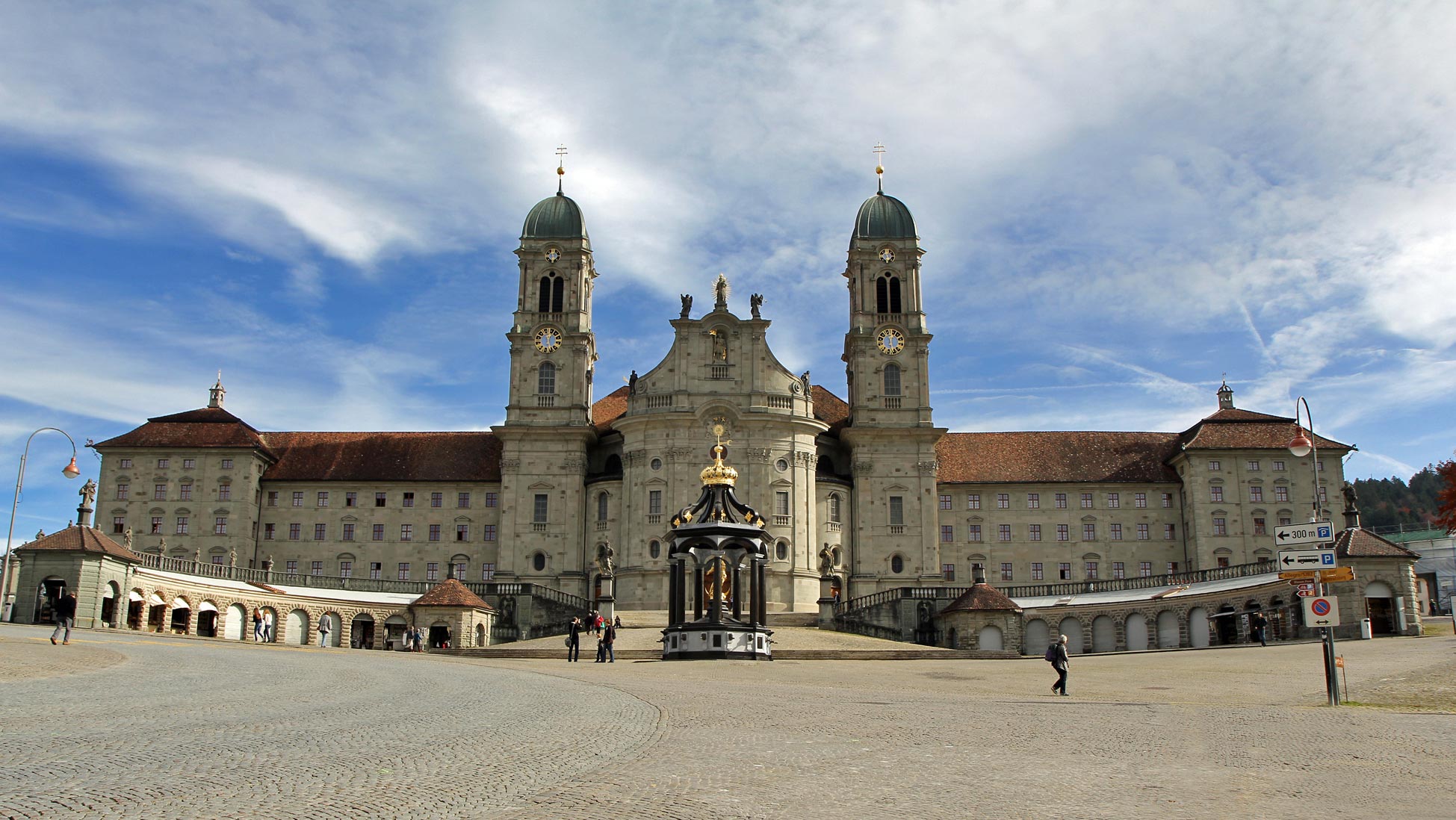 Travelers mostly choose Einsiedeln for winter sports at the resort area of Hoch Ybrig. But, there are many other landscapes to see and places to visit, including the Weihnachtsmarkt and Benedictine monastery. A few more things to do in Einsiedeln:
Toboggan down the mountainside.
Ski downhill together with children.
Ice skate on the rink.
Go on a wellness trip for a few hours or the whole day.
Have fun at the snow garden or sledding hill located right behind the monastery.
Walk down the Old Town with cobblestone streets, attractive shops, and cafes, as well as restaurants serving traditional Swiss dishes.
Ski cross-country.
Stein am Rhein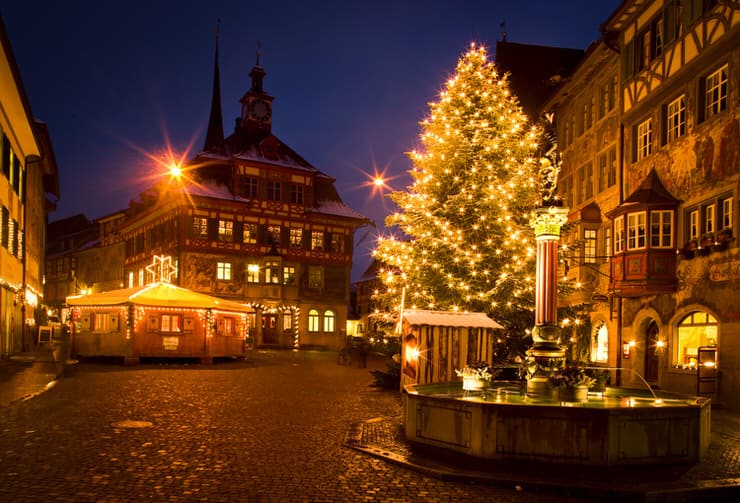 The small Swiss town Stein am Rhein is a lovely place famous for its St. Georgen Abbey and medieval market where people dress up as knights, blacksmiths or other medieval characters. Guests are also welcome to join in the revelry. And here's a few more interesting things to do while in Stein am Rhein.
Walk along the river on both sides of the Rhein bridge.
Visit the Lindwurm Museum
Immerse yourself in the history of the town by visiting Hohenklingen Castle
Take a free walking tour with locals
Visit a vineyard for wine tasting
Go on a hike with your family
Revel in the beautiful, heavily decorated buildings while walking through the pedestrian street
St. Gallen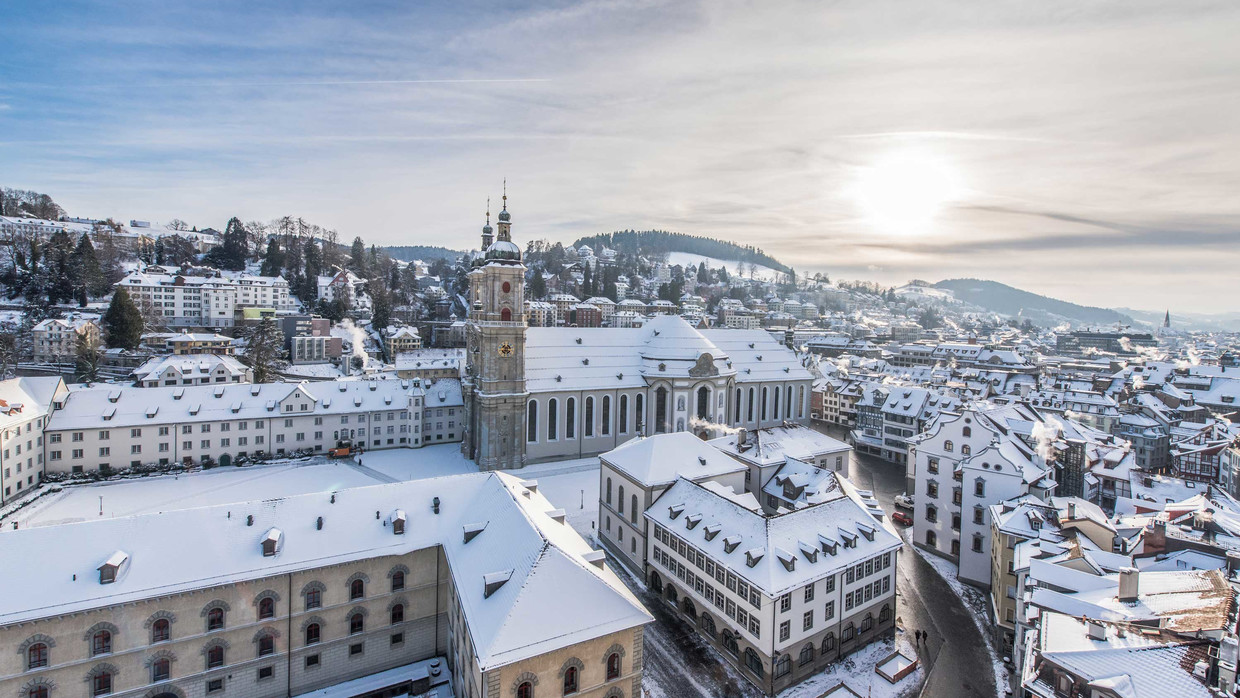 Each year, Gallen is illuminated with 700 stars that stretch above the streets. It's home to the tallest tree in Switzerland. And the addition of an annual procession — a special moment called Chlausritt when Santa Claus and his helpers ride above the town. For those of you who are interested in what to do in St. Gallen, we've picked a few other hot tips:
Visit the Abbey Cathedral of St. Gall, a UNESCO heritage site.
See the mysterious Abbey Library of St. Gall.
Meander around the Old Town.
Visit the Peter and Paul Wildlife Park to see Alpine animals species and enjoy the view of Lake Constance.
Hide from the bad weather in Kunstmuseum, Textilmuseum, or Naturmouseum.
Watch the production of chocolate at Maestrani Chocolarium.
Head to Säntis mountain.
Grindelwald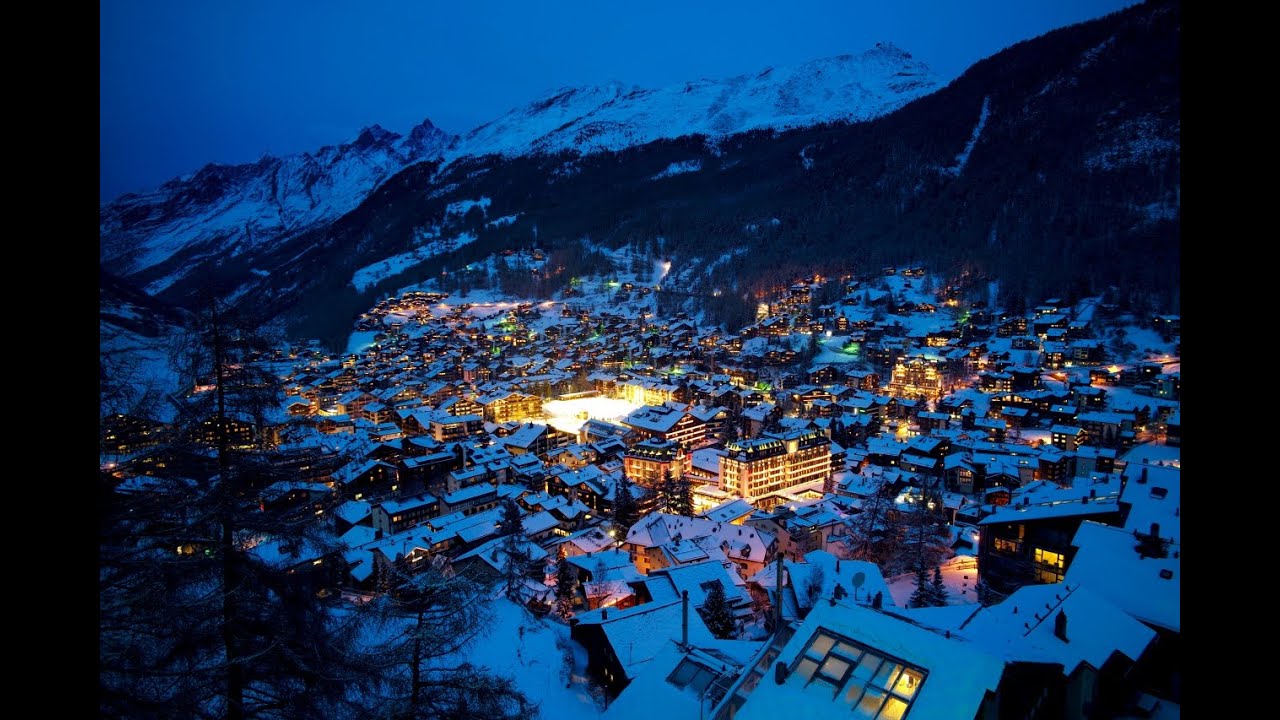 Grindelwald is better known as the "Glacier Village" and is popular among those seeking winter sports and adventures in Switzerland. Make sure to take a ride on the First Flyer to enjoy all the beauty of Grindelwald. A few more things to do while staying in Grindelwald:
Reach Jungfrau mountain by train and enjoy a 360° view from the Sphinx Observatory on the top.
Head to Grindelwald canyon.
Sled with your kids, friends, and family.
Climb a wall of ice.
Visit World Snow Festival to see beautiful snow sculptures.
Head over to Snowpenair or Eiger Mountain Festivals.
Witness the World Championship of the ice bicycle or even participate in it.
Guarda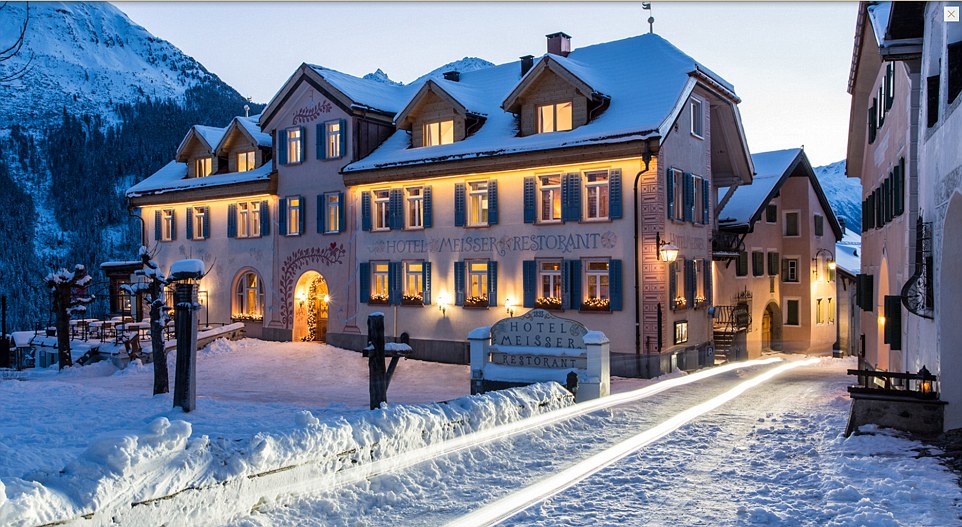 Guarda is a picture-perfect place and has a lot to offer its guests. This is the place to enjoy tobogganing, ice skating, and cross-country skiing. Other things to do:
Hike and find Guarda village via GPS mapping
Explore the Schellenursli path together with children.
Visit the Zernez family baths.
Spend time with your children at Kinderland Naluns.
Relax at Bogn Thermalbad in Scuol after a day of hiking.
Head over to Tarasp Castle in the Alpine valleys.
Morcote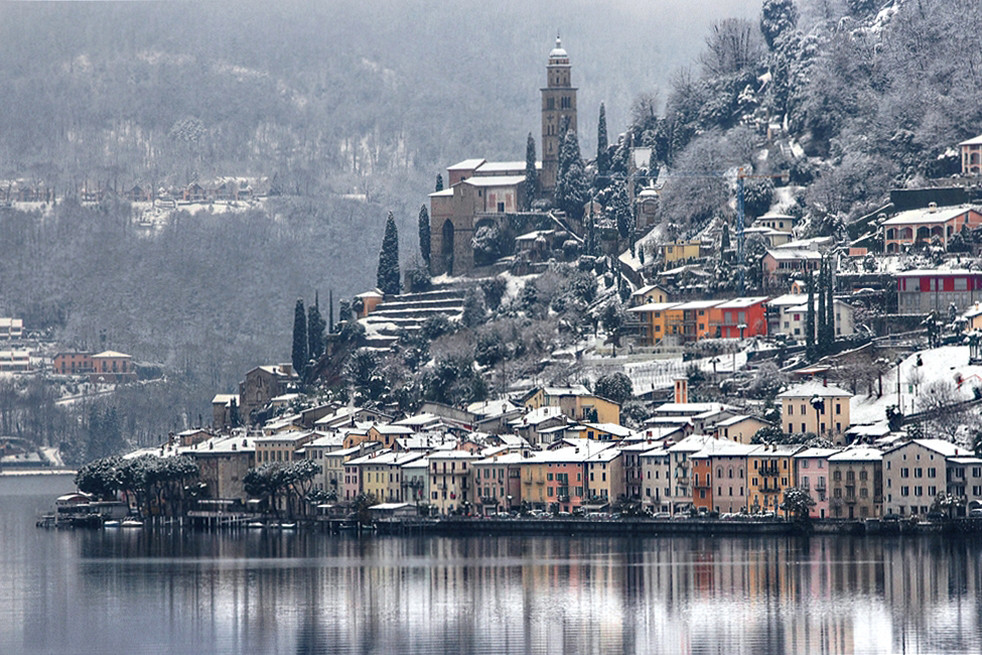 Morcote is an exceptional location on the shores of Lake Lugano. It is a fitting Christmas destination if you prefer to stay away from urban noise and spend time in a quiet place. A few things to do in Morcote include:
Walk down the old streets of Morcote marveling at its arcaded houses.
Visit the Church of Santa Maria.
Climb Scala Monumentale.
Walk down the waterside and enjoy the view of Lake Lugano.
Take a look at Paleari House and the Tower of Capitano.
Spot fresco paintings and the gothic "bifora" windows of heritage architecture
Head over to Borgo Antico, the Old Town of Morcote.
Gimmelwald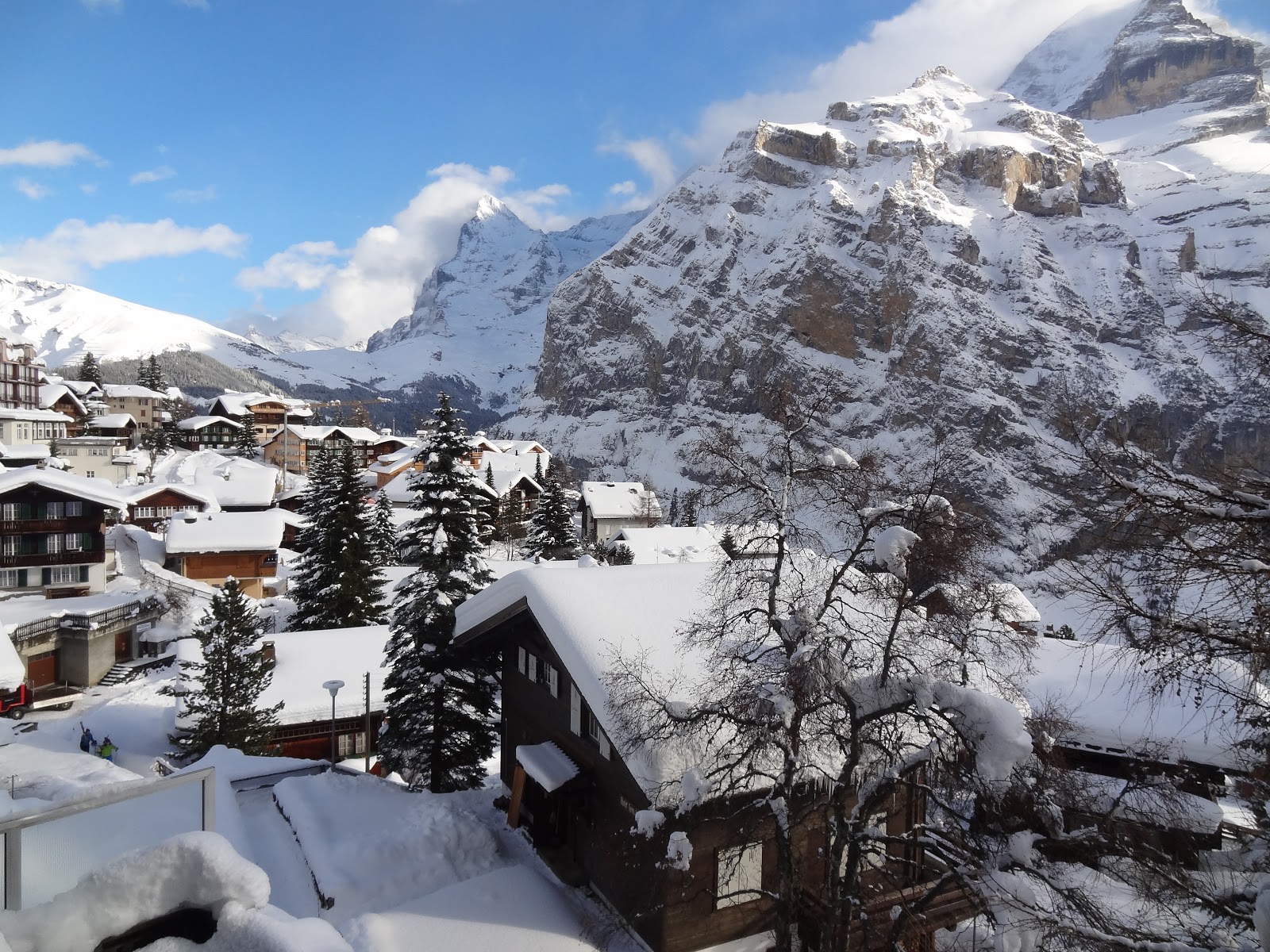 Gimmelwald is an extraordinary destination known as the last car-free village in Switzerland. Take a cable car from Stechelberg and savor breathtaking views of the mountains and even waterfalls. Other things to do in Gimmelwald also include:
Walk across the snow-covered forest in snowshoes.
Go skiing or snowboarding at the Swiss Snowsports school in the neighboring village of Mürren.
Climb the mountains
Head over to Mürren for ice skating on the ice rink
Spend a day in the wellness-spa.
Try paragliding or skydiving
Follow in the footsteps of James Bond
Interlaken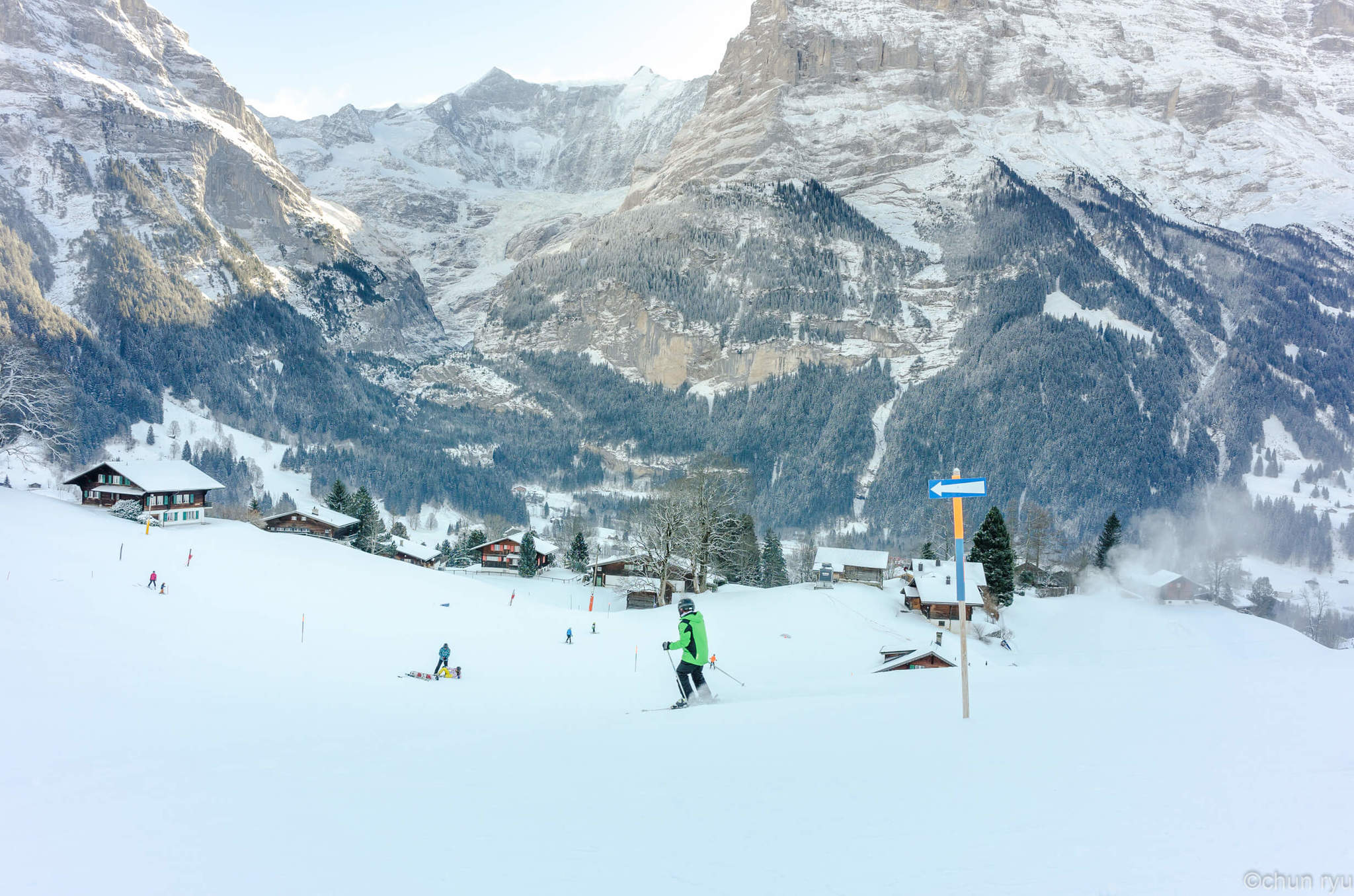 Interlaken is the starting point for exploring the Jungfrau region by train on the Jungfraujoch express. Ride from Interlaken train station to the roof of Europe — and the highest train station in Europe, at an altitude of 3,454 m. Take your time to absorb the jawdropping views of the four thousand meter peaks and the Aletsch glacier.
If that's not enough here's a few more things to do during your stay in Interlaken include:
Go for a stroll along Lake Thun or Lake Brienz and snap pictures of the surrounding scenery
Enjoy the majestic mountain views during winter kayaking
Head to Oeschinensee for a delicious fondue tasting with friends or family.
Go sledding with your young ones by day and try night sledding for a more adventurous version
Visit Ice Magic Interlaken for an outstanding ice skating experience
Attend a chocolate-making class with Funky Chocolate
Experience winter bathing on Lake Brienz overlooking the Alpine mountains
Celebrate Christmas Like a Local
If you travel around Switzerland in early winter, you'll notice the fantastic effort the country makes preparing for Christmas. Winter fairs pop up in all the cities, towns and villages and everyone comes together to decorate their buildings and public spaces with lights and fancy decorations.
The shops, cafes, and restaurants also have a range of enticing things to buy and try as the winter sales get underway. This is the period when the Swiss indulge themselves in age-old local customs and traditions. Locals are very friendly and welcoming to guests, so don't be afraid to join them. Truly become a Swiss native for a few days and "have yourself a merry little Christmas"!
To help you pick and choose what you want to experience we've prepared a list of the most popular Swiss Christmas traditions.
Meet Samichlaus and Schmutzli, Switzerland's Santa Claus and his mercurial helper.
Learn how to say Merry Christmas in Swiss and how Swiss chocolate is made.
We've got bags of hot tips on what to do and where to go for a fairytale winter vacation in this delightful Central European country.
Christmas Traditions In Switzerland
Conventionally, the Christmas period or Advent starts on the fourth Sunday before Christmas Eve and is marked by the hanging of Advent calendars. This custom heralds the commencement of other annual traditions, such as making cookies, wrapping up presents, and simply spending more time with the family.
On the evening of December 6th, Samichlaus (Swiss Santa, or Saint Nicholas) together with his helper Schmutzli, visit every single family in the land to bring good luck and cheer as well as to deliver bags of tasty treats for the children.
In turn, locals invoke the spirit of Christmas by inviting Santa into their homes, enticing him with homemade sweets and treats, usually beside a poem dedicated to Samichlaus.
Curious to find more Swiss traditions you can follow the upcoming holiday? Then, keep on reading.
Bake cookies and other goodies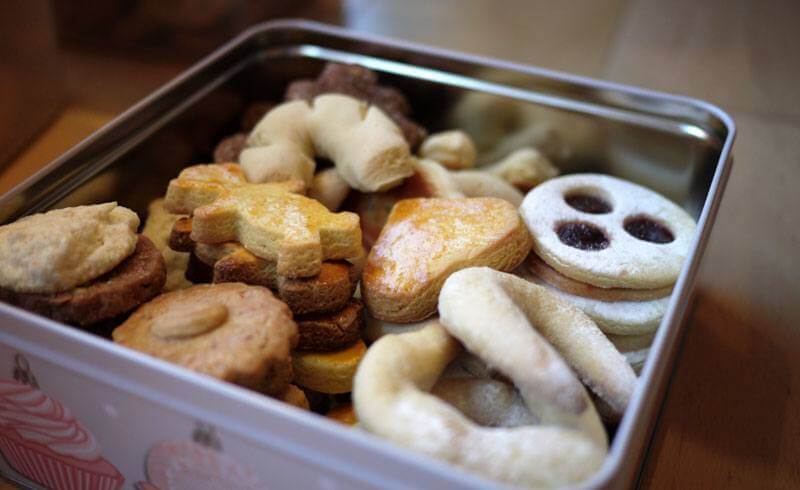 If you love cooking try baking Christmas cookies Swiss style and learn how to make other seasonal treats such as lemon shortbread, cinnamon stars and aniseed cookies. There's also a huge variety of other home-made treats that reveal a very Swiss family home-baking tradition.
Prepare and wrap up your Swiss gifts
The Swiss love handcraft and this is plain to see as they lovingly wrap up Christmas presents together with children. Learn the craft and wrap your own gifts in Swiss wrapping paper or visit a boutique for precision-wrapped Christmas gifts to bring home.
Decorate your Christmas tree Swiss style
Decorating the Christmas tree is a common tradition in Europe and North America but the Swiss do it with unrivalled flair and panache.
Admire the attention to detail of the natural, home-made decorations Swiss adorn their trees with. Learn some alpine winter craft skills and make your own Swiss-inspired decorations.
The Christmas Eve family get-together
Spending Christmas Eve with family and loved ones is important to the Swiss people. On this day they decorate the fir tree together, light candles, share presents and wish each other "Schöni Wiehnachte" (which means Merry Christmas in Swiss German) Then there's also the singing of carols and a hearty Christmas meal beside the fireplace.
Taste traditional Swiss food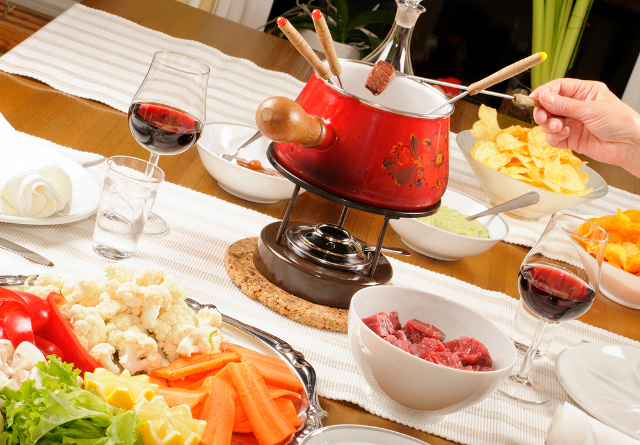 When it comes to the most popular Swiss dishes, gooey cheese fondue is definitely in the mix. This melted cheese dish is served up in a communal pot and eaten by dipping bread into the cheese using forks. Try it served with slender sticks of chopped veg and roasted wild boar sausages on the side.
Swiss Muesli is famous around the world so you simply must taste the authentic real thing while you are here. This breakfast cereal dish from rolled oats is served with a combination of grains, nuts, seeds, and fruits, combined with goat, cow or plant milks or even yogurt. Delicious and super healthy.
Spend Christmas outdoors
Don't limit yourself to at-home holiday activities. Put on a wooly hat and scarf and head to the center, no matter which city, town or village you're in. You'll relish the festive vibe of Swiss cultural centers. There, you can ice skate with friends and bump into locals, and take a tour of the nearest Christmas market where you can enjoy a warming cup of mulled wine. And whether or not you buy a lot of gifts check out the wonderful Christmas shop window displays.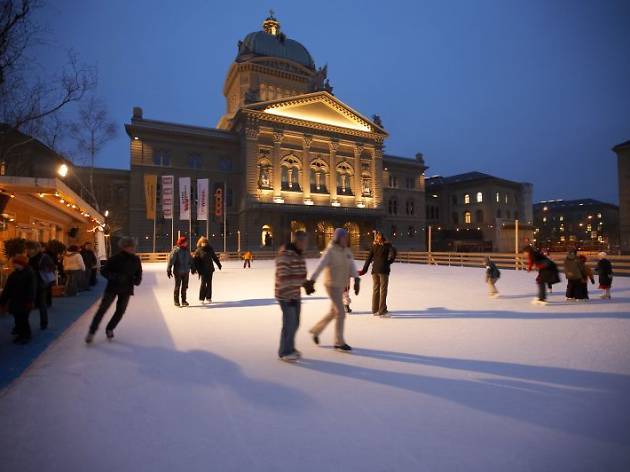 Best Ways to Get to and Around Switzerland
There are multiple international flights within Europe and from other parts of the world, for every budget. Search for a flight on Wego or Skyscanner. Popular airlines flying to Switzerland include Air Canada, Australian Airlines, Lufthansa, United Airlines, Air France, and Swiss International Airlines.
Traveling Switzerland by Train
If you plan to stay in this mountainous Central European country for a couple of months, you should have enough time to travel across the country and several different locations; from large cities to small picturesque villages. The railway system is a great way to get around Switzerland. It's reliably fast and punctual so you won't have to spend a lot of time kicking your feet.
Top recommendation: Ride the Swiss panoramic trains and enjoy an exciting adventure with magnificent views of the Swiss Alps.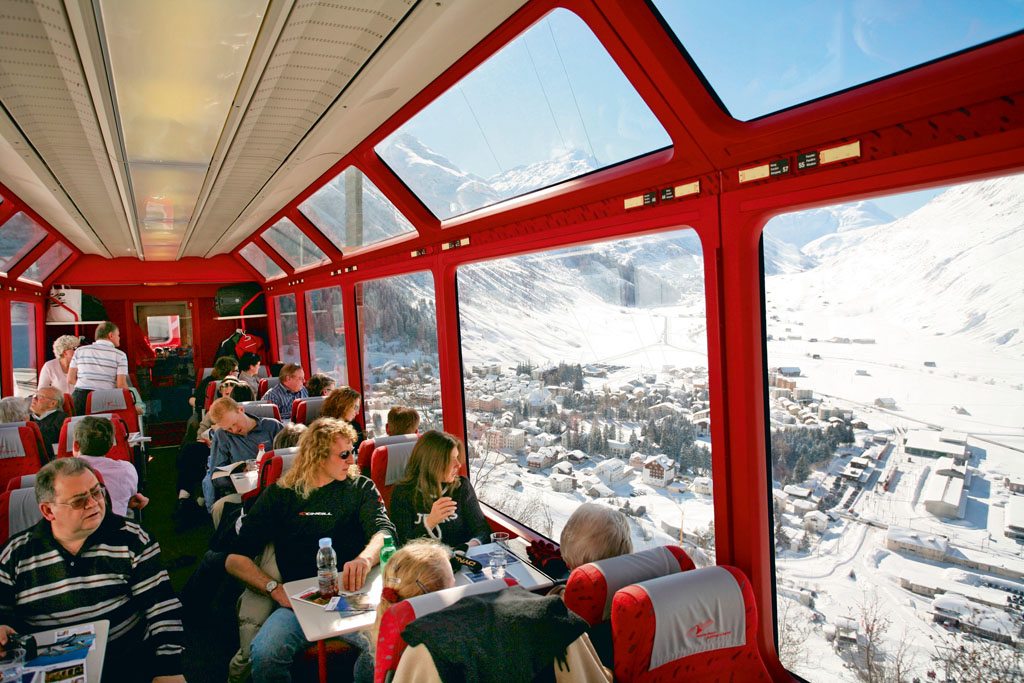 For those of you planning a long-term stay in Switzerland, it's worth buying a Swiss Travel Pass. This all-inclusive travel pass offers exceptional value for convenient cross country journeys. Its valid on the railways, buses, and even ferries. Apart from that, the Swiss Travel Pass allows entry to many cultural attractions. Really amazing value for money!
Best Places to Stay In Switzerland
An essential question to resolve long before visiting Switzerland is finding the right place to stay. Since Switzerland is one of the world's favorite holiday destinations, most hotels and resorts are fully booked well in advance. So do get booking your hotel or apartment 3-5 months ahead or even earlier.
Le Bijou apartments are available in all the largest Swiss cities: Zurich, Zug, Lucerne, Berne, Basel, and Geneva. Aside from central, picture-postcard locations, Le Bijou is also famous for its individual approach, with an emphasis on luxury home comforts and customised digital butler services for maximum privacy.
Booking Hotels In the Swiss Alps
Whether you like skiing or snowboarding, the ski resorts in the Swiss Alps are the best in the world. Stay at a hotel at an incredibly high altitude for a fantastic hotel window view of the Alpine mountains. Wake up early, open the blinds and ogle at the gigantic snow-covered mountains. Book ahead to ensure you get the best room with a view.
Reserving a Log Cabin
A log cabin is a wooden house usually situated somewhere in a valley surrounded by mountains, pastures, and blossoming meadows in summer. This kind of accommodation is great for those who want authenticity combined with modern conveniences. In many cases, there is a hot tub near the cabin. Staying in a log cabin is a good pick for those who want to escape the urban noise for a more peaceful rest closer to nature.
Countless rave reviews from international travelers testify to the memorable experience of staying in Swiss log cabins, chalets, and mountain lodges. Most often, they find them extremely clean, with comfy beds, and new bathrooms, as well as private car parking nearby. Log houses are a top choice for adventurous tourists both in winter and summer.
Best Month to Visit Switzerland
Switzerland attracts tourists all year round with its many mountains, downhill skiing resorts, blossoming meadows, and picturesque trekking routes. But do pay attention to the weather forecasts as conditions can rapidly change.
Generally speaking the higher the altitude the lower the temperature. But although Switzerland is characterized by cold winters in the mountainous areas there are hot summers in the lowlands. On average the temperature dips down to 1-2 degrees below zero in winter, whereas in summer it can often exceed 25°C (77°F)

Rainfall is frequent throughout the year with the southern part of the country wettest.
The highlands are under snow and ice for about six months a year, which is fantastic for winter sports of course. But in the lowlands urban dwellers will only see snow for about 2-3 weeks per season. Early spring is pretty cold and there's usually lots of rainshowers by the end of April. In early May, the temperature is already approaching 20°C (66.2°F).
While summer days can be baking hot, by the evening and at night, temperatures can sometimes plunge to lower than 10C. So if you're out hiking make sure you pack a jumper, jackets, sweaters, or coats.
The beauty of alpine nature is especially impressive in the summertime but watch out for thunder and lightning as well as rainstorms that can sometimes appear from nowhere. In fall, the weather is warm and muggy and there's less rainfall than in summer. The highest peaks retain snow cover all year round but by December most of the mountain ranges are already covered in thick, shiny snow.
So, what is the best month to visit Switzerland? It really depends on what kind of weather and temperature you prefer and your choice of activities.
Switzerland has a lot to offer in midsummer. Thermal spas and places with beautiful scenery attract many travelers in July. It is also the best time for yachting, windsurfing, golf, and other sporting activities. Beach season in Switzerland starts in July and lasts until late August. People come here to rejuvenate or have an adventurous vacation.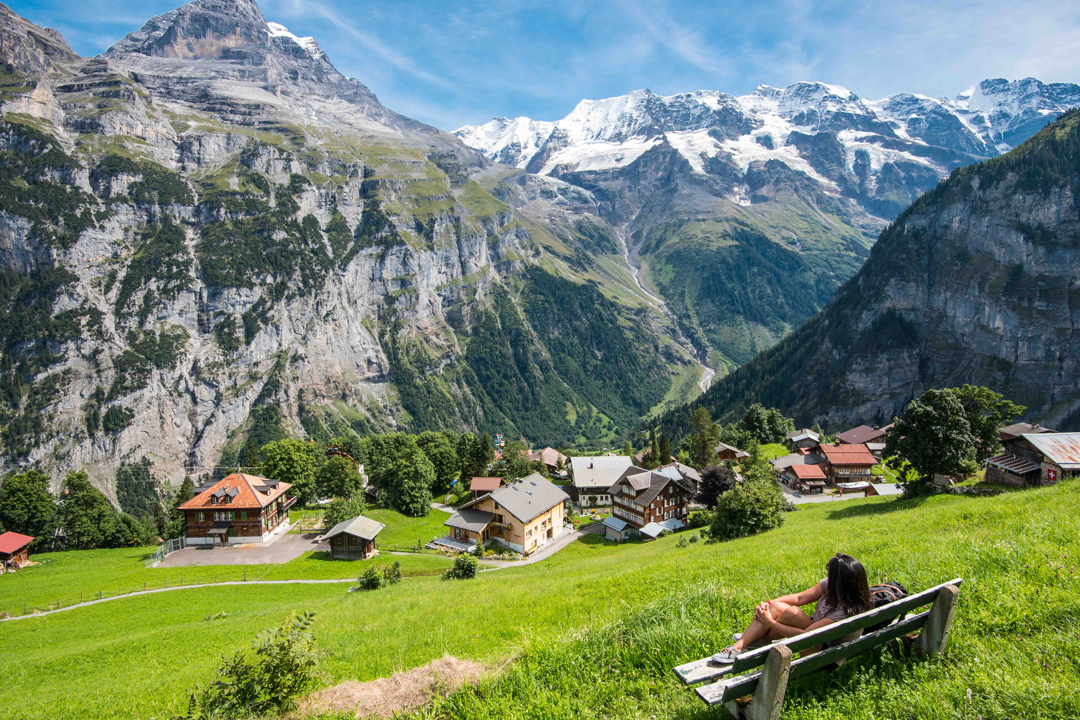 But primarily Switzerland is known for its winter activities and large number of ski resorts. The biggest influx of tourists falls on the height of ski season and winter holidays in December. Christmas atmosphere is in the air, Christmas markets offer warming fragrant mulled wine and national treats. Towns are all crowded with tourists and full of life.
Weather in December
In December, the temperature varies from 4 degrees above and 2 degrees below zero. The really cold winter weather usually begins in the second half of the month. But while the high Alpine areas are already dressed in snow white, large cities like Zurich aren't necessary guaranteed snowfall, which for some makes for more comfortable promenade walks and sightseeing. Bear in mind that the days are short, so do carefully plan your planned activities.
Wrap Up
So if you're planning a vacation this Winter why not visit Switzerland for some unforgettable Christmas and New Year memories. This magical alpine country has so much to offer, even for the most demanding and experienced travelers.
Book a hotel at one of the countless skiing resorts in the highlands. Browse the Christmas markets for gifts and goodies in villages, towns, and big cities. Snap photos of fairytale medieval architecture. Hike through the forested foothills of the soaring Swiss mountains and immerse yourself in local culture for an authentic and unique Swiss Christmas experience.
If you plan a long-term vacation in Switzerland, traveling across the country is a great idea. It's a fantastic opportunity to get to know this country better, try different activities, or learn how to ski or snowboard, if you've never tried before.
No matter where you plan to stay, there's also a great variety of hotels for all tastes and budgets. Then there's all the boutique shops and spa resorts, igloo villages with alfresco Jacuzzis or hot tubs and some of the world's most exclusive 5-star hotels. Alternatively, you can choose from chalets, log cabins and villas or reserve a luxury apartment-hotel for high-class services in maximum privacy and peace.
Among our top picks is Le Bijou, a "five star resort in a private apartment" that is now so well-known for its sumptuous interior design that brands like Estee Lauder and Gübelin have used them as a venue for marketing events and product launches.
Many travelers, such as Apple co-founder Steve Wozniak say Le Bijou is "the best in the world" and have raved about the unique combination of services and experiences the fully-equipped apartments provide for.
And with the incredible automated digital butler service you get all the doorstep deliveries you need and as much privacy as you could get at home. With scenic views and modern amenities guaranteed, Le Bijou residences also offer the option of having a private chef and driver or a special spa therapist. These as well as loads of other personalised services are why Le Bijou is setting the trend for modern hospitality. So book ahead and have yourself a magical winter break in Switzerland this year. 'Schöni Wiehnachte'!